Hello friends!
Wow, what a crazy week.  Like the funny adults that we are, the hubby and I made a "to-do" list of the things that we wanted to get done around the house before Christmas rolled around.  And because we are hosting Christmas this year, we feeling a bit of pressure (maybe self-induced, maybe not) to dial in the last remaining details that are dial-able before we gather together and celebrate the holiday.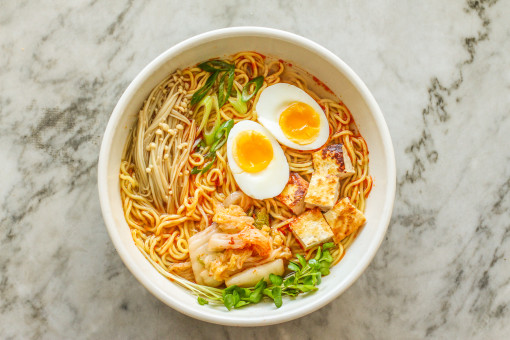 So between painting, cleaning, organizing and all things kiddos…well, we gotta eat.  And we need something quick, something healthy, and something delicious.  Enter the noodle bowl.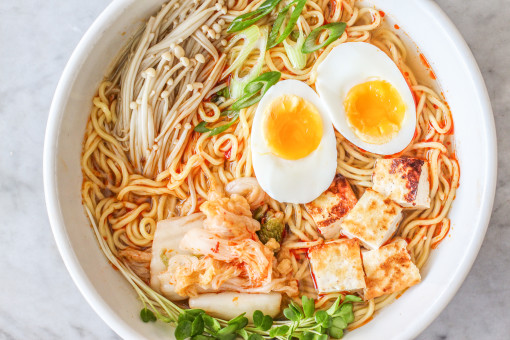 There are a thousand-plus ways to make a noodle bowl.  This spicy ramen noodle bowl with all the fixings is just one of the ways we put a quick and healthy meal on the table when time escapes us and we all become hangry…you know that feeling, yes?  Grumpy/angry + hungry?  Hangry.
These spicy ramen noodles are cooked in flavorful chicken broth and topped with all things yummy – crispy pan roasted tofu, oven roasted enoki mushrooms, kimchi, and a seven-minute egg…because really, isn't everything better topped with an egg?
Yes.  Yes it is. 🙂
xo,
Jenn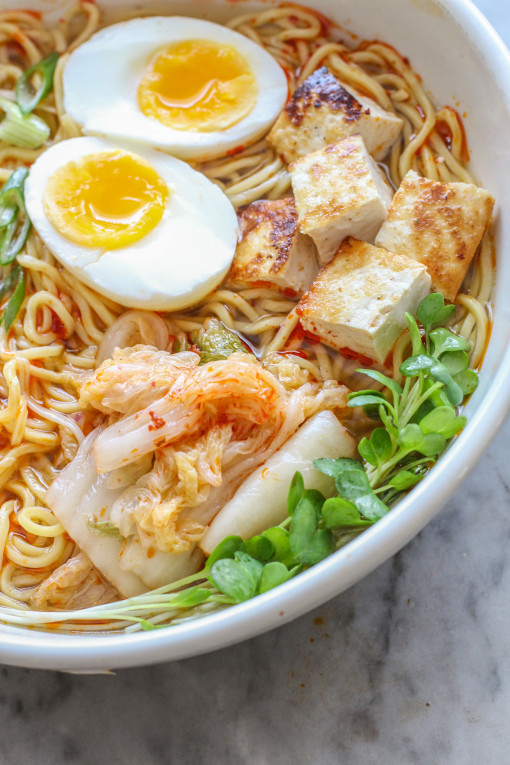 spicy ramen noodle bowl with crispy tofu, kimchi, and roasted enoki mushrooms
makes 2 bowls
recipe from season with spice
4 ounces ramen noodles
6 ounces tofu
2 tablespoons olive oil
4 cups chicken (or vegetable) stock
1/2 cup kimchi
2 teaspoons rice vinegar
2 teaspoons mirin
1 teaspoon soy sauce
2 teaspoons gochujang paste (I use this brand Gochujang Hot Pepper Paste 1.1lbs
)
2 tablespoons miso
1 tablespoon lime juice
toppings: sliced green onion, boiled egg, crispy tofu, radish sprouts, enoki mushrooms
Fill a large pot with water and bring it to a boil.  Add the ramen noodles, cook for 5 minutes and then drain.  Rinse the noodles in cold water and divide into two bowls.
In a non-stick pan, add 2 tablespoons of olive oil over high heat.  Add the tofu and cook on high for 3 minutes.  Flip the tofu to the other side and cook on high for an additional 3 minutes.  Remove the tofu from the pan and place on a cutting board.  Cut into bite-sized pieces and set aside.
Bring the stock to a boil and then turn the heat to low.  Add the kimchi, vinegar, mirim, soy sauce, gochujang paste, miso and lime juice to the stock, whisking to combine.  Ladle the broth over the two bowls of ramen and top with desired toppings.
my notes: If spicy is not your thing, just omit the gochujang paste out of the recipe and you'll be good to go.  Gochujang is a savory, spicy, and pungent fermented Korean condiment made from red chili, glutinous rice, fermented soybeans, and salt. Traditionally, it has been naturally fermented over years in large earthen pots outdoors, more often on an elevated stone platform, called jangdokdae in the backyard.  You can find it at any Asian market or on amazon here – Gochujang Hot Pepper Paste 1.1lbs