Hello friends!  Are you ready for the big day??  We are officially on "Santa watch 2015" over here.   The tree has been up for a few weeks, the stockings are hung with care, and we've decided that Rudolph would like a carrot this year and not oats….hopefully we made the right decision!!?!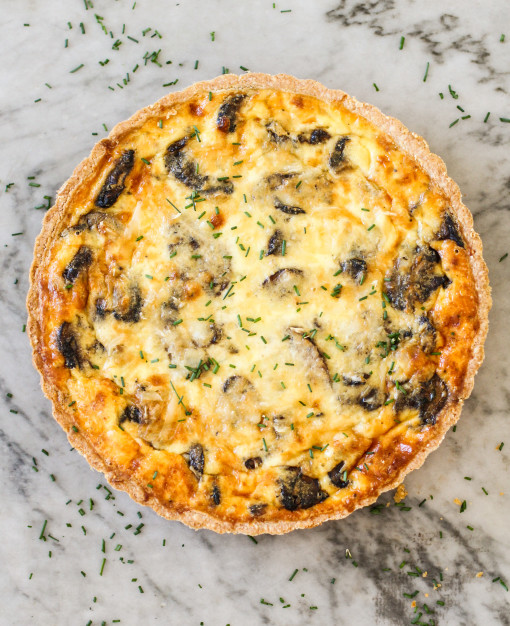 The one thing we can't wait for is Christmas day dinner.  We always have some sort of big roast, but it's the side dishes that really make my heart sing.  After too many go-rounds, we finally decided on a crunchy cool salad covered with winter citrus and thinly sliced fennel, crispy and buttery hasselback potatoes, a big pile of balsamic roasted root veggies, and this creamy mushroom tart.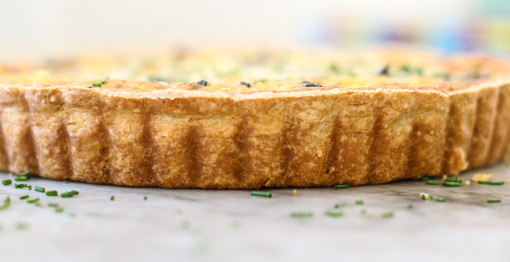 This tart came along quite by accident.  I had been playing with my pie crust over here and ended up with an extra batch of crust.  I know, what's a poor girl to do with an extra crust??  I guess just fill it and bake it and eat it.
Poor girl.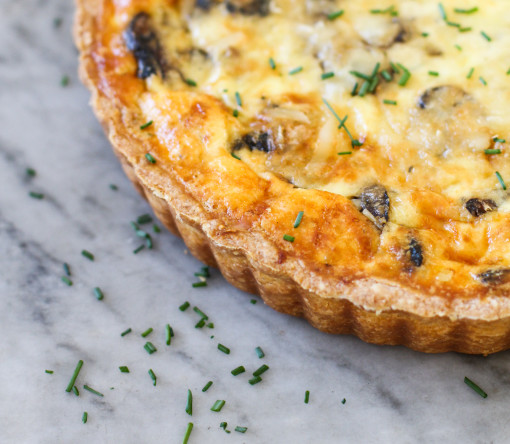 So I searched around in the fridge and pantry looking for inspiration and realized I had all these bits and pieces of cheese in the cheese drawer so I started there.  Adding some eggs, and some herbs and finally the roasted mushrooms… and a tart was born.
Hearty enough to be a vegetarian main, and rich enough to be a supporter – this tart will make a great addition to your Christmas dinner menu.  Or even served for Christmas breakfast with a big bloody Mary on the side.  Either way, a yummy treat for sure.  And if mushrooms aren't your thing – check out my notes below for some other tart filling ideas.
Okay, gotta go look for Santa!
xo,
Jenn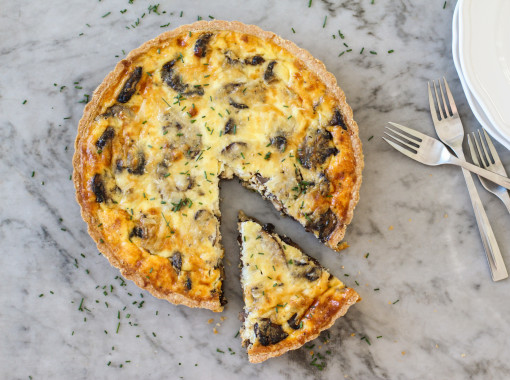 roasted mushroom and cheese tart
serves 8-10 if baked in a 9-inch tart pan
14oz sliced brown mushrooms
3 tablespoons olive oil
1 tablespoon minced garlic
1 tablespoon fresh thyme leaves
prebaked pie or tart crust (recipe for tart crust can be found here and directions on how to prebake a crust can be found here)
5 eggs
1/2 cup grated gruyere cheese
1/4 cup grated parmesan cheese
2 ounces fresh mozzarella, cut into small pieces
1 cup ricotta cheese
1 cup milk
1 teaspoon black pepper
1 teaspoon nutmeg
Preheat the oven to 400 degrees and line a baking sheet with parchment paper.  In a large bowl, toss together the mushrooms, olive oil, garlic and thyme and spread in an even layer on the baking sheet.  Roast the mushrooms in the oven for about 15-20 minutes, or until the mushrooms take on a golden brown color and crispy edges.  Remove from the oven and allow to cool.
Decrease the oven temperature to 350 degrees.
In a large bowl, whisk the eggs together.  Stir in the cheeses, milk, nutmeg, black pepper and mix together to combine.  Add the cooled mushroom and stir everything together.
Pour the mushroom filling into a prebaked pie/tart shell and place it into the oven.  Bake the tart for 35-40 minutes or until the tart is completely set (when you wiggle the pan, nothing should jiggle) and the top has become golden brown.
Remove the tart to a cooling rack and allow the tart to cool for about 15 minutes before cutting into it.
my notes:  Although I used brown button mushrooms for this tart, you can use any kind or a mixture of your favorite mushrooms.  The tart base is also pretty adaptable and you can use a variety of other roasted winter vegetables in place of the mushrooms – butternut squash, fennel, beets, etc – you could even add some cooked quinoa or brown rice to the mix.  This recipe was made for a 9-inch tart pan.  You can certainly use a pie pan or a bigger/smaller size tart pan but you will need to adjust the filling accordingly.