Although summer doesn't officially start until Wednesday, we are in full-blown summer mode over here already.  School is finally out, you can find us either in the sprinkler or the pool, there have been trips to the beach and trips to the museum, and today the temperature rose all the way up to 104 degrees.
What the heck??!?  I'm excited about summer break but not so much in love with the crazy hot weather this week.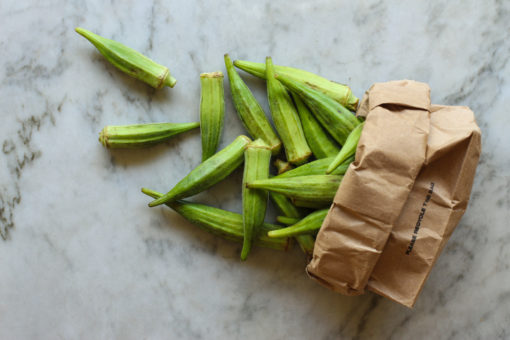 With the high temperatures today, all I thought about eating for dinner was ice cream.  But, with two sets of little eyes on me at all times, I must reserve my ice cream indulgences until those little babes are sleeping so soundly that they cannot hear the creak of the freezer door or the slide of the spoon drawer.
So instead of ice cream for dinner, tonight we lit the grill and fired up one of our favorite summer vegetables – okra.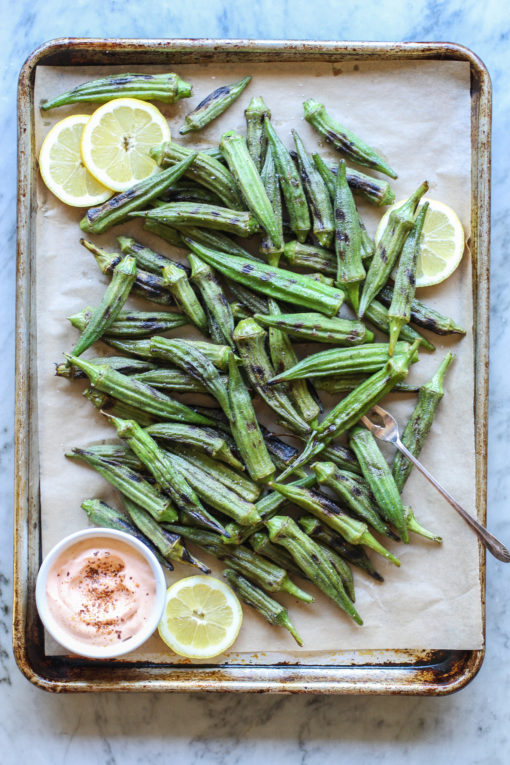 Now I know there are two camps when it comes to okra – those who love and it those who don't.   I'm not going to spend time trying to convince any okra haters that this is the vegetable you need to start eating right now.  But what I will offer is another take on okra, perhaps one that you might enjoy – simple grilled okra with sea salt, lemon and a robust chipotle sauce for dipping.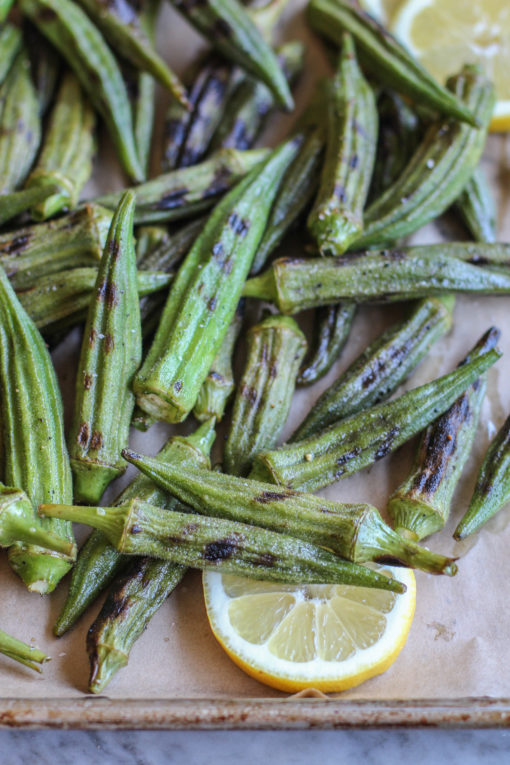 I grew up in Texas, and okra was always around.  It showed up mostly as a scoop of over-battered and too-deeply fried crispy bits that accompanied a "meat-and-three."  Sometimes we would be at a summer picnic and okra stew would show up, and sometimes my dad would throw it into a curry dish he would make –  serving it over big scoops of fluffy white rice – my sister always insisting that her rice be served by itself so she could put ketchup on her pile of rice(!!??!)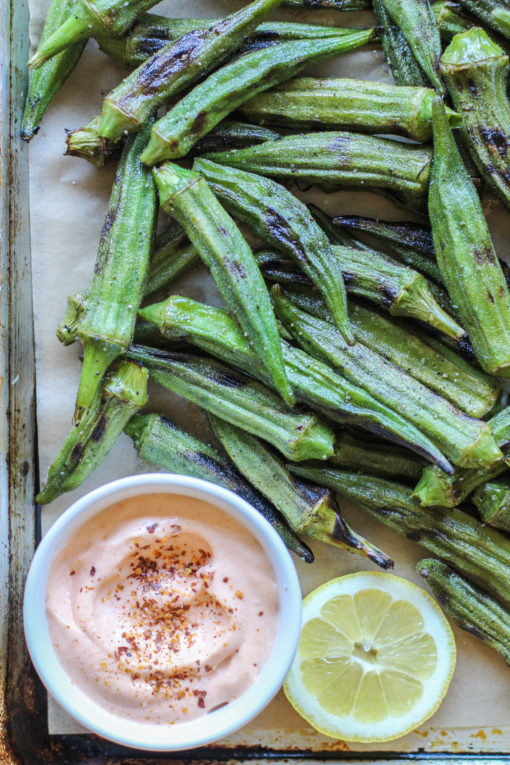 But even though I loved eating okra these ways, I don't ever remember eating it grilled.  Simply tossed with olive oil, freshly ground black pepper and a big pinch of sea salt, okra turns into almost a completely different vegetable.   Crisp and green, snappy to the bite and with absolutely no sliminess that slowly simmered or cooked okra tends to get – it's like a healthy green okra French fry without the French or the fry.
Freshly grilled okra goes great with tomatoes, you can add it to the list of veggies to go on your veggie kabobs, and it pairs great with fresh shrimp and lemon.  But in my humble opinion, the best way to enjoy these underrated green vegetables is simply dipped into a bit of creamy chipotle dip, with a side of cold beer.
It's hot out there so let's get OUT of the kitchen this summer!
XO,
Jenn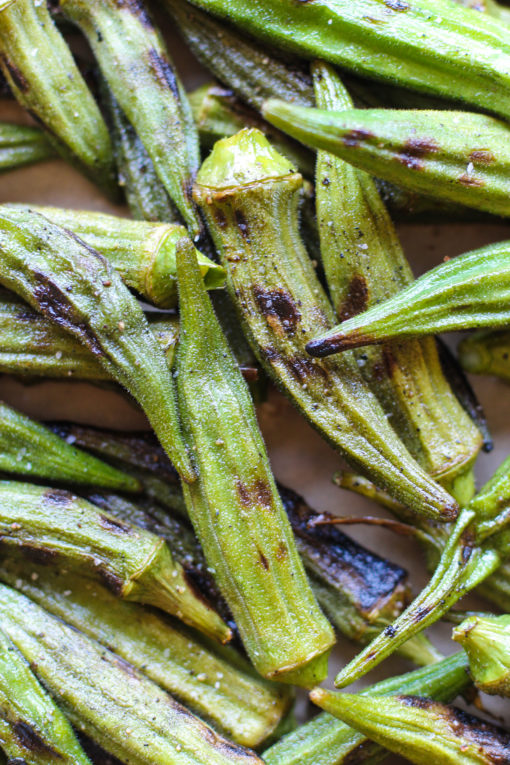 grilled okra with chipotle dipping sauce
makes about four sides or one big platter of yumminess
1 pound fresh okra
3 tablespoons extra virgin olive oil
1/2 teaspoon freshly ground black pepper
1 teaspoon sea salt
1 teaspoon chipotle chilies
1 teaspoon fresh lemon juice
1 1/2 cup greek yogurt or coconut yogurt (if you want a vegan option)
lemon wedges or slices for garnishing and squeezing
In a small bowl, mix together the chipotle chilies, lemon juice, yogurt and 1/2 teaspoon of sea salt.  Taste, and adjust seasonings if needed.  Cover the bowl with plastic wrap and place the dipping sauce into the fridge until ready to use.
Heat your grill and set the flame to a medium-high heat if using a gas grill, or use indirect heat if using a charcoal grill.
In a large bowl, toss the okra with the olive oil, pepper and sea salt.
Place the okra on the grill and cook until crispy on one side, about 5 minutes.  Turn the okra over and cook on the other side for about three more minutes.  Remove the okra from the grill and place it onto a large plate or platter.  Serve with the dipping sauce and lemon wedges.
my notes: The more you cook okra, the more slimy it becomes.  If you aren't a fan of the slimy texture that okra sometimes takes, then grill these babes until they are just cooked and still snappy to the bite.  You won't be disappointed.