When I was a small kiddo in Texas it took me awhile to figure out why certain menu items were called "the Californian" or some version of the word California.  Whether it be a sandwich shop, a burrito bar, or even burger joint – there I would stand, trying to make my decision and that dang California version of something would get me all tripped up.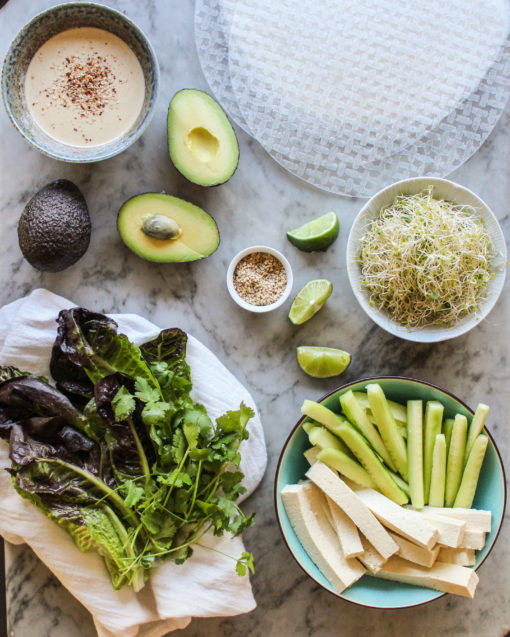 Well, after a while (probably more years than I would care to admit…) I finally figured out that all these little restaurants were referring to avocados, sprouts, or some "healthy" version of whatever menu item they were trying to sell and that's what "California" meant.  Ah ha!!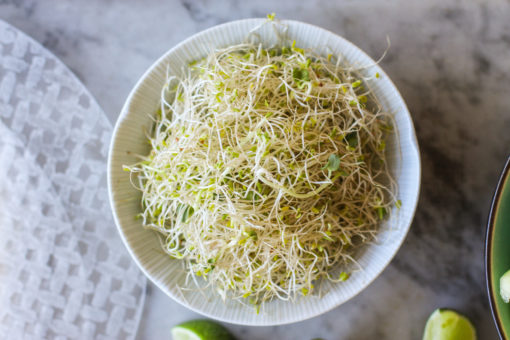 So imagine my surprise when I moved to California, and found that healthy food was all over?  In every restaurant?  In every grocery store, corner store, farmers markets – and there were even health food stores selling health food!!?!?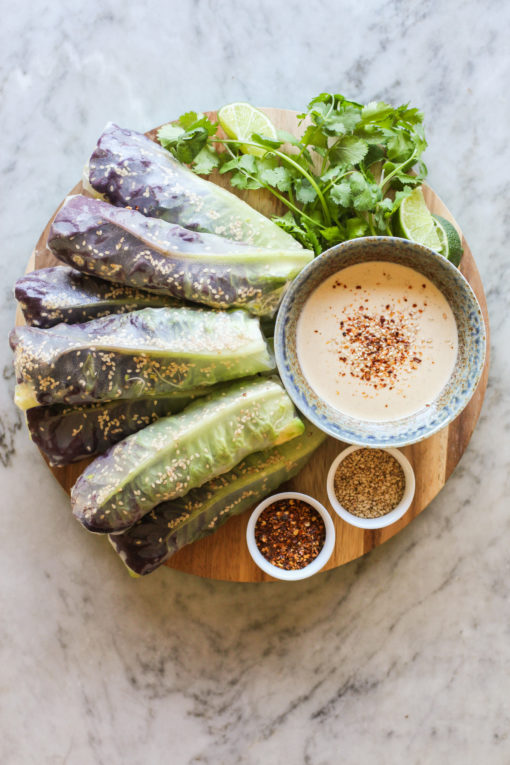 Although I piled avocado on top of everything I ate for those first few weeks after moving here, it took me far too many years to start eating more green things like sprouts.  I mean, really, sprouts??  Isn't that what I was just feeding my cows before I moved to California???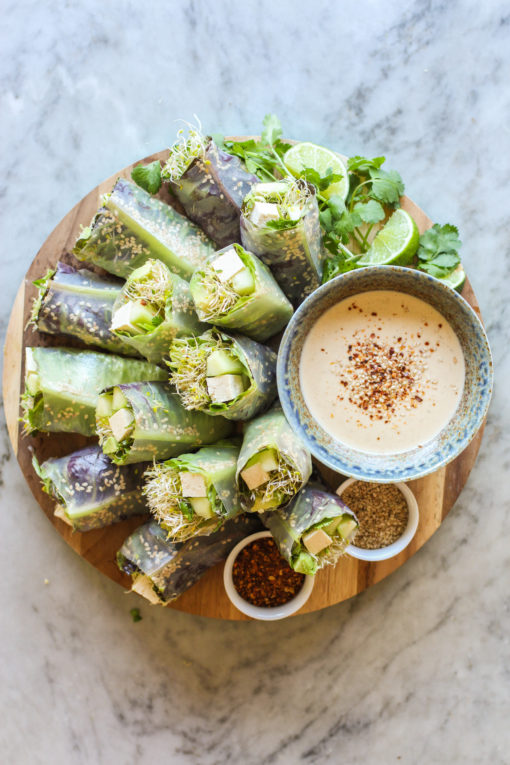 But look at me now – completely and totally in love with all things green, healthy, avocado-y and even sprouts.  Love 'em.  Can't get enough of them.  Even planning on making some on my own since I eat so many of them.  Just took me a few years to really see what all the healthy-eating hype was about.
Guess you can call me a slow learner…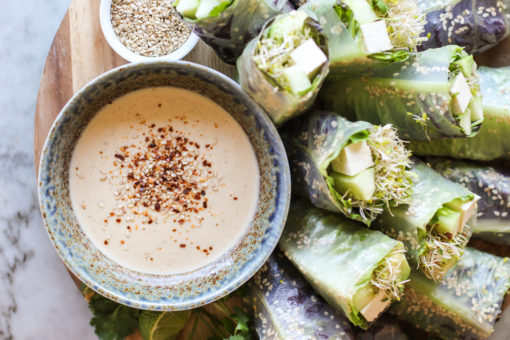 So this weekend I took all of those lovely green and healthy California things – ripe avocado, crunchy cucumbers, fresh tofu, broccoli sprouts, garden lettuce and some cilantro sprigs and rolled them up in a rice paper wrapper.  A California roll if you will??  A crunchy roll?  How about a green summer roll filled with all the healthy things – and served with a side of spicy tahini sauce.
So happy to finally be a California girl!
XO,
Jenn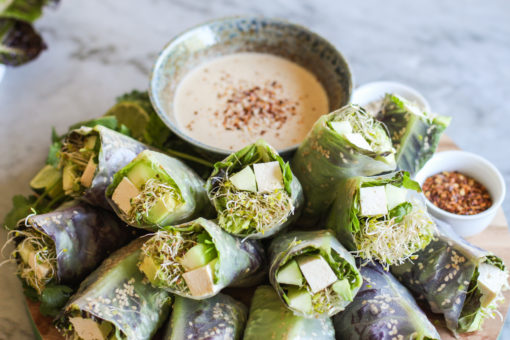 green summer rolls with spicy tahini sauce
makes 8 rolls  (16 pieces)
1/4 cup tahini sauce
1/4 cup water
1 clove of garlic, minced
1 tablespoon lemon juice
1/2 teaspoon Aleppo pepper
salt
black pepper
8 rice paper wrappers
water
1 medium cucumber, peeled, seeded, and cut into strips about 4 inches long
1-2 ripe avocados, cut in half, seed removed, and sliced into about six slices
1 container of tofu, water drained, cut into strips about the same size as the cucumber
4 ounces of sprouts
1 small head of lettuce, washed and patted dry with a towel
sprigs of cilantro, washed and patted dry with a towel
toasted sesame seeds
make the spicy tahini sauce: In a small bowl, whisk the tahini sauce and water together until smooth.  Add the garlic, lemon juice, Aleppo pepper, and one small pinch of salt and pepper to the tahini and whisk to combine.  Taste and adjust seasonings as needed.  Set aside.
make the rolls:  On a large, flat surface (cutting board or counter top) place one rice paper wrapper.  Brush some water on the wrapper until the surface is damp, flipping the wrapper over and adding water to that side too.  You want the wrapper to be damp, but not so wet that it will tear when you roll it.
In the middle of the wrapper, sprinkle some sesame seeds.  Lay down one lettuce leaf over the seeds – leaving at least 1 1/2 inches uncovered on each side of the lettuce so that the wrapper can roll over the ends of the lettuce.  Place a couple of sprigs of cilantro on the lettuce, adding some cucumber, tofu, and avocado slices on top.  Place a thin layer of sprouts over everything.
Roll your wrapper up – pull the bottom part of the wrapper up and over the ingredients, then fold each side in, and continue rolling until the wrapper has completely encased the fillings and looks like a small burrito.  Continue with this method until you have 8 rolls.  Cut the rolls into half and serve with the spicy tahini sauce.