The weather is changing and so are my soups!  Just last week I posted this chilled cucumber and yogurt soup and in just five short days I've already progressed to tummy warming vegetable stews.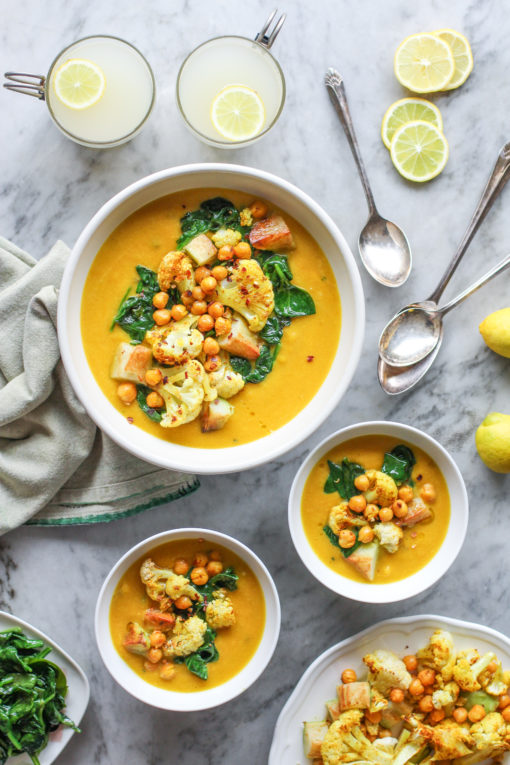 You guys, this is the easiest stew you will ever make, I promise.  No standing over the stove stirring, no missing your favorite shows while you are still in the kitchen making your family dinner – this is so easy you only need a baking sheet and a blender!!  Trust me when I say it's so easy you might make all your soups like this in the future!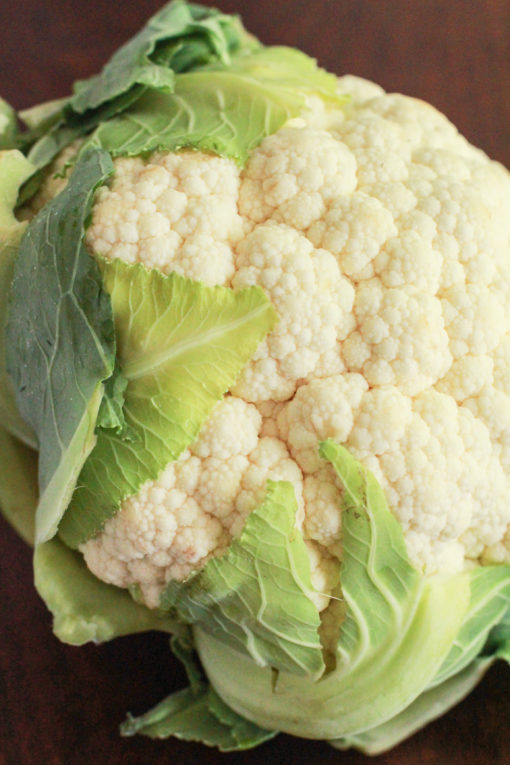 I love the warmth and spicy flavor that comes from cooking with curry powder.  Curry powder is a blend of up to 20 different herbs and spices, and is usually made from a combination of: cardamom, chilies, cinnamon, cloves, coriander, cumin, fennel, fenugreek, mace, nutmeg, pepper, poppy seeds, sesame seeds, saffron, tamarind and tumeric (which gives curry its characteristic golden color.) 
Yes, you can totally make your own curry powder and that's what lots of families do – passing down their family curry powder recipe from generation to generation.  But the whole point of this post is to make a fast and easy (and delicious!) meal so for this recipe let's just use your favorite jar of curry powder (here's mine) and call this dinner – ready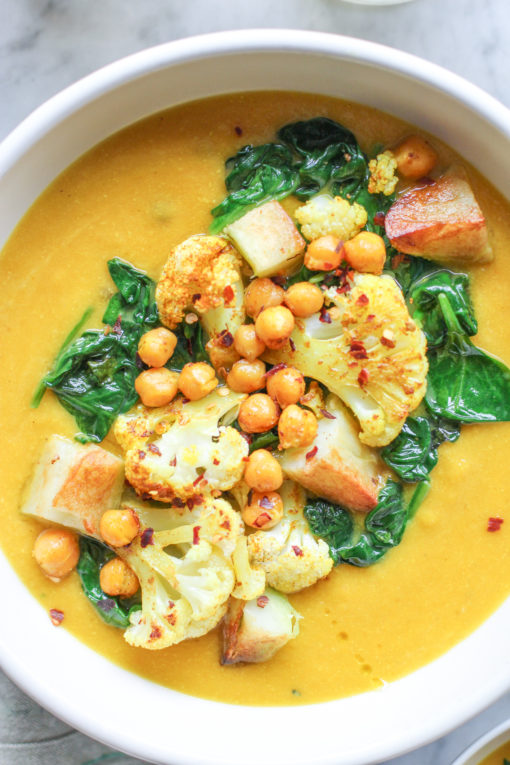 You will need some cauliflower, cooked chickpeas, a couple of russet potatoes.  You peel, cut and toss these guys with that curry powder we spoke about, some chili flakes, salt, pepper, and olive oil and send them off to roast in the oven while you do something fun for 25 minutes.
Then when everything is nice and golden brown, you place the veggies into a blender with some vegetable stock and puree them to smooth status.  And thennnnnn, you ladle the soup into bowls, top it with some reserved roasted veggies and call your family to dinner.  Easy, breezy, and in under 30 minutes you can set a healthy, delicious (and happens to be vegan if anyone noticed) meal on the table with almost no effort.
You're welcome!  Enjoy your dinner, and all your newly-found free time!!
XO,
Jenn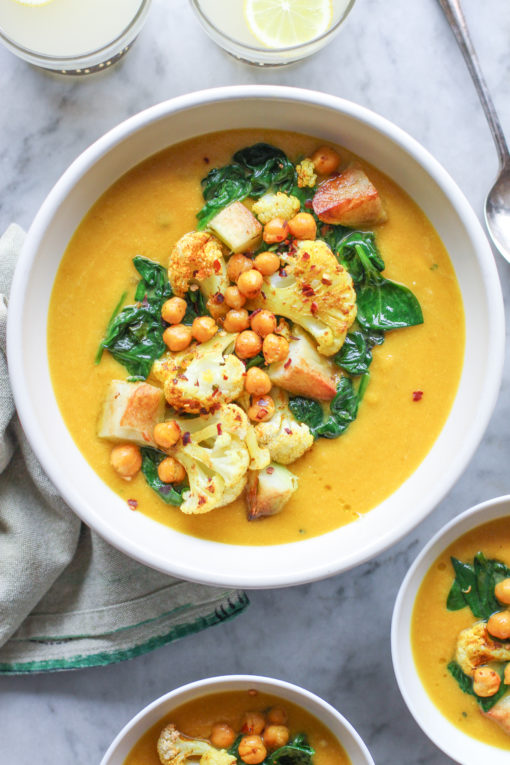 curried cauliflower and chickpea stew
makes 6-8 servings
1 medium sized head of cauliflower
3 medium sized russet potatoes
3 cups cooked chickpeas
2 tablespoon curry powder (this is the one I use)
1/2 teaspoon chili flakes
salt
black pepper
extra virgin olive oil
6 cups vegetable stock, water or chicken stock
Preheat your oven to 400 degrees and line two baking sheets with parchment paper.
Cut the cauliflower head in half.  Carefully run a knife over the stem and any remaining leaves.  Discard the stem and leaves.  Slice the cauliflower into florets and then cut the florets into half.  Place the cauliflower into a large bowl and set aside.
Peel the potatoes and cut into roughly 1/2 inch pieces.  Add the potatoes to the bowl with the cauliflower.
Add the chickpeas, curry powder, chili flakes, a big pinch of salt and black pepper to the bowl and drizzle with a good amount of olive oil.  Stir everything to combine.
Divide the vegetable mixture onto the baking sheets and spread the vegetables out as evenly as possible.  Place the baking sheets into the oven and cook for about 20-25 minutes, or until the vegetables begin to turn brown.  (You may need to flip the pans around in your oven, or toss the vegetables over on the tray to get even cooking – I usually flip the veggies about 15 minutes after they start cooking.)
Once the vegetables are fully cooked and nice and golden brown, remove them from the oven and allow them to cool slightly.  Working in batches, place the vegetables and the vegetable stock into a blender and puree – reserving some of the vegetables to use a garnish on top of your soup.  Adjust seasonings if needed.
To serve: ladle the pureed soup into a bowl and top with some of the reserved roasted vegetables.  This soup would also be great with some greek yogurt or coconut yogurt on top, or a bit of sautéed spinach or swiss chard too.