Hi!  So I had all these grand plans for cooking, shooting, and sharing fun recipes with you guys this summer…but instead I was hit with such intense morning sickness (or all-day sickness, let's really just call it what it is) that I couldn't cook, much less eat any of the summer bounty.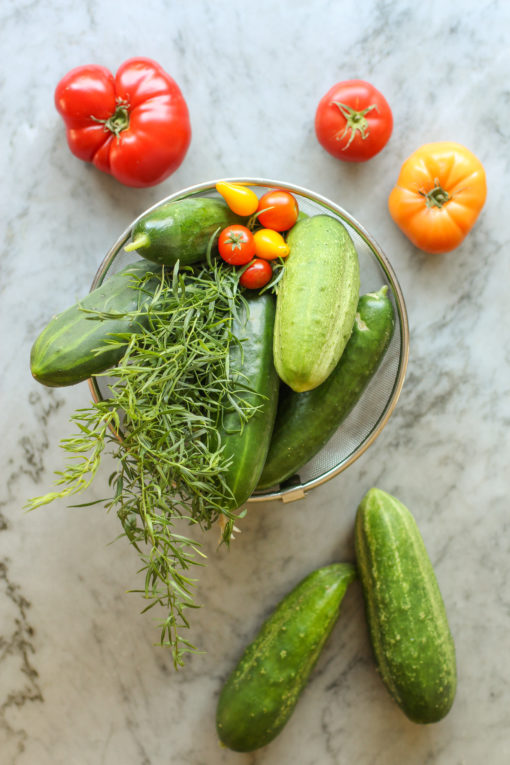 Yes – baby #3 (whaaaaaaaat??!?) will be joining our family in March and man, has this kid made its presence known already!!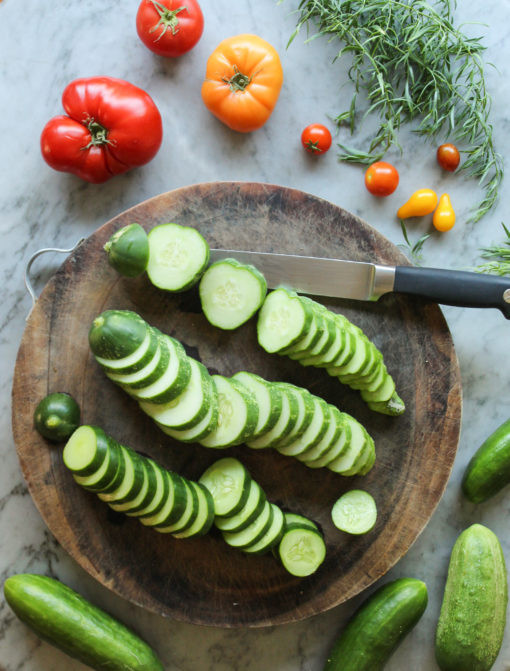 Finally, there are good days mixed in with the bad (or real food mixed in with the cracker buffet) so I was able to make (and eat) a delicious end-of-summer tomato gazpacho!!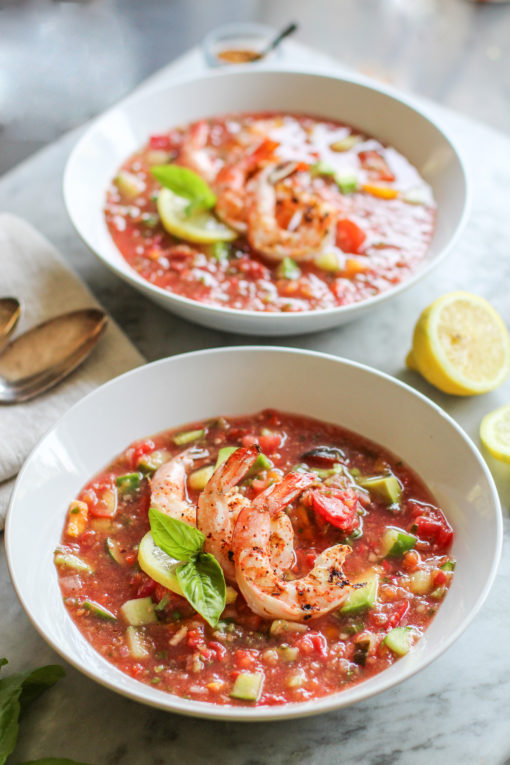 Made with all the garden veggies – tomato, cucumber, bell pepper, avocado and basil – it is the perfect cold dinner to combat any lingering heat waves (or pregnancy hot flashes) that you might be experiencing.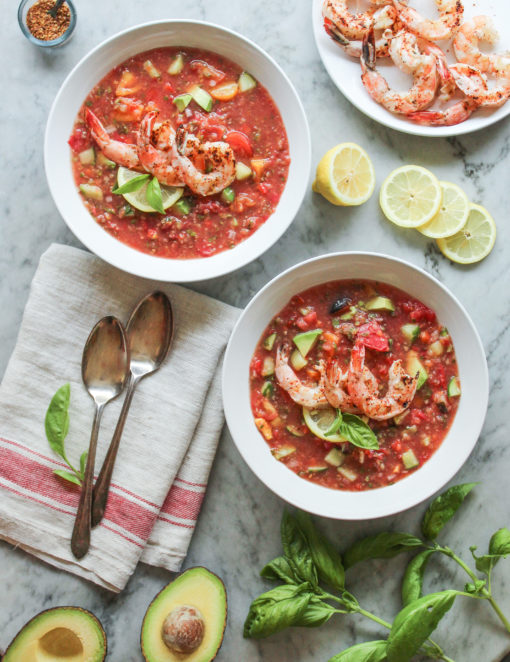 If you are like me you just can't get enough tomatoes before the seasons change, or maybe your garden is going crazy with all of this heat and producing more summer produce then you might know what to do with.  So what to do?  Make gazpacho.  It's the easiest and most satisfying meal on a hot summer day when you don't feel like cooking or standing over a hot stove.
XO,
Jenn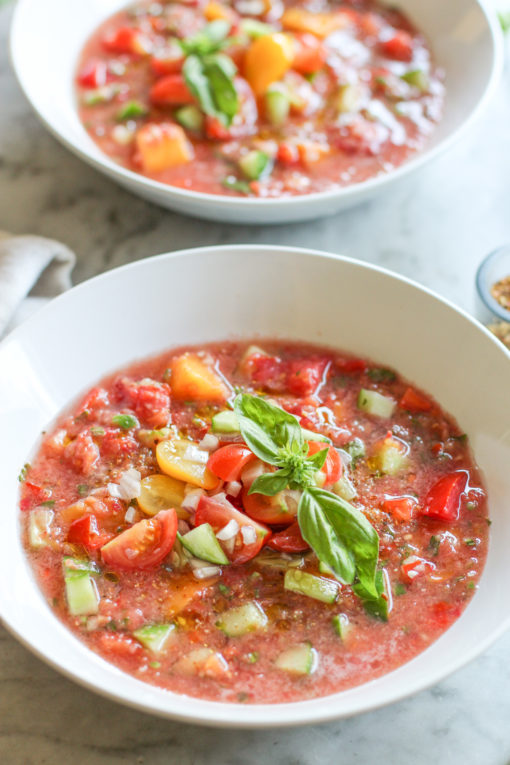 tomato gazpacho
makes 4-6 servings
2 pounds tomatoes – any kind, use your favorites – cut larger tomatoes into bite sized pieces and cherry tomatoes into half
2 medium sized cucumbers, sliced in quarters lengthwise and then cut into bite sized pieces
2 yellow bell peppers, seeded and cut into bite sized pieces
1/2 jalapeno, seeded and minced (optional)
1/2 bunch basil, leaves removed from stems, and leaves thinly sliced
1 1/2 avocado, pit removed and cut into bite sized pieces
1/4 cup red wine vinegar
1/4 cup extra virgin olive oil (plus more for drizzling)
water
salt
black pepper
In a large bowl, combine the tomatoes, cucumbers, bell peppers, jalapeno (if using), avocado and basil.  Stir to combine.  In a blender, place the red wine vinegar and olive oil, a good pinch of salt and black pepper and 1/4 of the bowl of vegetables.  Blend the vegetables until pureed then place the pureed vegetables in another large bowl.
Puree another 1/4 of the bowl of vegetables with salt and pepper and 1/2 cup of water until blended completely.  Add the pureed vegetables together and then add the chopped vegetables to the pureed bowl and stir to combine.  Taste the soup and adjust seasonings if needed or add a bit water if the soup is too thick.
Cover the bowl with plastic wrap and place in the refrigerator to chill completely – about an hour or overnight.  When you are ready to serve, garnish with some grilled shrimp, a drizzle of extra virgin olive oil, a bit of chopped basil and a side of toasted sourdough bread.