Hello friends!
Are you ready for the big game?  Have you picked your team?  Your party?  Your appetizer menu?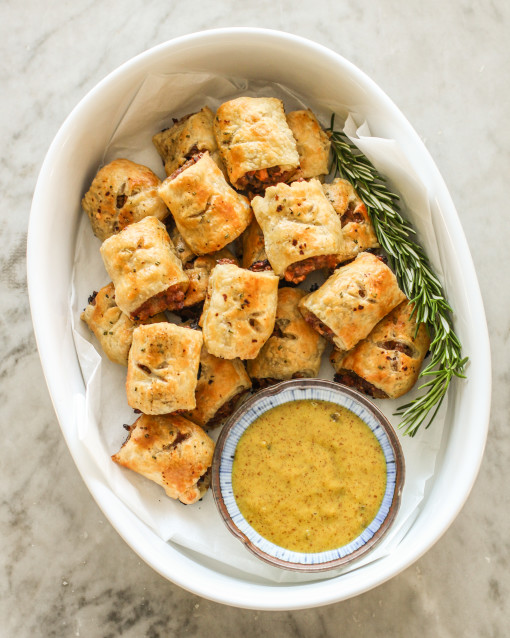 If you are still looking around for great party food ideas, here is one that you must absolutely add to your menu – rosemary sausage rolls.  Sweet and spicy pork sausage gets wrapped in puff pastry, sprinkled with fresh rosemary and baked until warm and bubbly.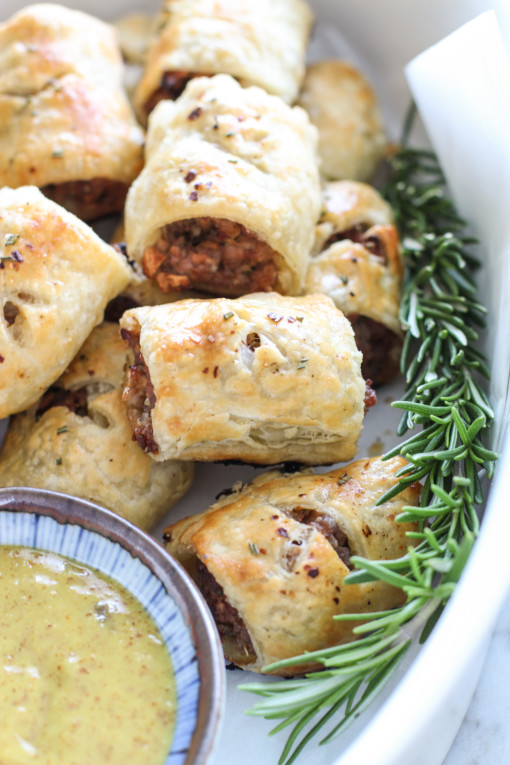 Doesn't that sound just dreamy?  Well, they are just that.  Dreamy.  Crispy.  Warm.  Meaty.  Yummy and delicious!  All you need to add is your favorite mustard or three and you are ready to cheer your favorite team to victory!
Happy eating!
xo,
Jenn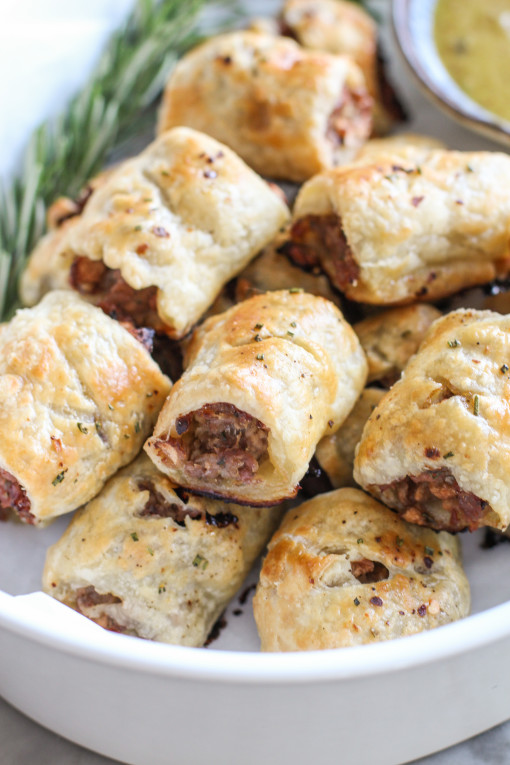 rosemary sausage rolls
makes 36 rolls
1 package puff pastry
all purpose flour for dusting
1 1/2 pounds ground sausage without casing
1 egg
2 tablespoons milk
2 tablespoons minced fresh rosemary
Preheat oven to 400 degrees and line a baking sheet with parchment paper.
Defrost the puff pastry per package directions.  Lightly dust a work surface with flour and unroll the puff pastry onto the work surface.  Cut each pastry into thirds width-wise and roll the dough out to about 4 inches tall.  (see picture below)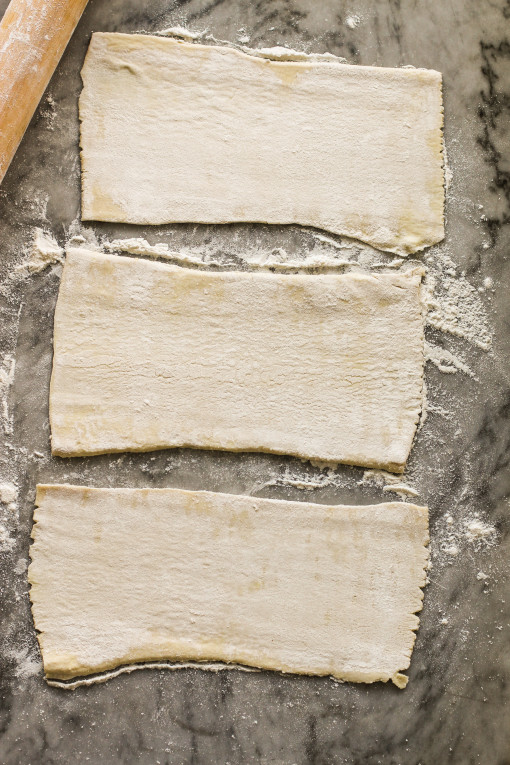 Working with one piece of pastry at a time, place some of the ground sausage in a line along the bottom of the pastry. (see picture below)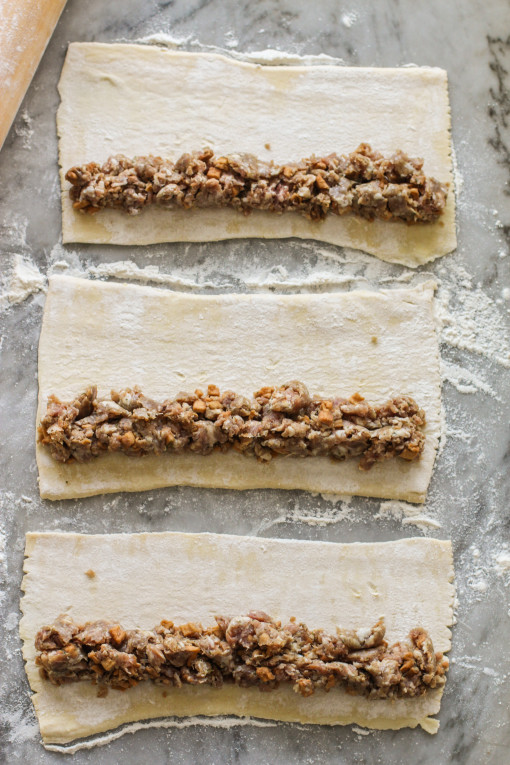 In a small bowl, whisk together the egg and the milk.  Slowly roll the bottom of the pastry over the sausage, tucking everything together, and roll the bottom of the pastry to the top – leaving about 1/4 inch of the pastry unrolled.  Take a bit of the egg wash and run it on the unrolled pastry, then roll everything together, pressing the seams of the pastry to the roll.  (see picture below)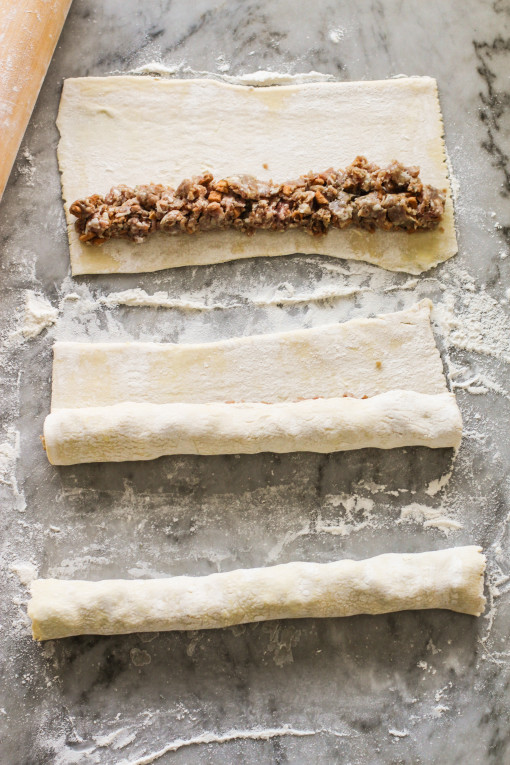 Repeat these steps with each pastry/roll until you have six rolls in total.  With a very sharp knife, cut each roll into six equal parts and make a small slit or "x" on the top of each little roll to let the steam escape while it cooks.  (see picture below)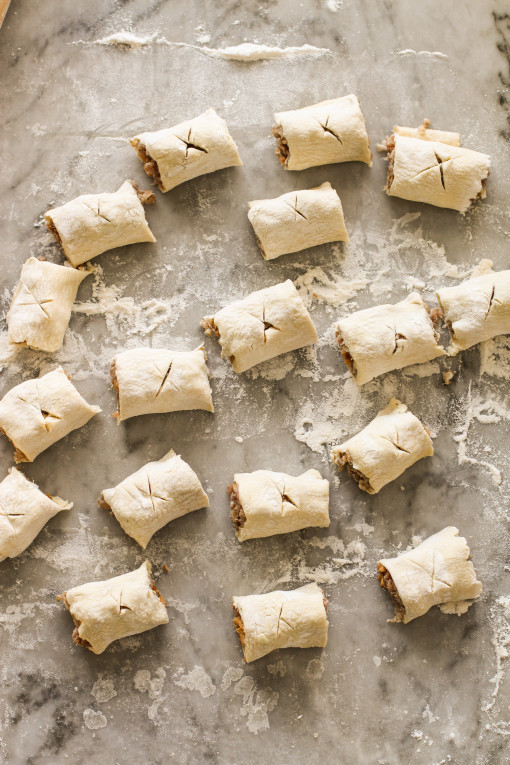 Place the little rolls onto the parchment paper – leaving equal space between each one.  Brush the tops with egg wash and sprinkle the rosemary over the tops.
Put the rolls into the oven and bake for 20-25 minutes, or until fully cooked and the pastry is golden brown.  Remove from the oven and serve immediately or at room temperature.