Do you have a favorite side dish that once you see it at any bbq, dinner, lunch, event, party, you are immediately drawn over to it and must eat it no matter where you are or who might be looking at you?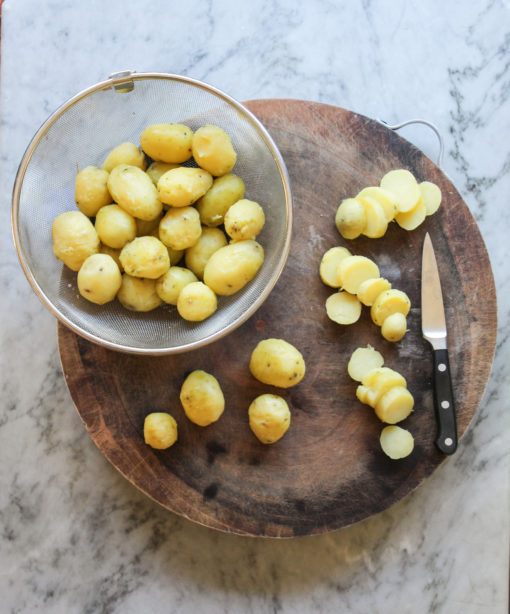 Well, I do.  It's chocolate and potato salad.  Wait, not together.  I mean, I like chocolate (dramatic pause) and I also like potato salad (without chocolate) and that makes two things, but you see where I'm going with this, right?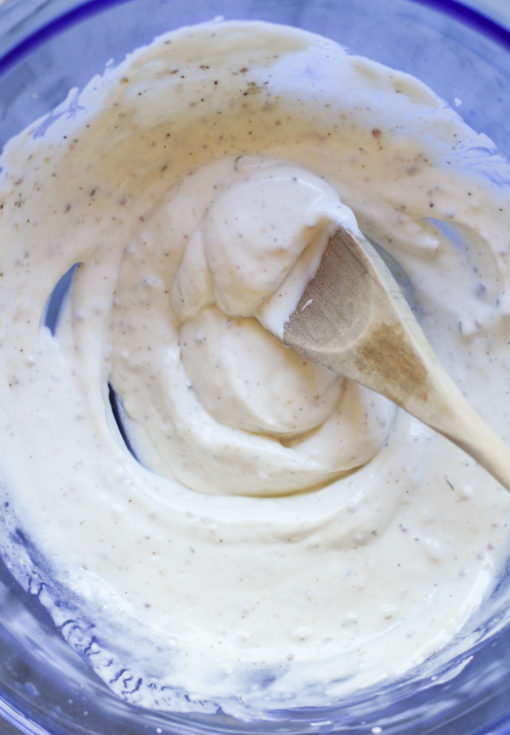 Potato salad.  It might be my Texas upbringing, but man, do I love a good potato salad.  And I even like the slightly mediocre ones too.  I will even crunch through some slightly undercooked potatoes if the flavor of the salad is right on….I am definitely a fan of all things potato salad.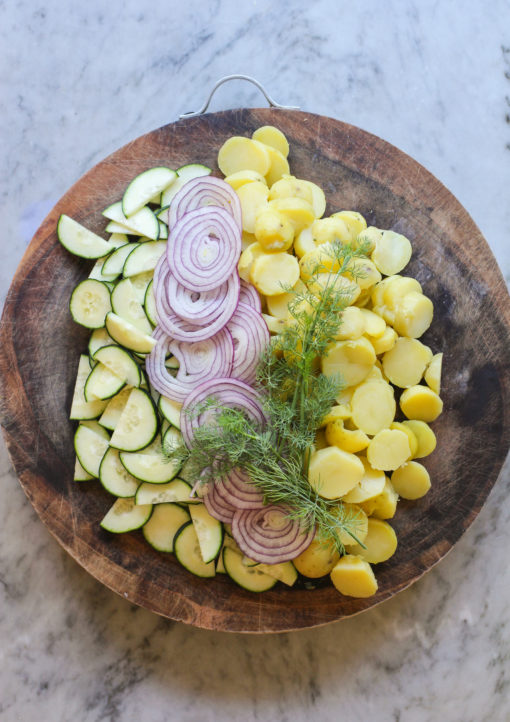 With a traditional potato salad there is usually a large amount of mayonnaise in the sauce, to make everything creamy and silky and such but what happens when you meet the man of your dreams he cannot even stand to be in the same room as a jar of mayo much less take a bite of it?  Well, you get creative – sometimes making potato salad with a vinaigrette (good but not the same), sometimes making some just for me with mayo (delicious but I couldn't share), and then this happened – tzatziki potato salad.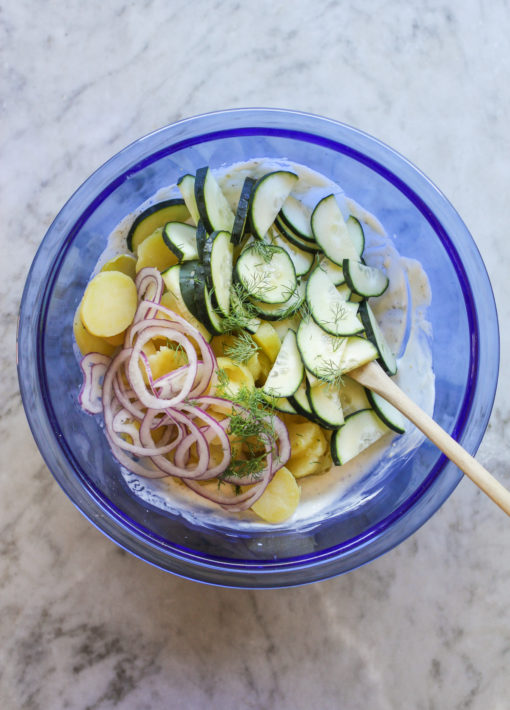 We make tzatziki sauce at our house probably once a week.  We drizzle it on everything and anything as it's both healthy and delicious.  So one day while we were eating dinner, I drizzled some tzatziki sauce on my baked potatoes and just like that – the tzatziki potato salad idea was born.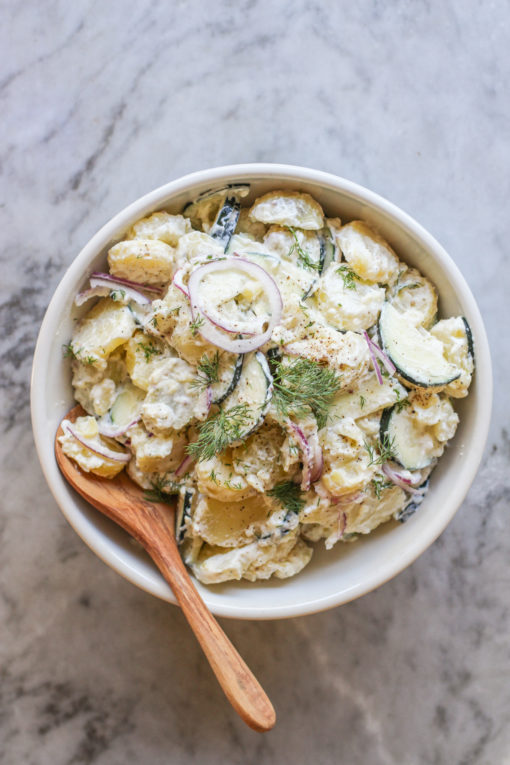 So I made a batch with all the traditional tzatziki fixings – dill, yogurt, onions, cucumber, lemon – and guess what happened?  Well, two things happened – one, it was delicious and two, my main man actually enjoyed potato salad for the first time in a long time, if not in his entire life.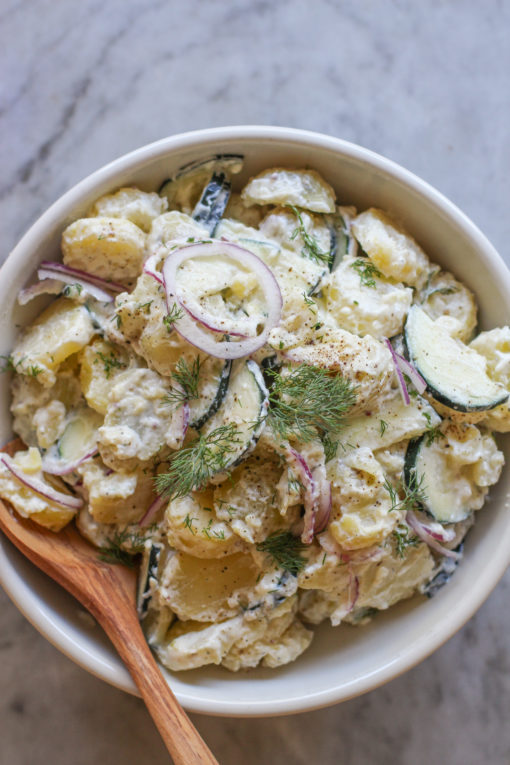 So here's the perfect summer side dish for your next party – super simple, healthy, delicious – and packed with all the traditional tzatziki flavors.  I hope you guys like it as much as the hubby did!
XO,
Jenn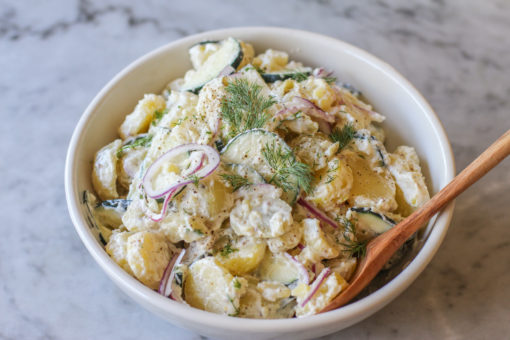 tzatziki potato salad
makes 8-10 servings
1 1/2 pounds of Yukon gold potatoes
1 medium seedless cucumber, cut into half lengthwise, then thinly sliced
1/2 medium sized red onion, thinly sliced
2 cups nonfat greek yogurt
1/4 teaspoon lemon zest
1 tablespoon lemon juice
3 tablespoons olive oil
3 tablespoons water
3 sprigs of fresh dill, stems removed, then roughly chopped
salt
black pepper
Wash the potatoes and place them whole into a large pot.  Cover the potatoes in cool water and add one good pinch of salt.  Bring the water to a boil, then turn the heat down to a simmer and cook the potatoes until a knife inserted in the center goes in and comes out easily.  Remove the potatoes from the heat, drain and place into a large bowl.  Add lots of ice and cold water to the bowl of potatoes to stop them from cooking.  Once the potatoes have cooled to the touch, drain them again and discard the water.
With a small, sharp pairing knife, peel the skin from the potatoes, keeping the potatoes whole.  Discard the skins.  Once all of the potatoes have been peeled, slice them into rings, about 1/4 inch thick.  Set aside.
In a large sized bowl, whisk the yogurt, lemon zest, juice, olive oil, water, dill and a pinch of salt and pepper together.  Taste and adjust seasonings as needed.  The tzatziki sauce shouldn't be too thick – more of a pourable consistency – so add a little more water if needed to get to a pourable consistency.
Place the potatoes, cucumber, and onions into the tzatziki sauce, and gently stir to combine the vegetables with the sauce.  Taste again, adding more salt and pepper if needed.  Cover and refrigerate for at least 30 minutes before serving to allow the flavors to combine.