After the hectic holidays and big feasts we planned a little detox session in our household.  Nothing too extreme, but with the main focus on vegetables, fruit and grains again.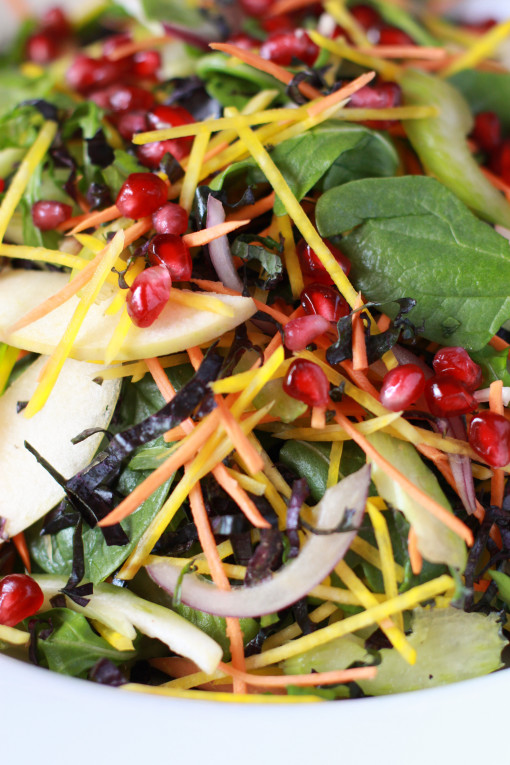 Looking for some great inspiration, I hopped over to one of my favorite blogs and found this yummy salad.  The First Mess is written by Laura and she creates seasonal and wholesome food.  Her photography is amazing and her recipes are delicious.  Every time I see a new post I want to recreate her recipe as soon as possible.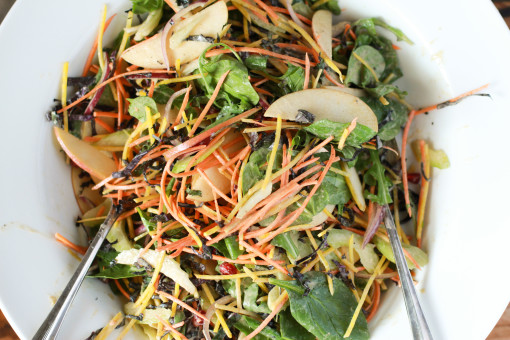 This winter vegetable salad is a great mix of crunchy veggies, sweet apples, pomegranate, healthy handfuls of spinach, kale, and arugula – all tossed with a creamy sesame dressing – and perfect for getting back on track.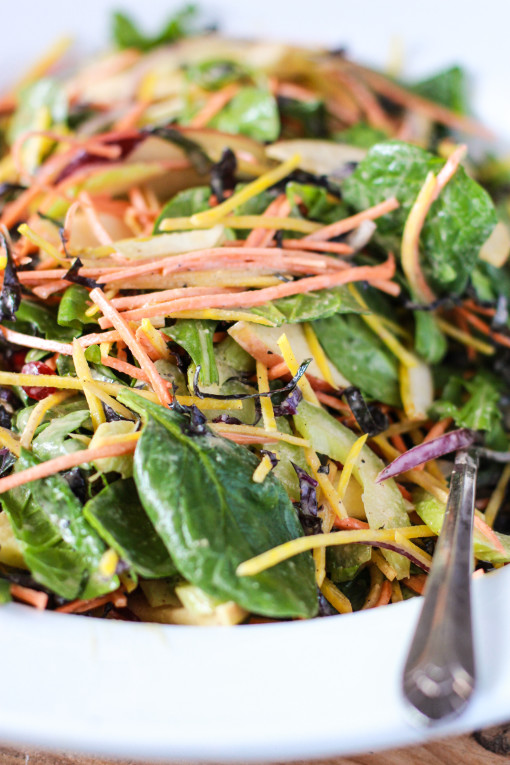 winter vegetable salad with creamy sesame dressing
recipe from The First Mess
1 yellow beet, peeled and cut into matchsticks
1 sweet potato, peeled and cut into matchsticks
1/2 medium red onion, peeled and thinly sliced
2 stalks of celery, thinly sliced on the bias
1 cup pomegranate seeds
2 cups kale leaves, shredded
2 cups arugula leaves
2 cups spinach leaves
1/4 cup parsley leaves, roughly chopped
creamy tahini dressing (recipe follows)
Combine all vegetables, leaves, and greens in a large bowl and toss to combine.  Add about 1/2 cup of the tahini dressing and toss to combine.  Taste, add salt and pepper if needed, and adjust as needed.
my notes: This recipe makes a big batch of salad, but it will keep in the refrigerator for a few days – just add the apples and dressing right before you toss everything together. 
creamy sesame dressing
1/3 cup tahini
1/4 cup extra virgin olive oil
1/4 cup orange juice
1 tsp ground cumin
1 garlic clove
salt and pepper
Combine all ingredients in a blender.  Taste and adjust as needed.  If the dressing is too thick, add water or more orange juice to thin it to the consistency you like.