You guys, I have been DYING to get a blog post up for what feels like forever!!  My darling husband has been taking an online class so he can finish up his bachelors degree…for the past SIX weeks!!  When he first started his class there wasn't much homework, so I was able to get in here and work on posts, recipes, and what not's.  But as the weeks progressed, the homework got more and more difficult, which also equated to him working more and more on the computer, and even taking the computer out of the house and working at places like the library, so he could get some uninterrupted quiet time.  Totally appreciate all his hard work but that left me with ZERO computer time!!
But, he's done, the computer's back home, and I have SO MUCH to share with you!!!
First up is this tomato, cucumber, and peach salad!!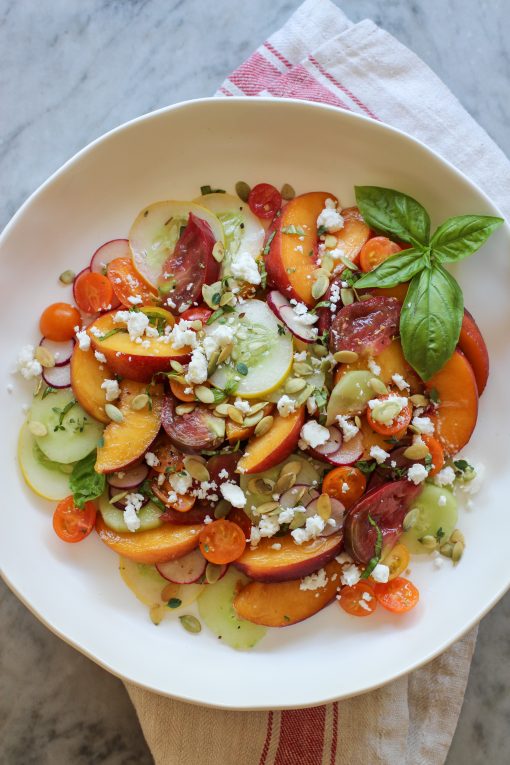 One of the wonderful things I learned from my first chef was how to make the perfect salad.  Now don't get me wrong, you can totally make a salad and it can be wonderful and taste delicious and as long as your happy (and full), that's all that really matters.  But hear me out – there's a formula for making a really delicious salad – a salad that your guests will talk about for days (and maybe even years!!) to come!!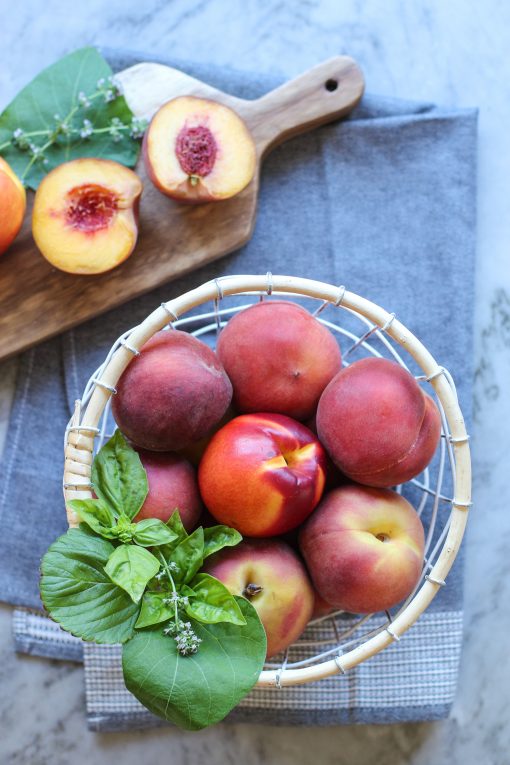 The formula goes something like this – 1. start with food that is in season – it's the ripest and freshest and hands down, tastes the best!!  Then, you need to pick a salad base, and add as many as the following as you can: crunchy, sweet, tart, creamy, soft, and chewy.  Seems simple enough, right?  Let's explore more….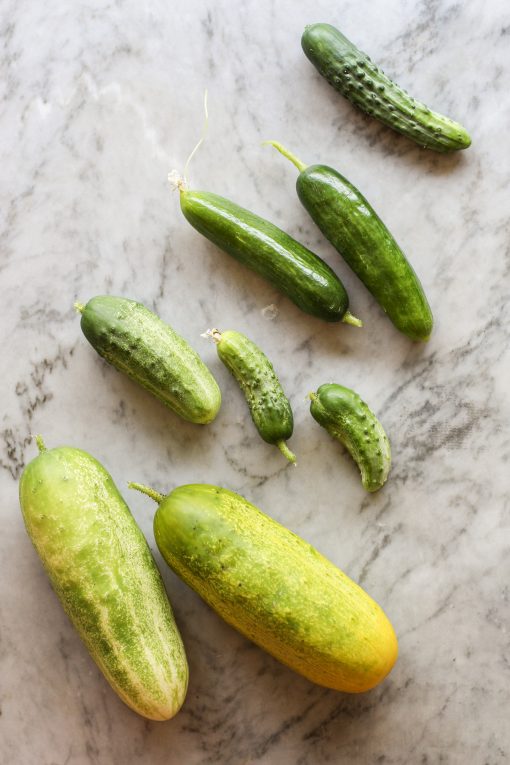 Starting with a salad base…  A salad base can be something that we are used to eating when we think of a salad: baby greens, arugula, romaine – lettuce in general.  Or a salad can be made with a base of something unexpected like a single vegetable – green beans, cucumbers, shaved vegetables, roasted vegetables – or even a vegetable protein like lentils or white beans.  Pick one and put it in a bowl.
Adding something crunchy…  The crunchy addition could be another vegetable like cucumbers, carrots or radishes.  The crunchy addition could also be something like toasted nuts, seeds, savory granola, crunched up chips, croutons, toasted pita, etc.  Pick one and sprinkle on top.
Adding something sweet…  Here's a great time to add some fruit to your salad.  Fruit??  To a salad??!!  Yes, trust me! I promise it will be great! Here some ideas: if it's spring, think about adding strawberries – summer is a great time for peaches, figs and cherries – apples in fall – and in the winter, oranges are a perfect addition to any salad. No fresh fruit available? Sprinkle in some dried cranberries, cherries or other dehydrated fruit. Pick one and add it to the salad.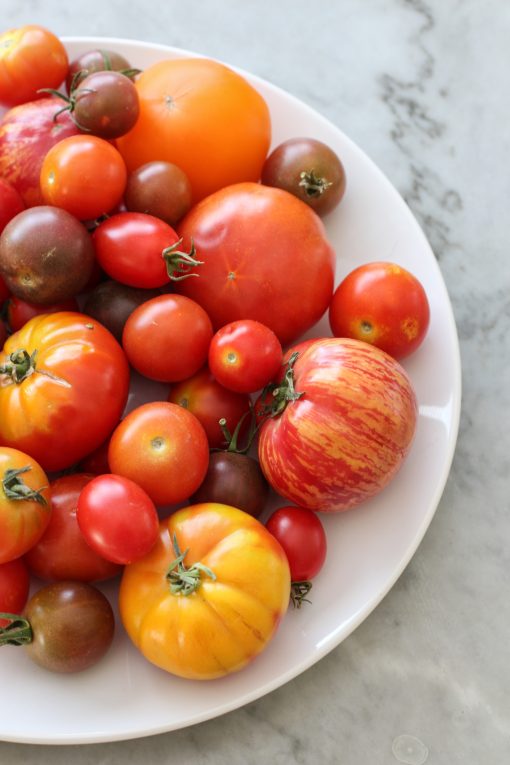 Adding something tart or tangy…  To balance out the sweet, you will need something tart, tangy, or sour. Olives, tomatoes, balsamic vinegar reduction, pickled vegetables, pickled red onion, roasted onions, marinated artichokes, sundried tomatoes, and even roasted bell peppers would work. And if you haven't already added cheese to your salad, crumbled blue cheese, fresh goat cheese or goat cheese would work here too. You could also use your dressing/vinaigrette to add the tang to your salad.  Pick something add it (or drizzle it) over the top.
Adding something creamy… The creamy addition could be something like goat cheese, feta cheese, or mozzarella cheese, or it could also be something like boiled potatoes, tofu, avocado, or tahini dressing.  Pick one and add it to your salad.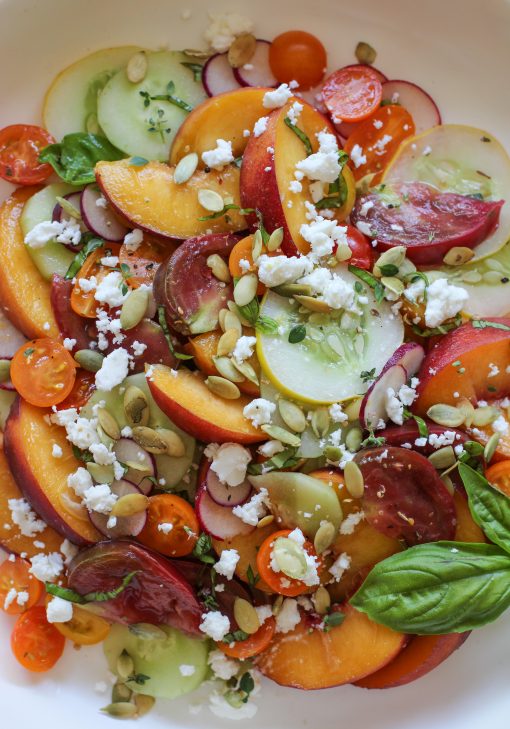 Make sure that you have some soft textures in your salad.  This could be something you have already added to your salad, like one of those cheese, or you could add something like strawberries or cantaloupe melon, hard boiled eggs, baked sweet potatoes, avocado, roasted vegetables and even cooked beans.  Pick one and add it to the goodies!
And finally, let's make sure that there is some chewy texture in your salad.  Along the same lines as crunchy time, a chewy texture item can be toasted nuts, seeds, croutons, or even dehydrated fruit.  This is also be a great place to add a grain or grains!!  Quinoa, millet, brown rice…polenta cubes, barley, and even lentils would work for this category.  Grab your favorite and add it to the bowl!
Congratulations!  You just learned how to make the most delicious salad using that simple salad formula!!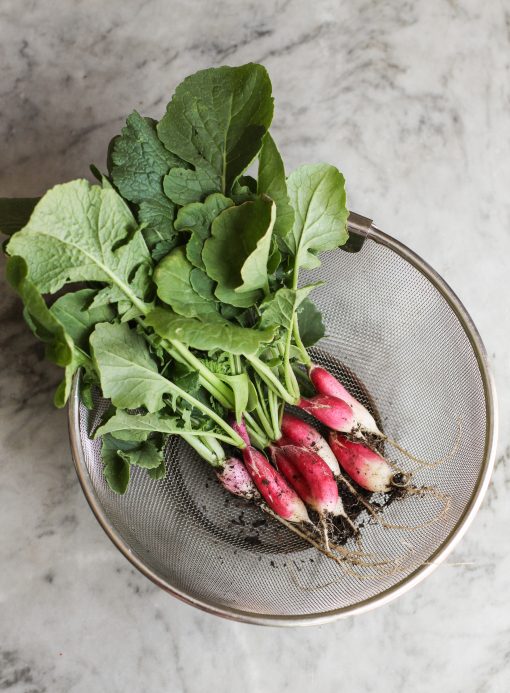 Now, let's put this idea into play with the salad I made today – tomato, cucumber and peach salad with basil vinaigrette.  I skipped the baby greens/lettuce base and instead used cucumbers for the base of this salad.  And the rest of the formula went something like this:
base: cucumbers
creamy: crumbled goat cheese
crunchy: fresh radishes
sweet: perfectly ripe summer peaches!!
tangy: basil vinaigrette (made with red wine vinegar)
soft: the goat cheese and peaches
chewy: sprouted and toasted pumpkin seeds
Super easy, tasty, and delicious!!  You can do it!!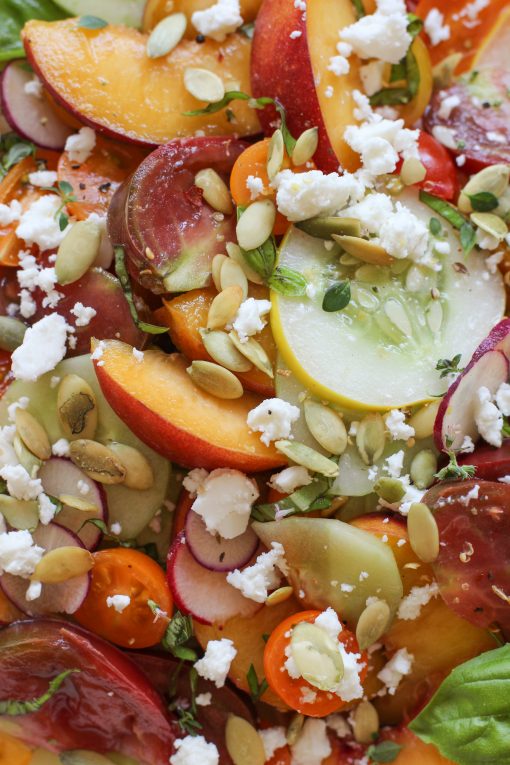 I hear some questions already….
Do I have to use all the categories in my salad?  Nope.  Use as many or as few as you want.  But I would suggest leaning closer to using more than less so that your salad is a little more exciting than say, a salad with just greens and a shaved radishes – but it's totally up to you!
Can I add protein to this salad formula without wrecking anything?  Absolutely!!  This formula works with or without protein but I'm all about adding some grilled chicken, fish, lentils, steak, eggs, quinoa, beans, tofu – you name it – on top of a salad and calling it dinner, so go for it!
But I'm dairy, gluten, nut intolerant??  Welp, that's the great thing about living in 2018, there's a healthy replacement for every single one of these things available to you.  Cashew or coconut cheese for dairy issues, gluten free breads, and replacing nuts with seeds would work perfectly in this salad formula – you make this work for you!!
Any other questions?  Leave them in the comments below, or shoot me an email and I'll get right back to you!  I'll even leave you with a wrap up of my five most popular salad dressings from the blog (see below), AND the exact recipe for the tomato, cucumber, and peach salad so you can get going on making the perfect salad for you!!
Let me know how it goes and stay tuned – the next couple of posts will be highlighting these easy salad steps – see if you can spot all the ingredients!!
XO,
Jenn
healthy green goddess dressing
kale tahini dressing (this is my most popular pin on pinterest!!!)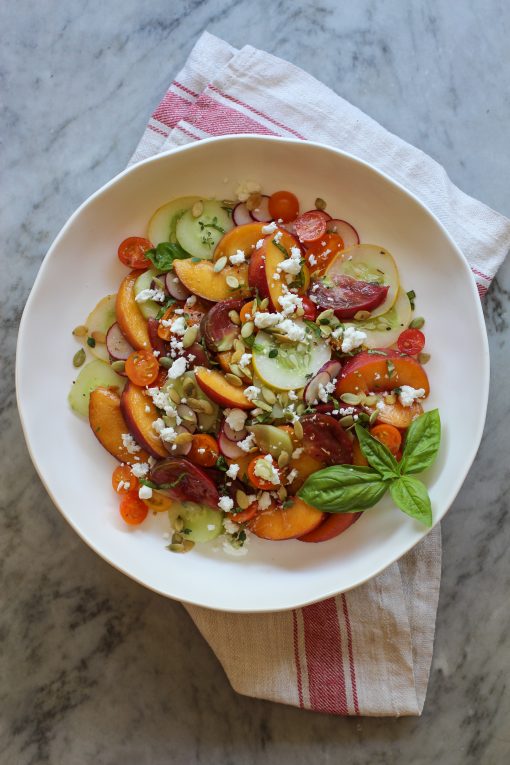 tomato, cucumber and peach salad
makes 4-6 servings
**you will need a mandolin (this ones my favorite) or a very sharp knife**
2 medium English cucumbers
4 radishes
1 – 1/2 pounds of tomatoes (any shape, size or color – pick your favorites)
3 ripe peaches
salt
black pepper
1 batch basil vinaigrette (recipe here)
1/4 cup sprouted and toasted pumpkin seeds
3 ounces fresh goat cheese
Wash the cucumbers and thinly slice them on a mandolin.  Place the cucumbers in a large bowl.  Wash and thinly slice the radishes on a mandolin and place them in the bowl with the cucumbers.  Wash the tomatoes, and remove any cores from the large tomatoes.  Cut tomatoes into bite-sized pieces, or into half if using smaller tomatoes and add them to the bowl with the cucumbers.  Cut the peaches in half and remove the pits.  Thinly slice the peaches and add them to the bowl.
Season with salt and pepper.  Drizzle some of the basil vinaigrette over the vegetables and fruit and using your hands, gently toss the vegetables and fruit together.  Place the salad onto a large platter or individual plates – sprinkle the tops of the salad with the pumpkin seeds and the goat cheese.  Serve immediately.