Hi.  My name's Jenn and I'm a chocoholic.
Seriously.  It's so bad I probably need my own support group.
Most of the time I can keep chocolate out of the house and out of my mouth, but this time of year it's really hard to keep those chocolate bunnies out of doors.  You know, they just keep hopping inside when I turn my back.
Those darn bunnies!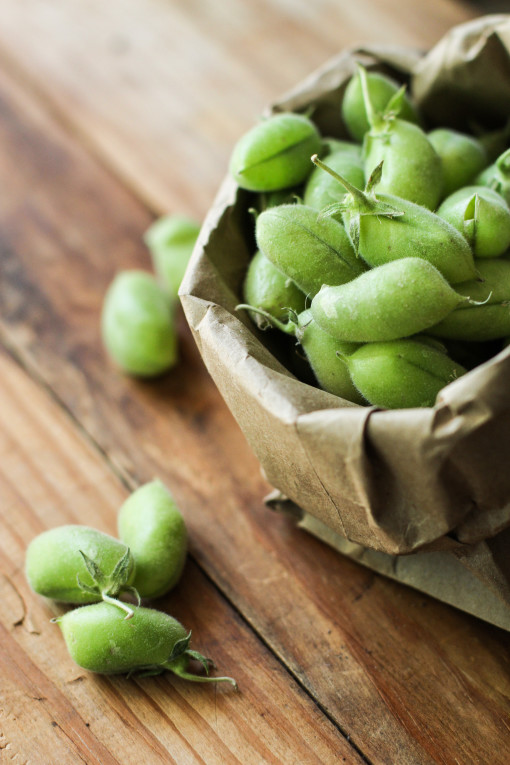 As soon as I heard there were these little tiny fresh chickpea pods at the market, I ran to gather a bagful and started thinking of all the ways I could play with them instead of eat  play with the chocolate bunnies.  It was like the universe wrote me a letter.  Dear Jenn, it said,  Eat bunny food, not the bunnies.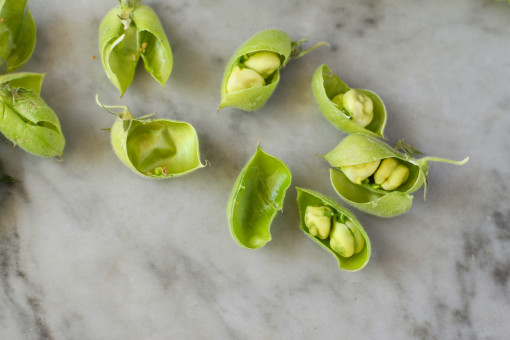 So here's a great plate of bunny food, just in time for Easter.  Serve it with your sticky honey-glazed ham.  Serve it on a big pile of spring lettuce with avocado and thinly sliced radishes.  Serve it warm for breakfast with a runny poached egg and some crunchy bread.
Just make sure you close the door and keep those sneaky bunnies outside.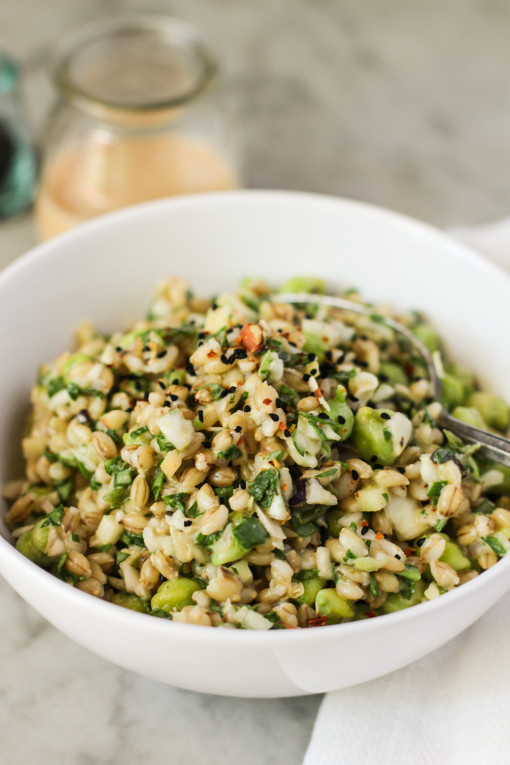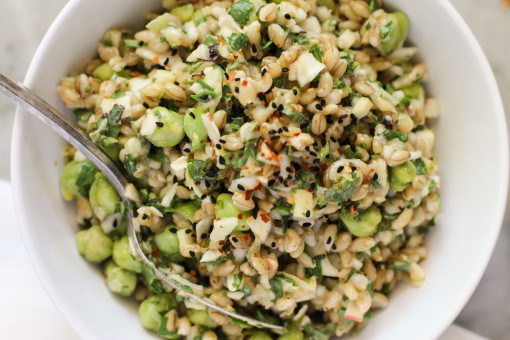 fresh chickpea and barley salad with cashew-miso dressing
inspired by what's cooking good looking
2 cups fresh chickpeas
2 cups cooked barley
1 medium Fiji apple, finely diced
1 cup green cabbage leaves, finely diced
1 cup spinach leaves, finely diced
3 tbsp. fresh mint, shredded
1/3 cup cashew butter
2 tbsp. white miso paste
1 tbsp. sesame oil
2 tbsp. lemon juice
2 tbsp. white wine vinegar
2 tbsp. shallot, finely diced
2 tbsp. maple syrup
pinch of Aleppo pepper flakes
1/4 cup – 1/2 cup water
Bring a small pot filled with water to a boil.  Add a good pinch of salt to the water and place the chickpeas into the boiling water and cook for about 3-4 minutes.  While the chickpeas are cooking, fill a medium sized bowl with ice and water.  Once the chickpeas have cooked, remove them from the pot and drop them into the ice bath to stop the cooking process.  Allow the chickpeas to cool for a minute or two and drain the water.
Place the chickpeas into a large bowl and combine them with the barley, cabbage, spinach and mint, stirring to combine.
In a separate bowl, whisk together the cashew butter, miso, sesame oil, lemon juice, vinegar, shallot, maple syrup and pepper flakes.  While whisking, slowly add a little bit of water at a time to thin the mixture into a dressing.
Pour a good bit of the dressing over the chickpea salad mixture and stir to combine.
my notes:  Canned chickpeas can be used if you can't find fresh chickpeas at your market.