Well, tis the season.  Yes, the holidays are over but so far this year has started out with cold followed by another cold.  And it's not just me.  My little monkey came home with a bug from school (dear mamas, please don't let your babies go to school with a cold) and was sick for over a week.  Then he gave it to me and we have battling "the cold that will never end" together.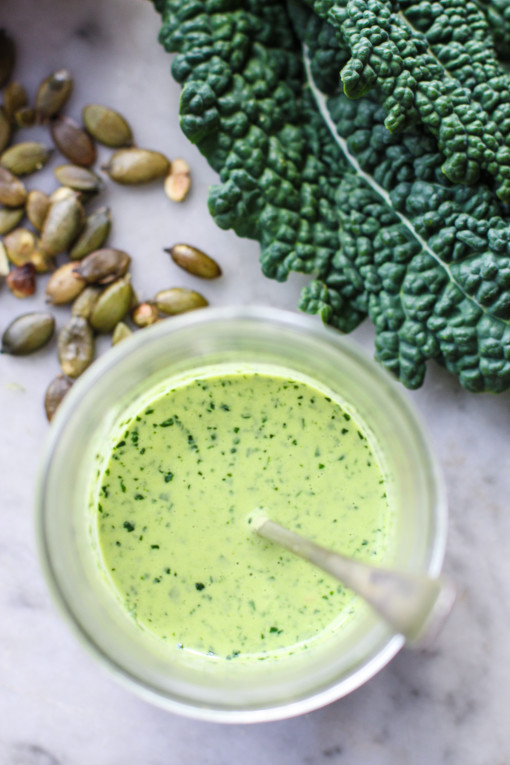 Isn't that sweet?  Two little bundles on the sofa, wrapped in blankets, and flipping between the Cartoon Network and The Food Channel.  Add some warm, brothy soup, a box of Kleenex or three, and snuggles and I'd never leave…except for that darn cold.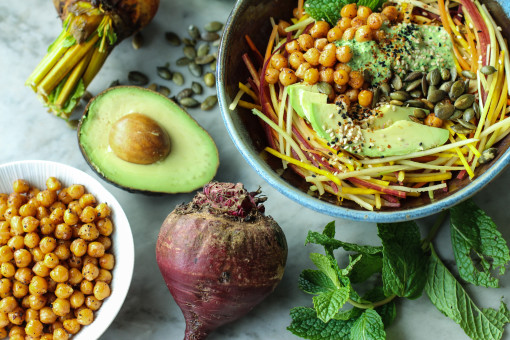 Like I usually do when I feel a cold coming, I start drinking as much orange juice as possible and hope for the best.  But with pregnancy comes a lovely thing called indigestion, and I guess the little baby girl is not a fan of orange juice.  So I had to think outside the box.
How else could I get a whole bunch of vitamin C in my body without upsetting the baby house?  Turns out there are a ton of vegetables and fruit that have high amounts of vitamin C in them and they are things that I (and my current tenant) like to eat.  Score.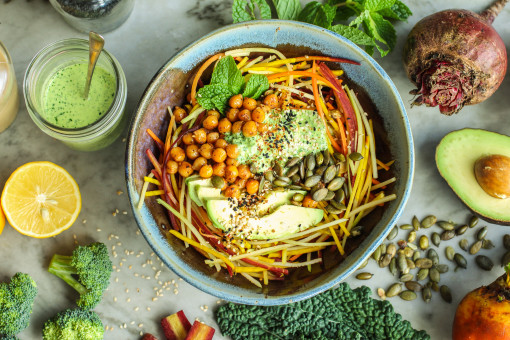 Non-citrus fruit abundant in Vitamin C include plums, grapes, berries, pineapple, tomato, watermelon, avocado, pear, apple, guava, and mango.  You can find excellent sources of Vitamin C in cauliflower, parsley, broccoli, bell pepper, onion, kale, mustard green, Brussels sprouts, carrots, green peas, potato, celery, lettuce, cucumbers, leeks, turnip, asparagus, beets, yam, and corn.
Who knew?
So I perused the pantry and fridge and came up with the following Vitamin C bounty – broccoli, beet and carrot salad with a creamy kale tahini sauce.  It was perfect and the toddler and the tenant all agreed that this lunch was just what the doctor ordered.  Ha.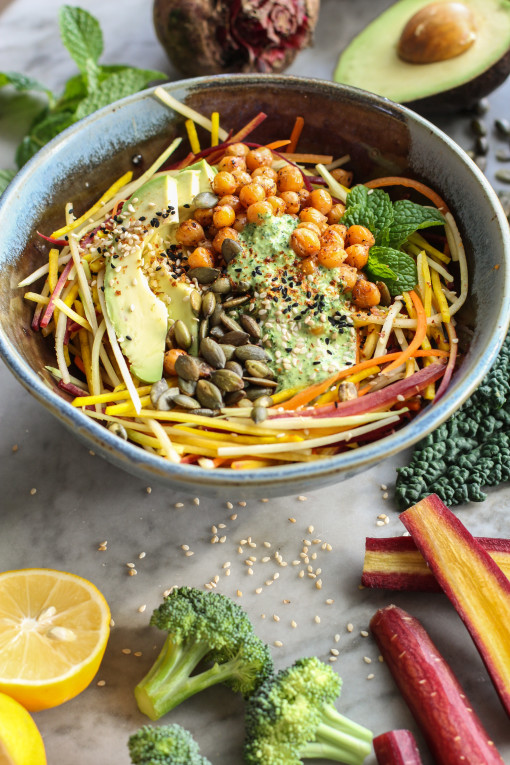 broccoli, beet and carrot salad with kale tahini
for the salad:
specialty equipment – you will need a mandolin (get my favorite one here) or a very sharp knife
1 head of broccoli (with a stem), washed
2 medium yellow beets, washed and peeled
1 bunch purple carrots, washed and peeled
1 bosc pear, peeled and cored and cut into quarters
kale tahini sauce, recipe follows
1/4 cup toasted pumpkin seeds (this brand is SO good)
1 ripe avocado
1/2 cup roasted chickpeas (or other bean)
2 tablespoon toasted sesame seeds
salt
black pepper
Trim the broccoli and remove the stem from the head.  Reserve the head for another use.  Thinly shave the broccoli stem skin and remove a bit of very bottom tough edge -discarding both.  Using a mandolin fitted with the julienne blade, thinly slice the broccoli stem and place into a large bowl.  Do the same with the beets, carrots and pear and toss together to combine.
Add a bit of the kale tahini sauce, a pinch of salt and black pepper and toss to combine.  There should be enough tahini sauce over the vegetables to coat them – but do add more if you like.  Top the salad with the toasted pumpkin seeds, avocado slices, roasted chickpeas and toasted sesame seeds.
for the kale tahini sauce:
1/4 bunch of lacinato kale, stems removed and washed
2 tablespoons tahini (I use this brand)
1 garlic clove, peeled and minced finely
1/4 cup extra virgin olive oil
1/2 cup water
salt
black pepper
1 lemon
In a medium pot over high heat, bring generously salted water to a boil.  As the water is coming to a boil, fill a large bowl with ice and water and set aside.  When the water is at a boil, add the kale, stirring to make sure it all gets covered it the boiling water.  After about two minutes in the boiling water, remove the kale and place it immediately into the ice water.
Once the kale has cooled down completely, remove from the ice water and squeeze all remaining water out of the kale.  Roughly chop the kale and place it into a blender with the tahini, garlic, a pinch of salt and black pepper, and a small squeeze of lemon.
Blend the ingredients while simultaneously drizzling in the olive oil, followed by the water.  Stop the blender and scrape down the sides and blend again until all the ingredients have come together completely.
Taste and adjust seasonings as needed.