Hi friends,
Are you enjoying your weekend so far?  Any big plans?  Or just kicking back and relaxing?  Hopefully the spring weather has made it to your neck of the woods and the snow is finally gone.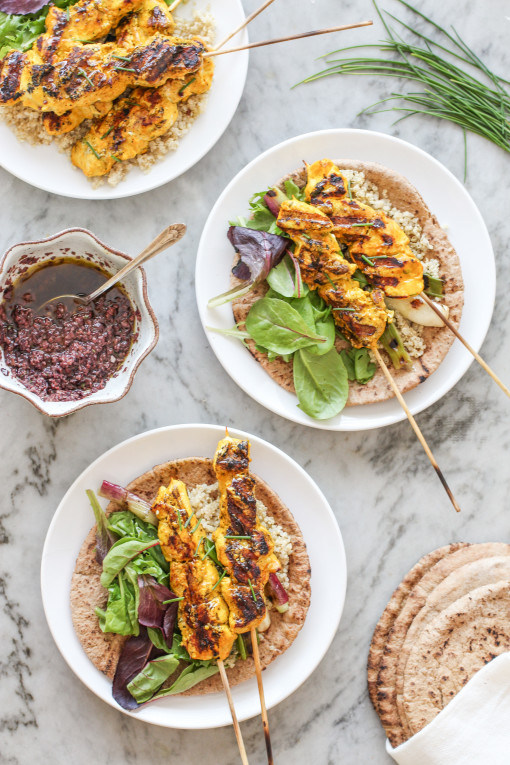 We spent Saturday at home doing all the spring cleaning that one adult can do with a four year old helper and a baby that wants to put everything in her mouth.  So in case you are counting, that was none.  No spring cleaning happened yesterday…sigh.
But we acted like it was spring anyway – we squeezed a whole bunch of lemons and chopped up a pint of strawberries to make the most refreshing strawberry lemonade.  We dug in the dirt to plant pea seeds and carrots and radishes – watering each little pile of dirt and sprinkling it with love and hope for a big harvest.  And while the baby took her nap, we turned on the oven and baked up a big batch of chocolate chip cookies – licking the beater blades and staring through the oven door with anticipation of the warm chocolatey goodness.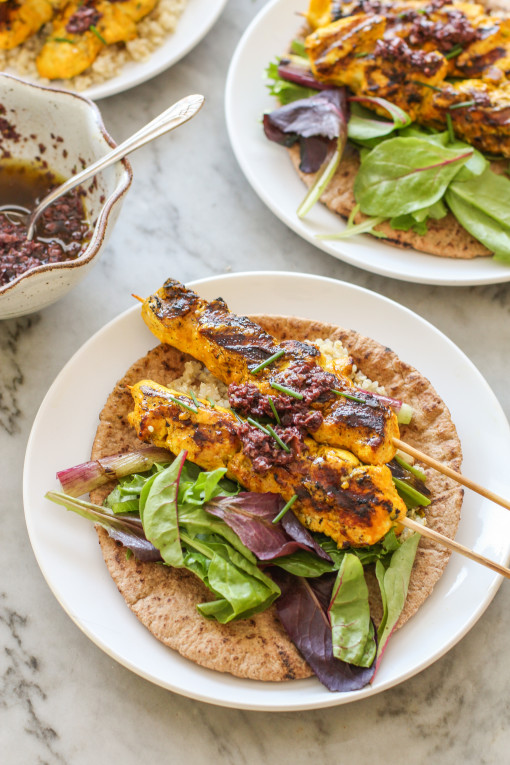 And then the day was almost over.  Like a snap of the fingers it was dinner time – where did the day go?  The dirty hands were washed and helped to set the table, the grill was lit and dinner was ready to be made:  easy chicken brochettes – simply grilled and served with quinoa, baby greens and a bit of olive tapenade.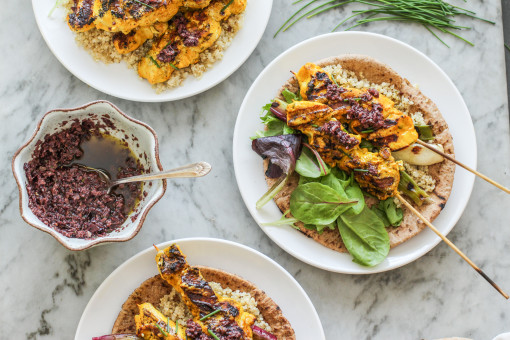 Don't be scared – brochette is just a fancy French word for kebab.  Basically anything cooked on a skewer is considered a brochette and that's what we have here: chicken breast marinated in greek yogurt, turmeric and curry powder and cooked on a skewer.  Healthy and delicious – great for a week night meal or for a weekend when you decide that it's more fun to play outside than in the kitchen.
We will attempt another run at the spring cleaning tomorrow.  Unless we can find something more exciting to do.
Until then…
xo,
Jenn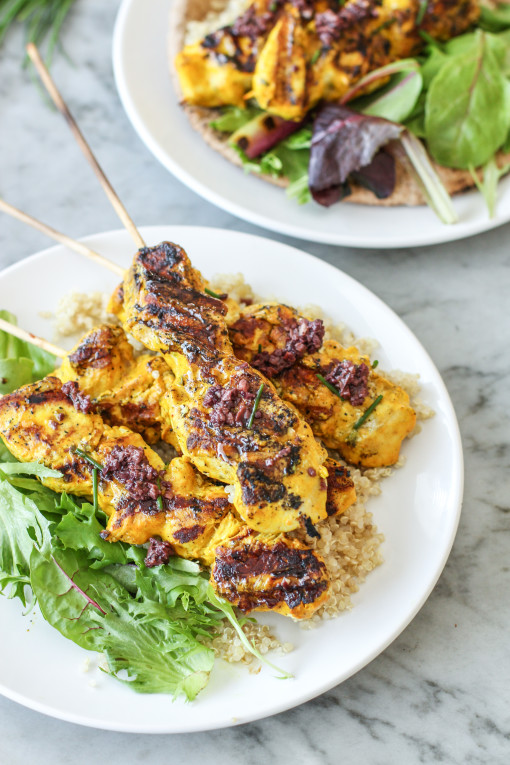 yogurt marinated chicken brochettes
makes 8 brochettes
two skinless, boneless chicken breasts
1 cup nonfat greek yogurt
1/2 teaspoon turmeric
1/2 teaspoon curry powder
salt
black pepper
olive oil
Dice the chicken breasts into 1 inch size pieces and place into a large bowl.
In a small bowl, whisk together the yogurt, 1/4 cup water, turmeric, curry powder, and a pinch of salt and black pepper.  Pour the marinade over the chicken and toss everything to combine.  Cover with plastic and refrigerate for at least 30 minutes and up to 4 hours.
When you are ready to cook the chicken, preheat your grill.  Place a bit of olive oil on a paper towel and carefully run the oiled paper towel over the grill rack.
Using eight wooden or metal skewers, place the chicken on the skewers – dividing the chicken equally.  Place the skewers onto the grill, and cook over medium-high heat until the chicken is fully cooked, flipping once to cook both sides evenly.
Serve immediately or at room temperature.