Yay!  It's finally fall!!!  I feel like I should be posting all kinds of comfort food for those cooler nights, and pumpkin this-and-that, but we are in the middle of a heatwave and there isn't a break from the heat until the end of next week!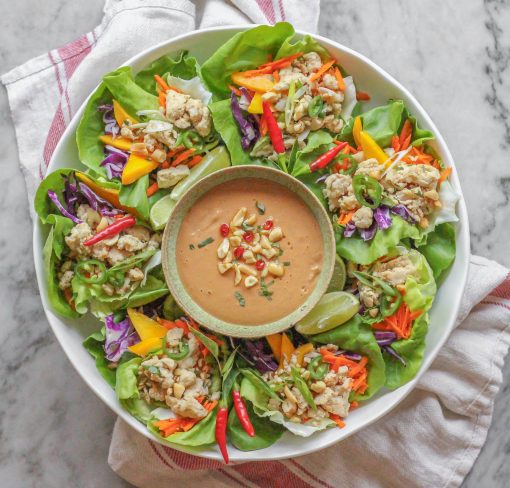 So, because it's so hot and I have no desire to get into the kitchen, I'm going to share this thai chicken lettuce wraps with spicy peanut sauce recipe with you guys today.  And, if it's cold in your neck of the woods, these would go just perfectly with a warm bowl of your favorite soup!!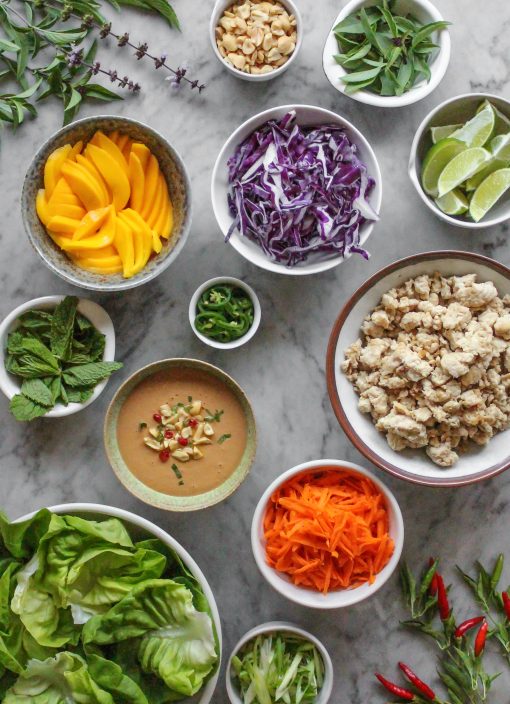 This quick and easy meal is perfect for busy nights or for lunch on the go – it's also as healthy or as decadent as you want to make it.  There's lots of flexibility in this recipe to make it all yours, and we are using really easy to find ingredients so there's absolutely no reason not to make these wraps tonight!
XO,
Jenn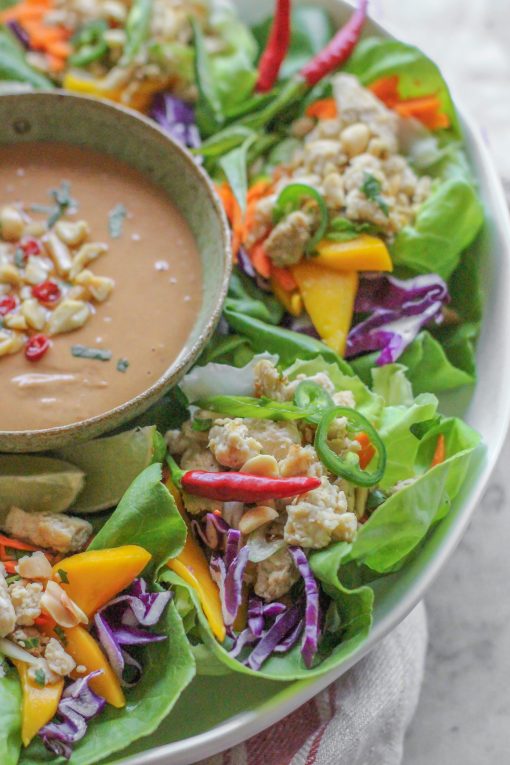 thai chicken lettuce cups with spicy peanut sauce
makes about 4 servings/8 cups
for the sauce:
1 garlic clove, minced
1 inch piece of ginger, grated
2 tablespoons soy sauce or Tamari
1 tablespoon Sriracha or your favorite hot sauce
1 tablespoon honey
2 tablespoons lime juice
1/4 cup peanut butter, or your favorite nut butter (creamy and without nuts works best for this recipe)
water to thin
In a small pot over medium low heat, add the first seven ingredients together and stir until combined.  Allow the sauce to sook for about five minutes to combine the flavors, stirring constantly so the sauce doesn't burn.  Remove the sauce from the heat.  While stirring, slowly drizzle water into the sauce mixture until it becomes pouring consistency.  Taste the sauce and add more soy sauce, honey, lime juice or hot sauce to your taste preference.
Set aside and allow to cool.
for the thai chicken cups:
1 pound ground chicken, or turkey
2 tablespoons olive oil or cooking spray
3 cloves garlic, minced
1 tablespoon rice wine vinegar
1 tablespoon Sriracha or your favorite hot sauce
2 tablespoons hoisin
2 tablespoons soy sauce or Tamari
1 head butter lettuce or iceberg or romaine, leaves removed, washed and patted dry
1 cup shredded carrots
1 cup shredded purple cabbage
1 mango, sliced,
1/4 cup chopped peanuts, or other nuts
2 green onions, thinly sliced
1 thai chili pepper, thinly sliced, seeds removed
1 cup fresh herbs – thai basil, cilantro, basil, or a combination
lime wedges
Place a large nonstick pan or skillet over medium high heat.  Add the oil and the chicken to the pan, breaking up the chicken.  Sauté the chicken until completely cooked through, stirring and breaking the ground chicken into smaller pieces.  Once the chicken is fully cooked, add the garlic, stir and cook for two more minutes.  Remove the pan from the heat and add the vinegar, hot sauce, hoisin and soy sauce, stirring to combine.
assembly:
Place each lettuce cup on a plate or platter.  Divide the chicken equally between the lettuce cups.  Top the chicken with your choice of toppings and drizzle some spicy peanut sauce over the top of everything.