I had both a good and a bad day today.  Weird combo, I know.  But my life – itself – it was amazing today.  The kids were happy, and slept when they were supposed to, I rocked it at the gym this morning, all my chores were completed before 1pm which is a complete rarity around here and everyone was still standing, and smiling (!!?) by dinner time.  It was amazing.  But then it wasn't.  This completely wonderful day was covered in grey by my thoughts.  I'm scared about what's to come and what's going to happen on Tuesday.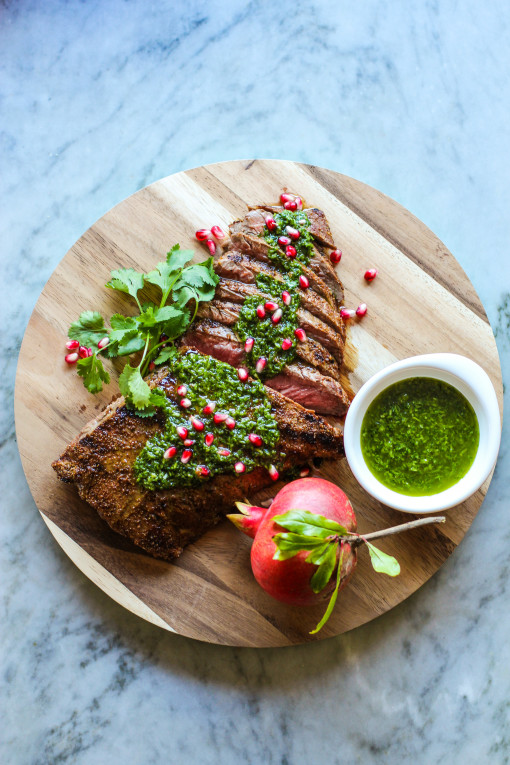 Anyone else with me?
No, I'm not going to take any sides here or anywhere else – this blog and this girl are totally not commenting on who or what – I'm just saying that this is the first year that any election has ever bothered me as much as this year.  It's depressing.  I can't believe that this is what our country has come to.  And I really can't believe that this is what our forefathers were dreaming of when they created all the things that would turn into now.
Sigh…
It's just depressing.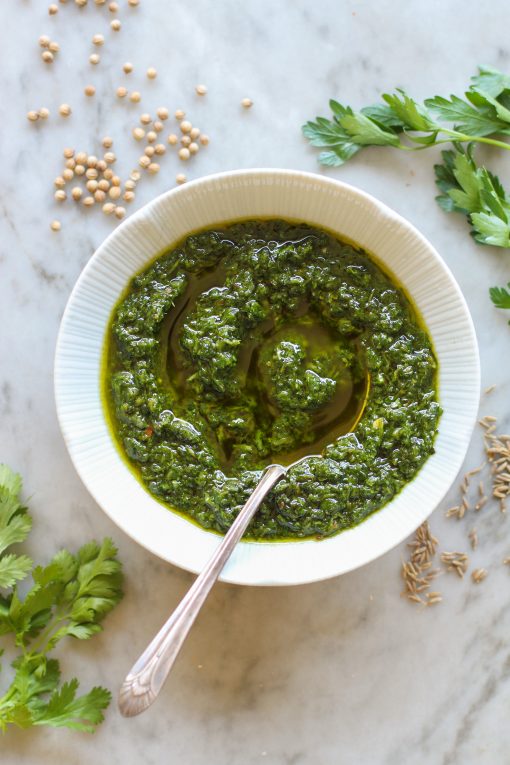 I worry about tomorrow, what's going to happen when we turn the presidential palace over to the next um…selection…?  I'm worried about what "we" as a group will have selected for our future, for our children's future and our children's children's future – the trickle-down effect.  I'm depressed in a way that I have never been before.  Sad, really.  Sad for the America that were supposed to be, sad for what is to come.  Sad for what we represent and what other countries must think of us.
That is all about that.
Blah.
Sadness….
Moving on…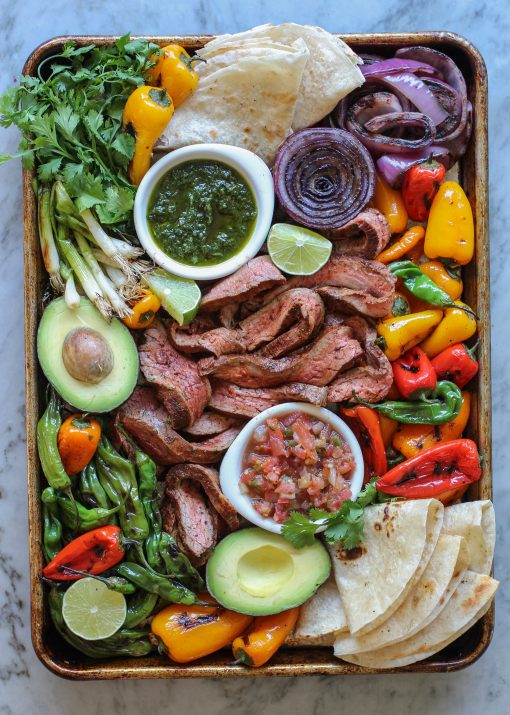 What isn't sad is this dinner we made last night – spice rubbed flank steak with a tangy chimichurri sauce and pomegranate seeds.  Chimichurri sauce was made for steak – fresh herbs, garlic, white vinegar, and lots of salt and pepper.  Sometimes with red pepper, sometimes not – I just love it and after I make a batch, I like to drizzle it on almost everything I cook for as long as it lasts.  The sweetness of the pomegranate seeds balance out the spicy rub and the herby sauce and it just makes the best dinner.  Serve with some roasted potatoes or oven fries – you can have dinner on the table in around 30 minutes or less.  One thing to help with Tuesdays outcome…
XO,
Jenn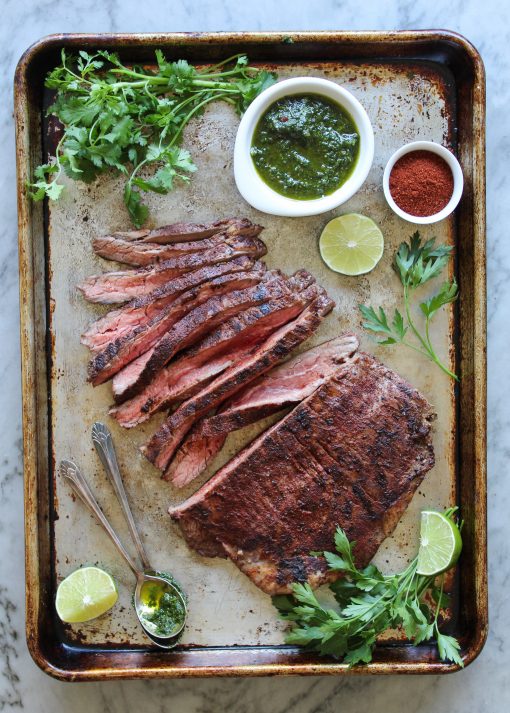 spice rubbed flank steak with chimichurri sauce
makes about four servings
1 cup fresh parsley, roughly chopped
1 cup fresh cilantro, roughly chopped
2 garlic cloves, peeled and roughly chopped
1 teaspoon ground cumin
2 teaspoons red wine vinegar
1 cup extra virgin olive oil
a pinch of salt
a pinch of black pepper
1 tablespoon sweet paprika
1 tablespoon ground cumin
2 teaspoons garlic powder
1 teaspoon chili powder
1 teaspoon black pepper
1 teaspoon salt
olive oil
1 flank steak – about 1 – 1 1/2 pounds
pomegranate seeds
Preheat your grill or oven.
In a food processor, add the parsley, cilantro, garlic and cumin.  Process until pureed.  Add a pinch of salt and black pepper, the vinegar and turn on the processor – slowly drizzle the olive oil into the machine until combined.  Turn off the processor, scrape down the sides, and blend again until everything is fully combined.  Set aside.
In a small bowl, mix together the paprika, cumin, garlic powder, chili powder, black pepper and salt.  Rub a bit of olive oil all over the flank steak and then rub the spice mix all over the steak.  Grill or bake until cooked to your preference.  Let the meat rest for 10 minutes, then slice thinly.  Serve with chimichurri sauce and pomegranate seeds.