The internet is a funny place.  When I first started this food blog, I thought this would be a good place to put some fun food ideas down for my friends and family who were always asking for my recipes.
But as I got further along in the blogging process I found that what I really wanted to do was to express my creativity – tasty food combinations; healthy, clean eating; and pretty pictures.  But the little recipe blog that could, has become something that I really enjoy doing and look forward to every week.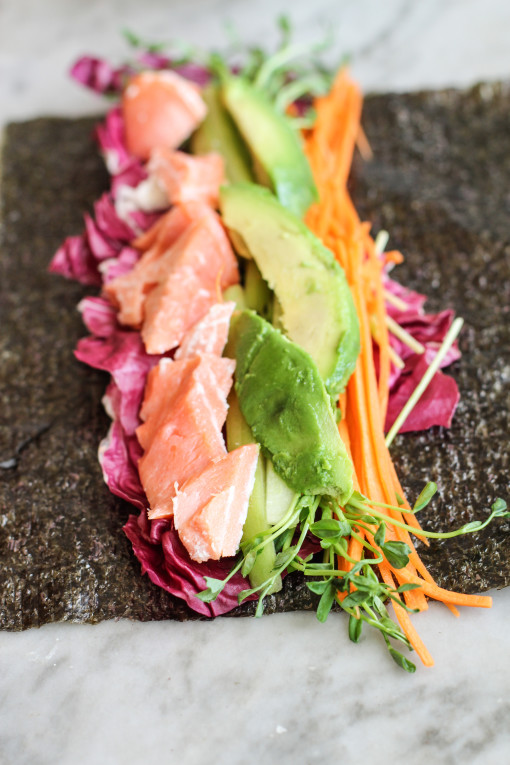 A little bit of me in the mix of crazy schedules, dinners to get on the table, dogs to be walked, chores to be ignored…no matter how busy I seem to be, I always try to make it over to this corner to say hello, to keep myself grounded and to offer you something good to eat.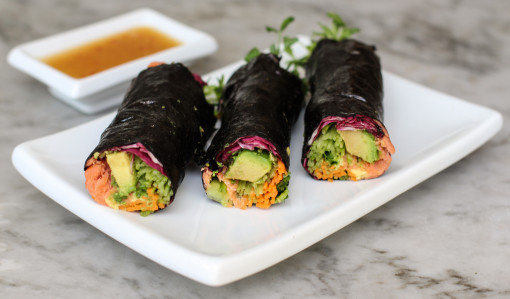 This week I offer you a version of my favorite lunch – a wrap.  This wrap is made with a roasted nori sheet, and stuffed full of crunchy veggies, creamy avocado and slow roasted salmon.  There's even a ginger-lime dipping sauce to take these wraps over the top.  They travel exceptionally well if you need lunch on the go and I usually make more than I need so I can store some in the fridge for the next day of crazy schedules and to-do's.
xo, Jenn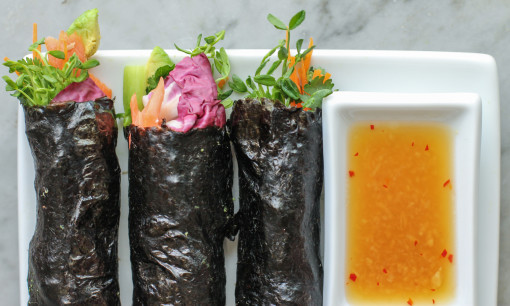 slow roasted salmon and avocado nori wraps
makes about 6 nori wraps
5 oz fresh wild salmon
1 ripe avocado, sliced
1 bunch pea sprouts, washed and trimmed
4 leaves of radicchio, washed and torn into thirds
fresh cilantro, washed and trimmed
1/2 cucumber, peeled and cut into matchsticks
1 carrot, peeled and cut into matchsticks
6 sheets of nori
Preheat your oven to 250 degrees and line a baking sheet with parchment paper.  Drizzle a small bit of olive oil on the parchment paper and place the salmon on the oil.  Top the salmon with a bit more olive oil and a pinch of salt and pepper.  Place the salmon in the oven and slow roast until cooked through, about 20-25 minutes.  Remove from the oven and allow to cool.
Once the salmon has cooled completely, remove the skin (if there is any) and break the salmon into bite sized pieces, careful to remove any pin bones that might remain.
Gather all the ingredients that you are using for the wraps and lay one piece of nori on a cutting board.  Place a few pieces of radicchio leaves close to one edge of the nori, making sure to cover the length of the wrap.  Continue to lay the different ingredients, one by one, on top of the nori until you have one layer of every ingredient on your wrap.
Using both hands, carefully roll the edge of the nori over the ingredients to form a roll.  The nori might hold together perfectly at this point, but if not, use a little water on your fingertips to "seal" the edge of the nori to the roll.
Cut the roll into half or thirds and serve with a side of the Vietnamese ginger sauce.
Vietnamese ginger sauce
from pure simple cooking by Diana Henry
1 tablespoon Asian fish sauce
1 teaspoon honey
juice of 1 lime
1/4 cup peanut oil (or olive oil)
6 tablespoons grated and peeled fresh ginger
1 fresh thai chile, halved, seeded and finely chopped
In a bowl, mix the fish sauce, honey and lime juice.  Whisk in the oil, ginger and thai chiles.  Serve with the nori wraps.
my notes:  these wraps will last a few days in the refrigerator, if wrapped tightly.  They also travel very well.