Hey, it's Tuesday and that must mean tacos, yes?  Awesome!  I have just the recipe for our taco party and it all started with a movie or three…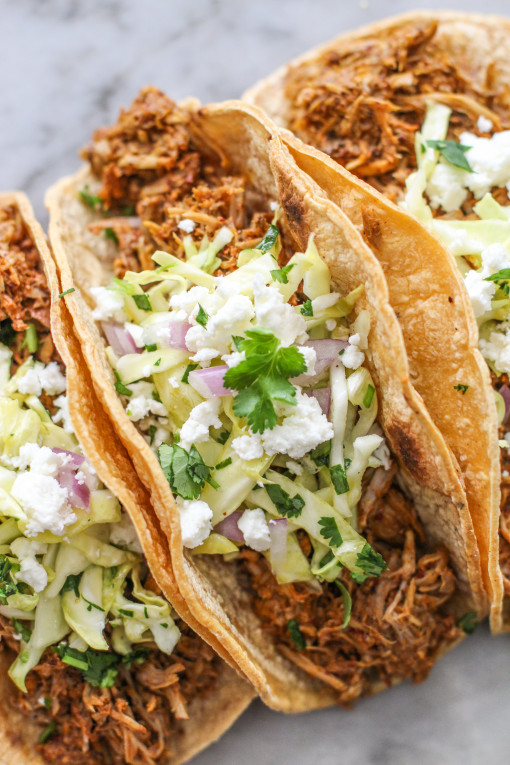 A few years back there was a set of movies called "El Mariachi" and "Desperado" which starred a little known actor by the name of Antonio Banderas.  The movies were directed by Robert Rodriguez and were basically about a mariachi who just wanted to play his guitar and be left alone.  But at the same time that he gets to town, so does an assassin who keeps his guns in a guitar case.  El Mariachi is mistaken for the assassin, and the rest I will leave to your imagination.
I found the movies entertaining (although violent) but there was the added bonus of looking at Antonio Banderas for close to two hours, and that's always a plus in my book.  (Antonio Banderas…hubba- hubba!)
Then about ten years later Antonio reprieved his role in the movie "Once a Time in Mexico" but this time he was joined by a very good looking actor by the name of Johnny Depp.  The movie was good, but there was one scene in the movie that really stood out.  Johnny Depp's character was sitting at a little table in some little café in Mexico somewhere and he was waiting for his lunch to be served.  When his plate was finally delivered, he took a big bite, groaned in satisfaction, and then drew his pistol and shot the waiter dead while saying something like"that's the best Puerco pibil I've ever had!"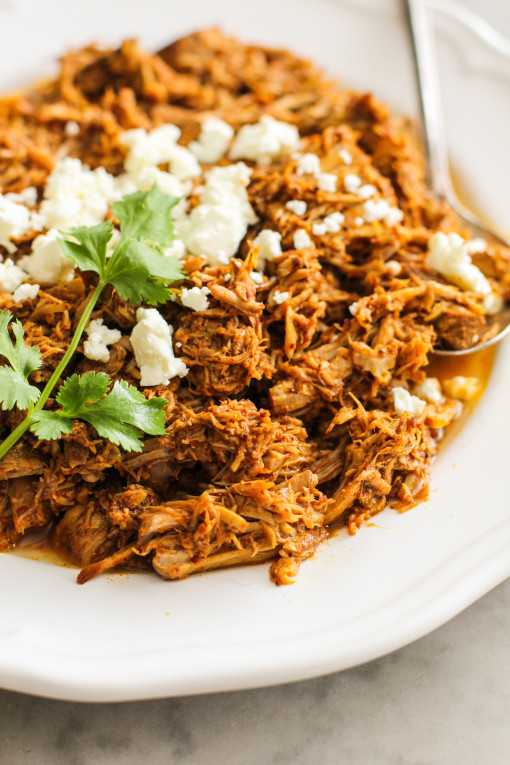 Of course, I laughed because that's what one does when there is an over-the-top scene that really makes no sense, but I was also very intrigued…I mean, "Puerco pibil?!  What in the world is it and how do I find it??" 
Turns out that the director had put an extra on the dvd and that very extra was the recipe and the instructions on how to make Puerco Pibil.  So that very day I rushed out to the grocery store, loaded up my cart with an array of spices, a five pound pork shoulder, citrus fruits, frozen banana leaves and a bottle of tequila.  What?  The tequila was for the recipe.  Swear!
And back to the house I went – watching and re-watching the short clip on how to make this intriguing dish while I cut pork into small pieces, marinated it in spices and citrus and tequila (told you) and carefully wrapped it in banana leaves before setting it into the oven for a few hours.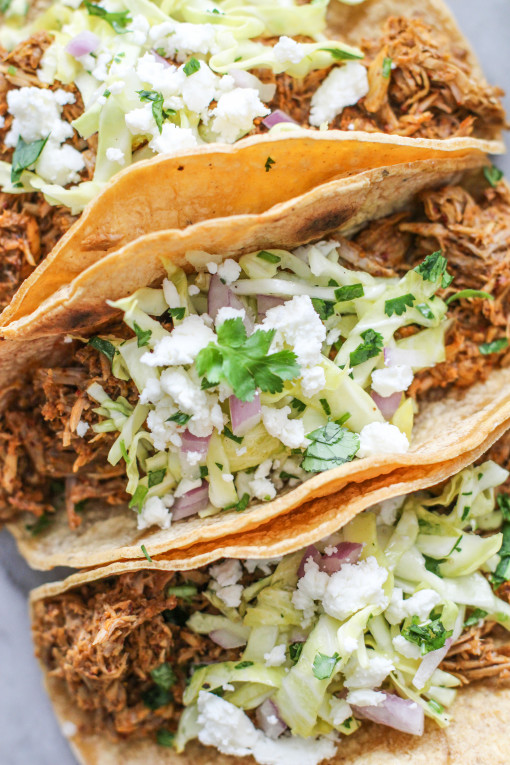 The hours I had to wait (four to be exact) were excruciating.  The house filled up with the most amazing smell – roasted pork, obviously, but also…hmmm…what was that aromatic?  That something else that made my mouth water and my tummy rumble and made those four hours some of the longest in my life.
Turns out it was this spice called annatto which you can see here
 and it is a game-changer.  Of course, I used all of my stash to make the Puerco pibil that you see in these pictures and that's why I cannot submit any annatto pictures of my own, but it's on my replenish list already because it's just so dang good.
Oh yea, I'm here to talk tacos and slow roasted pork, so let me get back to that…
This pork shoulder is slow roasted in a zesty marinade of spices and citrus juices and is both meaty and tender.  The annatto seeds lend a slightly nutty, sweet and peppery flavor to the pork and the whole thing is so good that you can eat it by the spoonful, or spoon some into a taco shell and sprinkle the top with shredded cabbage and crumbly cheese.
You eat it anyway you like – I promise not to judge.
This recipe makes a big batch of Puerco pibil, and so it lends itself to parties and gatherings but is just as delicious with a bunch of good friends and some cold beers (or tequila, just saying.)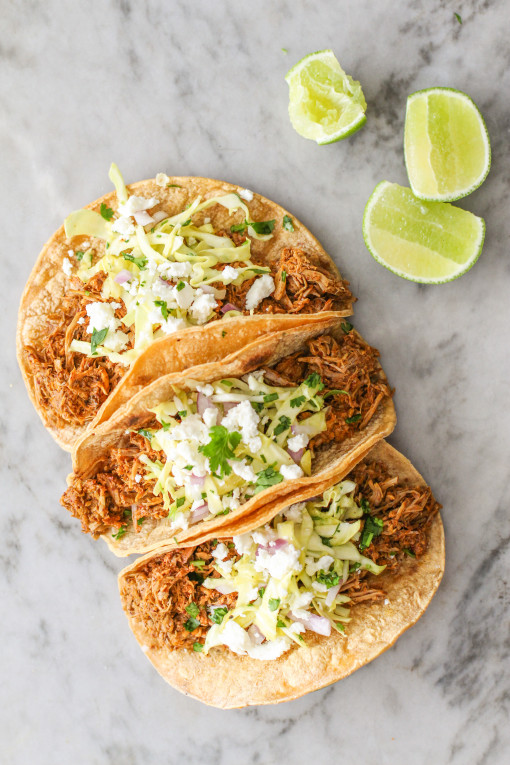 slow roasted Puerco pibil
from Robert Rodriguez's movie Once Upon a Time in Mexico
5 pound pork shoulder, cut into 2 inch pieces
5 tablespoons annatto seeds
2 teaspoons cumin seeds
1 tablespoon black peppercorns
8 whole allspice
1/2 teaspoon whole cloves
1 serrano chile, seeded and diced (RR calls for 2 red habanero peppers but I find it's too hot – if hot is your thing, then go for it!)
1/2 cup orange juice
1/2 cup white vinegar
2 tablespoons salt
8 cloves of garlic, peeled and minced
5 lemons, juiced
1 shot of tequila
banana leaves
Preheat the oven to 325 degrees.
Put the annatto seeds, cumin, peppercorns, allspice and cloves in a clean coffee grinder and grind very fine.
In a medium sized bowl, whisk together the orange juice, vinegar, chile, salt, garlic, lemon juice and tequila.  Add the spice mixture and whisk everything together until smooth.
Line a 9×13 baking pan with banana leaves and place the cubed pork on top of the leaves.  Pour the liquid/spice mixture over the pork and wrap the banana leaves over the top of the pork.  Wrap the top of the pan with foil, and tighten to make sure that no steam can escape.
Place the baking dish into the oven and slowly roast the pork for four hours.  Carefully remove the foil and banana leaves and serve as is, or shred the cubed pork into smaller pieces.
my notes: I would recommend purchasing a coffee grinder that you will use to just grind spices.  A grinder makes it much easier to break down this amount of spices more than a mortar and pestle.  And don't use it to grind coffee beans as the flavor of the spices will be imparted into your coffee.  This pork freezes well if you can't get through the whole batch at one time.  You can get annatto seeds and frozen banana leaves at any Mexican or Asian market, or online.