I think I have told you guys before that I miss living in Seattle.  Sometimes I miss it once a month and then sometimes I miss it everyday.
Maybe I miss it because the hubby and I were young and single and free.  Maybe because we were without family or ties and could do whatever we wanted and whenever we wanted it to.  Or maybe it was because it was just the place we were supposed to be.
Water everywhere, moody weather, beautiful landscapes, furry little dogs that loved us so much, biking and hiking trails galore – and I haven't even mentioned the food yet.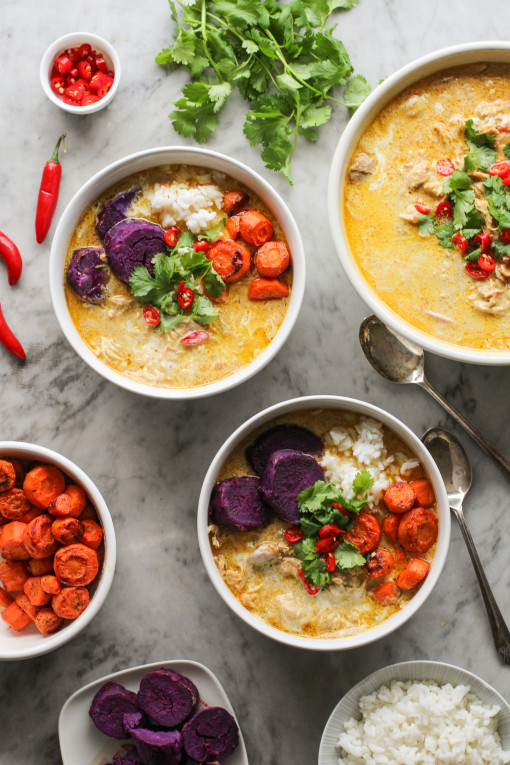 Fish markets, razor clams, farms on every corner, the freshest fish and oysters ever, locally grown wine, a farmer's market around the corner and in every neighborhood…..but then let's talk about the Malaysian food….
The what what?
Malaysian food.  That's what.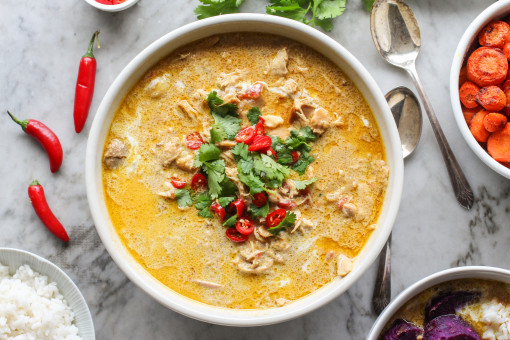 So here's the deal.  Little Texas girl moved to Napa, California then promptly packed up her belongings and her newly acquired Napa man and landed in Seattle where they both found and fell in love with (each other, durh) but also the Malaysian food.
The short version.
And then one day, while we were just living up our lives pre-kiddos, we stumbled upon the Malay Satay Hut and it was so good we never wanted to leave.  In fact, I think we spent every Monday night there for about three months in a row because it was so amazing.   We ate green veggies, stir-fried with garlic and ginger – big bowls of freshly made noodles tossed with dried shrimp and fresh herbs – and my goodness, the curries.  We got smarter as the visits continued – ordering "what that table has, you know, the green pile of mushrooms?" and "that plate over there, with the lemongrass?" and finally, we ordered the best bowl ever – "that yellow pile, in the big bowl, that everyone is eating??!!" 
Turns out that last one was the Malaysian chicken and coconut curry.  Fresh chilies and garlic.  Coconut milk.  Chicken thighs cooked so long and so slow that it was actually like eating butter.  Coconut-y, chile butter that somewhat tasted like chicken but chicken all the same.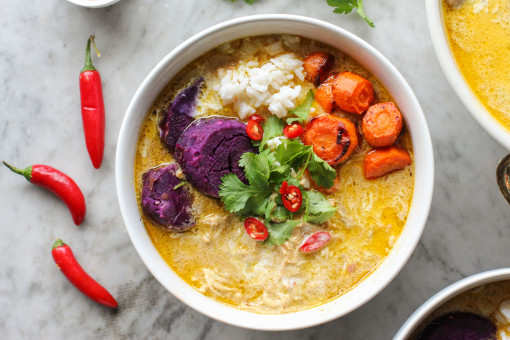 I've missed that bowl of chicken butter.  I've missed the alone time with the hubby too.  Just him and I, eating and talking and not being interrupted for water, and milk, and toys, and the "she hit me's" and all the things that happen when you love someone so much to start a family.  So I looked around and played in my kitchen and pots and pans, in between the kiddo needs and the house needs, and practiced until I came up with what I remember eating about five years ago.
Malaysian chicken and coconut curry.  If you can't make it to Seattle, here's your next best bet.
XO,
Jenn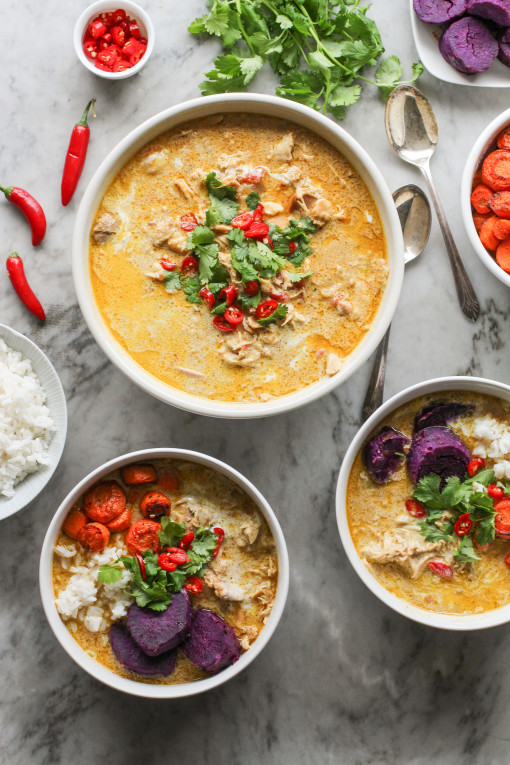 Malaysian chicken curry
makes 8-10 servings
8 chicken thighs, extra fat removed
8 garlic cloves, minced
3 teaspoons grated ginger
2 teaspoons minced lemongrass
2 thai chilies, thinly sliced, stem discarded
1 – 15 ounce can of coconut milk
4 cups chicken stock, or vegetable stock, or water
1 – 15 ounce can of diced tomatoes
2 teaspoons fish sauce
2 teaspoons soy sauce
the zest and juice of one lime
2 teaspoons palm sugar (honey, or brown sugar)
Place the chicken thighs in the bottom of a crockpot.  Add the garlic, lemongrass, ginger, chilies, coconut milk, stock, and tomatoes to the crockpot.  Cook on low for 6 hours or high for 4 hours.  Remove the chicken from the crockpot and either shred with a fork or chop into smaller pieces with a knife.  Return the chicken to the crockpot and stir it into the sauce.
Add the fish sauce, soy sauce, lime zest and juice and the palm sugar to the crockpot.  Stir everything to combine. Taste and adjust seasonings as needed.
Served over cooked rice, and with roasted veggies or garlic-sautéed greens.
my notes: If you don't own a crockpot, you can still make this on your stove.  Use a heavy bottomed stock pot in place of the crockpot and cook, covered, on low heat until the chicken is completely cooked through and tender, about an hour.