I spent most of this morning cleaning out my email inbox.  I mean, I already have a blog inbox to check, an ironing basket that's overflowing and now maybe covering part of the bedroom floor (just enough to be annoying), a to-do list that has three things scratched off and about ten thousand more things to do on it, and another to-do list that pretty much covers the first to-do list plus some other to-do's….you know, just to make sure I "to-do" them all.
Sigh.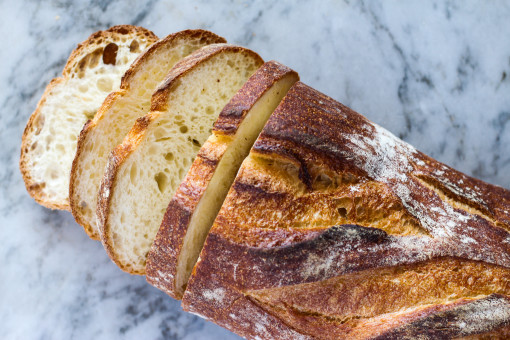 So what do I do when the chores outnumber the amount of breaths I can take in a day?  I sit down and go through my email inbox because nothing makes more sense than just going through random emails and seeing what other people are up to.
Procrastination strikes again.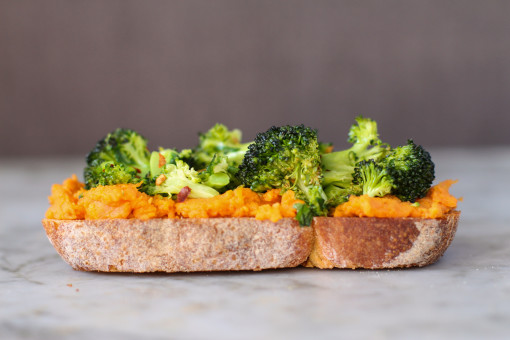 Sure, there are the emails from friends and family, telling me the latest in their lives.  There are also the random emails trying to get me to purchase workout gear or the fancy shirts that will only be on sale for the next five minutes (!) and then again in about a week…wait for it…
And then there are the food blogs.  Lots and lots of food blogs.  It's a double-edged sword being part of the internet age.  I mean, on one hand I can look for a dinner idea in three seconds flat.  But on the other hand, gone are the days where you wrote down your great grandmother's recipe for spaghetti and meatballs, by hand and on paper, and handed it to your next door neighbor over the fence one day while you two were chatting about which tv show you just watched in color for the first time.
Wow, really, that last part makes me sound old.  Honestly, I'm not that old…
So, when faced with too many to-do's, I turned to my email inbox and ignored them all.  And then I made food on toast.  Gotta keep my strength up for adding more to-do's to my lists…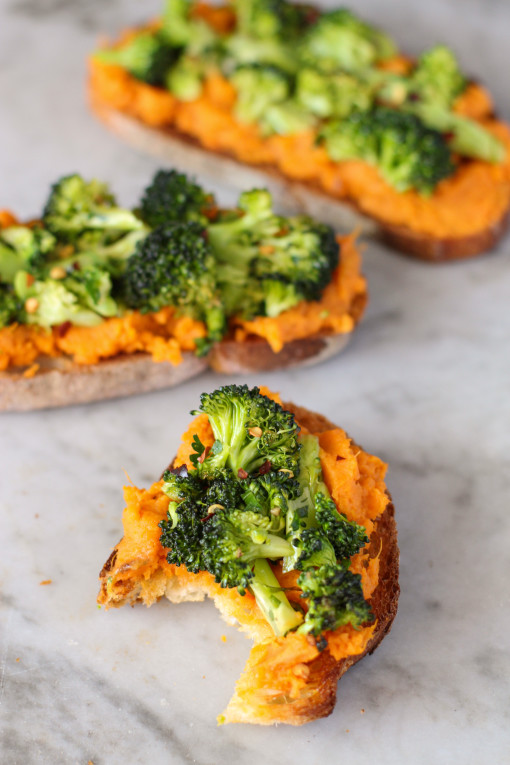 roasted balsamic broccoli and sweet potato toast
as seen in Bon Appetit
1 large sweet potato, peeled and cut into 1 inch pieces
2 cups of water or vegetable stock
salt and black pepper
1 large head of broccoli, cut into large florets
extra virgin olive oil
4 slices of crusty bread
1 tbsp. chopped fresh parsley
2 tbsp. balsamic vinegar
pinch of red pepper chili flakes
Combine the sweet potato and water in a small saucepan and bring to a boil.  Reduce the heat and simmer until the sweet potato is very soft and the liquid has evaporated, about 15 minutes.  Remove from the heat and mash the potato.  Season with salt and pepper and set aside.
Preheat oven to 400 degrees.  Toss broccoli with the balsamic vinegar, a good glug of olive oil and a pinch of salt and pepper and place on a parchment lined baking sheet.  Roast until tender, about 15 minutes, turning once.  Let cool and then coarsely chop.
While the broccoli is roasting, drizzle some olive oil on both sides of the bread slices and toast on a baking sheet until golden brown, turning to toast both sides of the bread.
Toss the broccoli with the parsley and another good glug of olive oil and season with salt and pepper.
Spread toasts with sweet potato, and top with the broccoli mixture.  Add a sprinkle of pepper flakes, cut the toasts and serve.