Everywhere I look and everything I read lately seems to be "over" summer and heading straight to fall.  Bloggers are talking about stews and soups and easy meal planning for school nights, culinary magazines are touting the best roasts for fall, and even the weather seems to have cooled down a bit….well, at night time at least – days are still pretty warm around here.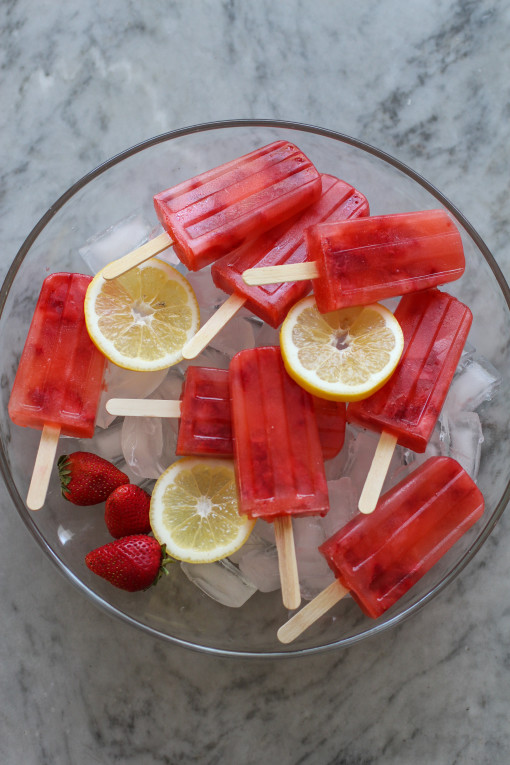 And as excited as I am for fall to be here, and for a certain little boy (…ahem…) to head back to school already, I'm still over here enjoying my summer – thank ya very much!  It's still hot.  The garden is going gangbusters in the tomato, watermelon and cantaloupe departments.  The daddy blew up another kiddy pool for backyard splashing, as our previous one got poked with a shovel by a certain little boy (…ahem…shoveling is the newest Olympic sport around here.)  It's still so warm bicycle riding happens first thing in the morning or not at all.  And we are still eating popsicles like crazy people over here.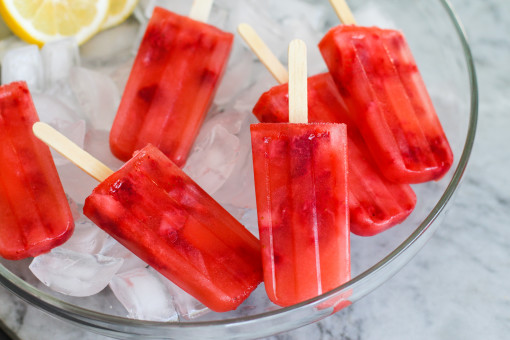 It's hot – have a popsicle.
Don't get me wrong – when fall does finally get here I will be totally in the mood for soups and stews and easy weeknight dinners.  But until then, what's the rush?  Let's just sit back, with our feet in the kiddy pool, and have another taste of summer – this time on a popsicle stick.
Enjoy the rest of your summer – however long it may be!!
XO,
Jenn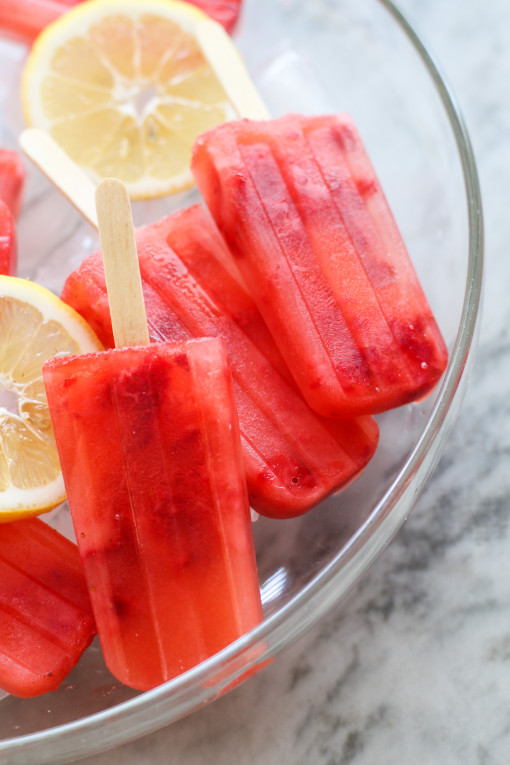 strawberry lemonade popsicles
makes about 6
1 pound of strawberries, hulled and roughly chopped
2 lemons, juiced
3 tablespoons maple syrup or honey
3 cups water
Place the strawberries into a medium sized bowl and mash with a potato masher until the strawberries are slightly broken down and have released a bit of juice.  Set aside.
In a medium sized bowl, whisk the lemon juice and maple syrup together.  Add the water to the bowl and stir to combine.  Taste and adjust with more water or maple syrup as needed.
Place 1/4 cup of the strawberries into each popsicle mold.  Pour the lemonade over the strawberries, filling the mold.  Place a popsicle stick into each mold and freeze for at least two hours.