Do you have big plans this weekend?  We've got a lazy weekend planned but I know that our plans include snacking on these baked vanilla donuts with citrus glaze!!!  Gah….aren't they just gorgeous??!?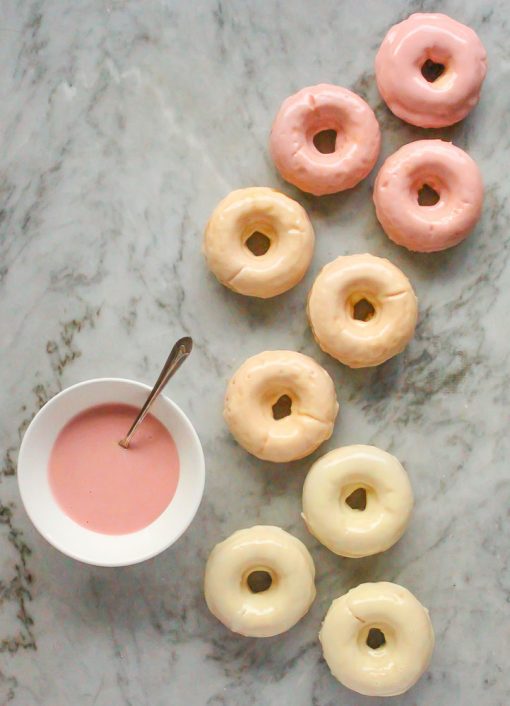 Here's how these donuts got created…
Me: Okay, so I've got all those blood oranges and I was thinking of making like a cake with a blood orange glaze on top, what do you think?
Handsome Hubby: Hmmm? (He knows to ignore at least the first, second, and possibly third round of ideas because I keep changing my mind as I recipe develop…)
Me: Did you hear me? (Repeats above statement and then adds:) OR, I could make donuts! And then dip them in the glaze and top them with sprinkles!! (See? One change right away!)
HH: Sprinkles? Why would you put sprinkles on donuts?
Me: Do what? Why wouldn't you put sprinkles on a donut?? Also, who are you?!
HH: Well, I mean, just everyone puts sprinkles on donuts, why don't you leave them plain with the glaze? (This comes from the guy who doesn't like cake and happily eats vanilla ice cream…plain.)
Me: Why don't I just leave them plain?  Just plain donuts?  How boring!! Well, how about some candied orange zest?  (change two) I could chop it up and then sprinkle it on top, like sprinkles but without the er, sprinkle part…?
HH: No, just leave them plain.
Then he leaves for work. And I search out ALL the pinterest ideas and text him ALL the pictures of donuts with sprinkles that I can find until he relents and texts me back, "For pete's sake, just put the sprinkles on the donuts, I'm trying to work over here!!"
So I made the baked vanilla donuts.
And instead of sprinkles, I mixed freshly squeezed orange juices (read: naval/cara cara/blood orange)  into the glaze to get different hues of the same baked vanilla donut with citrus glaze, because if you know me at all, you know that I can't just make a vanilla donut with ONE glaze because that's just boring!!  🙂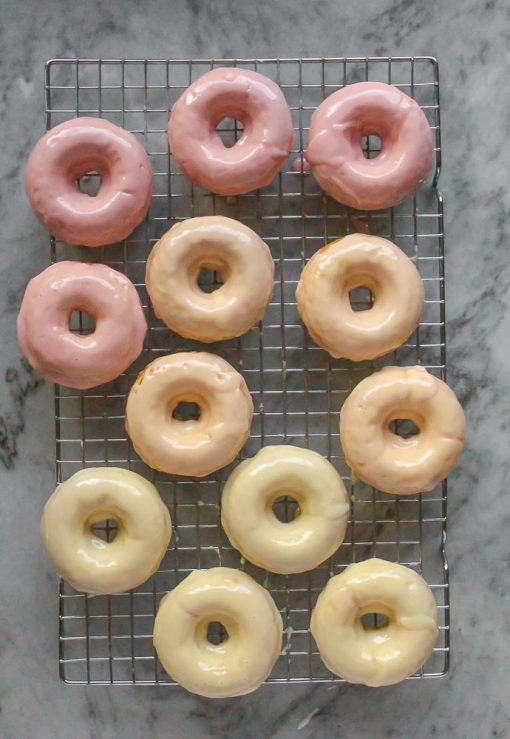 And then after I was done taking pictures of the ombre glazed donuts above, I did this: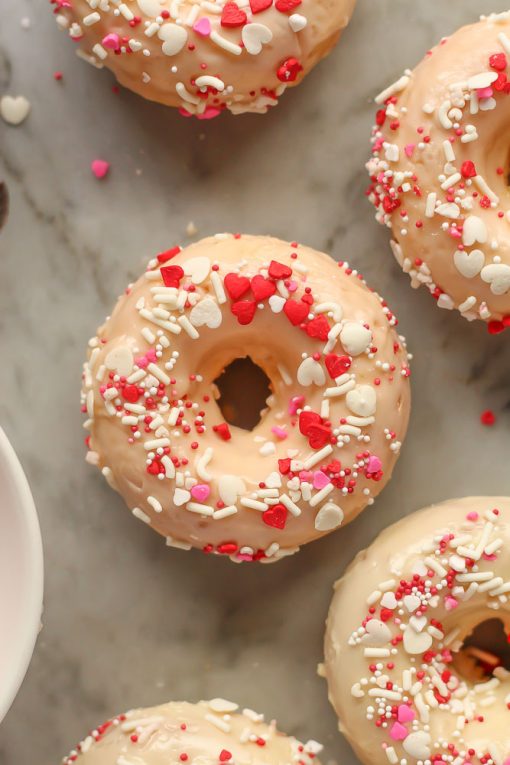 And this: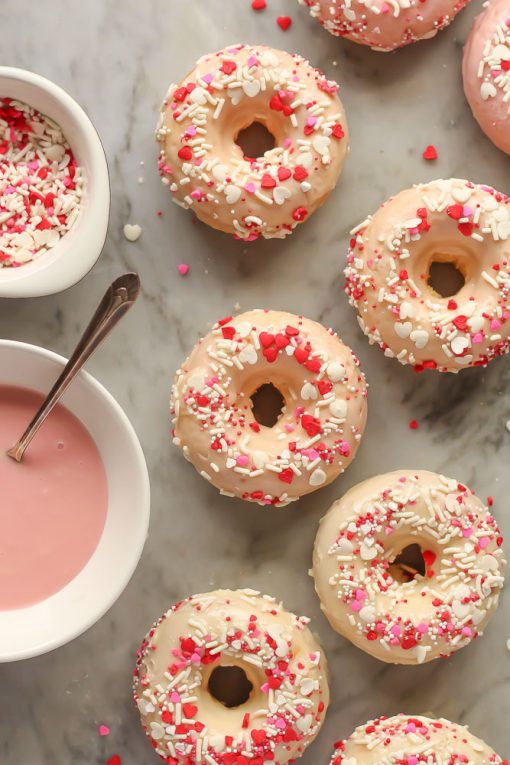 And also ALL of this: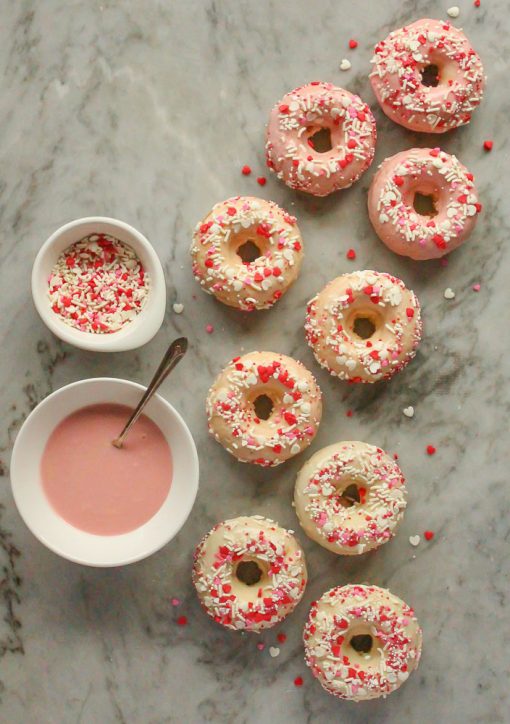 Because sprinkles make everyone happy!!
Just ask my kids who sprinkled their little hearts out, and the neighbors who smiled really big when we handed them plates full of sprinkled donuts!!
SPRINKLES!!!!
And my handsome hubby? I saved him three unsprinkled citrus glazed donuts and he was so happy too!!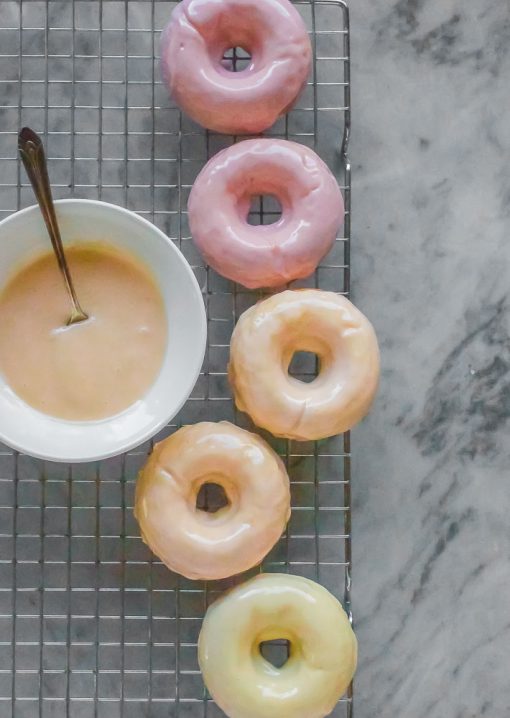 So I must know, are you team sprinkle?  Or team boring? Er, I mean, glaze? 😉
Let me know in the comments below!!
XO,
Jenn
PS Here are some other citrus recipes you might enjoy:
shaved fennel, citrus and avocado salad – so healthy, refreshing and delicious!
meyer lemon bars – these sweet/tart dessert bars can't be beat!
triple citrus and almond granola parfait – the perfect grab and go breakfast!!
roasted chicken with citrus, fennel and olives – a delicious one pan meal for busy weeknights!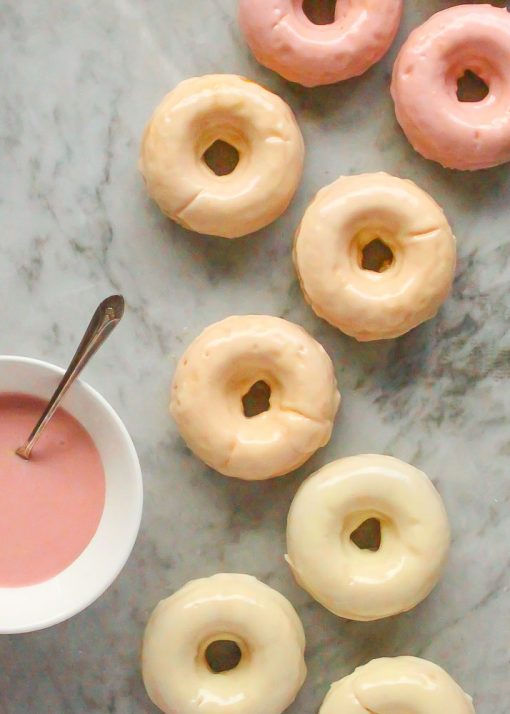 baked vanilla donuts with citrus glaze
specialty equipment: you will need two donut baking pans like these 
makes 12 donuts
donut recipe from King Arthur Flour
for the donuts:
1/4 cup butter
1/4 cup vegetable oil
1/2 cup granulated sugar
1/3 cup brown sugar
2 large eggs
1 1/2 teaspoons baking powder
1/4 teaspoon baking soda
1/2 to 1 teaspoon ground nutmeg, to taste
3/4 teaspoon salt
1 teaspoon vanilla extract
2 2/3 cups all purpose flour
1 cup milk
Preheat the oven to 425°F. Lightly grease two standard doughnut pans.
In a medium-sized mixing bowl, beat together the butter, vegetable oil, and sugars until smooth.
Add the eggs, beating to combine.
Stir in the baking powder, baking soda, nutmeg, salt, and vanilla.
Stir the flour into the butter mixture alternately with the milk, beginning and ending with the flour and making sure everything is thoroughly combined. The batter will be fairly thick; when you draw your spatula through the batter, it will leave a furrow.
Spoon the batter into the lightly greased doughnut pans, filling the wells to about 1/4″ shy of the rim.
Bake the doughnuts for 10 minutes. Remove them from the oven, and wait 5 to 7 minutes before turning them out of the pans onto a rack.
for the citrus glaze:
1 1/2 cups powdered sugar
1 teaspoon grated orange zest
2 – 4 tablespoon freshly squeezed citrus juice (I used naval oranges, cara cara oranges, and blood oranges to get the three colors)
In a medium sized bowl, whisk together the powdered sugar and orange zest.  Add just 1 tablespoon of the citrus juice and whisk to combine. Continue to add citrus juice as needed to thin to dip-able consistency. Dip donuts into the glaze to cover. Place donut on a wire rack to set.