It always amazes me what one person finds wonderful and another does not.  Take for example, my kale tahini sauce recipe.  It came about quite by accident really, as I was just trying to clean out the fridge and use up the little bit of kale I had left before it went bad.  And instead of it just being an innocent salad dressing, it became my single most pinned recipe on Pinterest so far!!
I guess you guys really like kale!!  And tahini dressing!!
Social media is an interesting thing.  I've been using Instagram, Pinterest and Facebook to promote my blog for just under two years now and I fought hard against signing up in the beginning.  On one hand, I wanted the exposure and possible traffic that would give me an income, but on the other hand, I didn't want all the headaches that came with constantly having to post, update, and connect with people to get that traffic.  Luckily, it wasn't like I had imagined it to be – being on social media has been a really positive experience and I have really enjoyed connecting with people that otherwise would have never know I had existed.
Until yesterday.  Yesterday I had my first bad experience and I'm still not quite over it.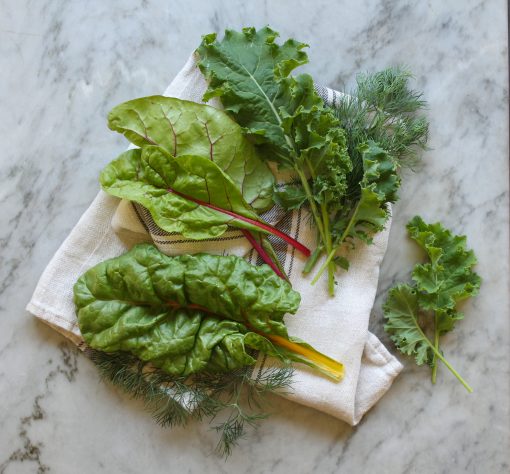 As you guys know, I love food, being creative, and taking and sharing the pictures and recipes that come from my time in the kitchen. But my kitchen time is actually a lot of work. I shop, prep, and cook the food that you see in all these pictures. I create recipes, which sometimes happens quite quickly, but other times can take many tries and recipe tweaks before I can share something delicious with you all.  I also do all the dishes and cleaning that comes along with kitchen time, which is not my favorite part of the deal, let me tell you!
After all that, I edit pictures, type up a recipe, post it on social media, publish an email, and send out a newsletter.  And between all of those things??  I'm raising a family as a full-time stay at home mom of three little kiddos who sure are cute but not one of them cares about my kitchen time more than what's happening in their world…ever.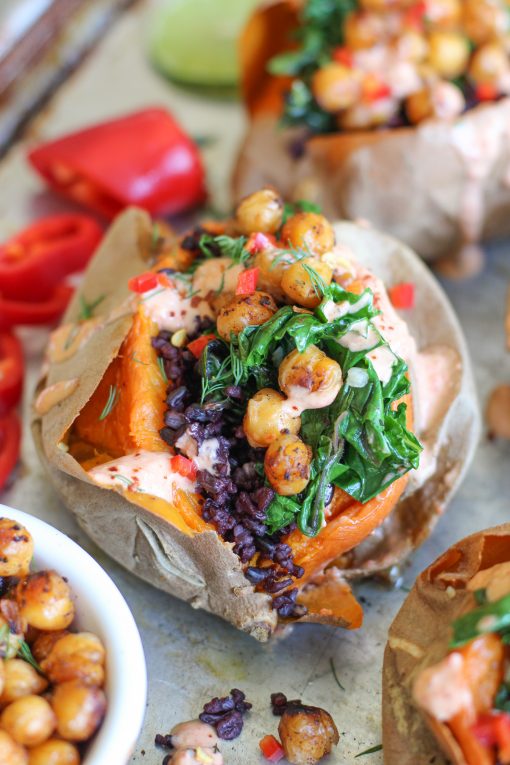 Why am I telling you all this?  Because I work hard here and the last thing I want is for someone to take advantage of all this hard work and dedication – and that's exactly what happened last night on one of my social media accounts.  Someone used one of my pictures to promote themselves and their business and didn't give credit where credit is due – and that was to me.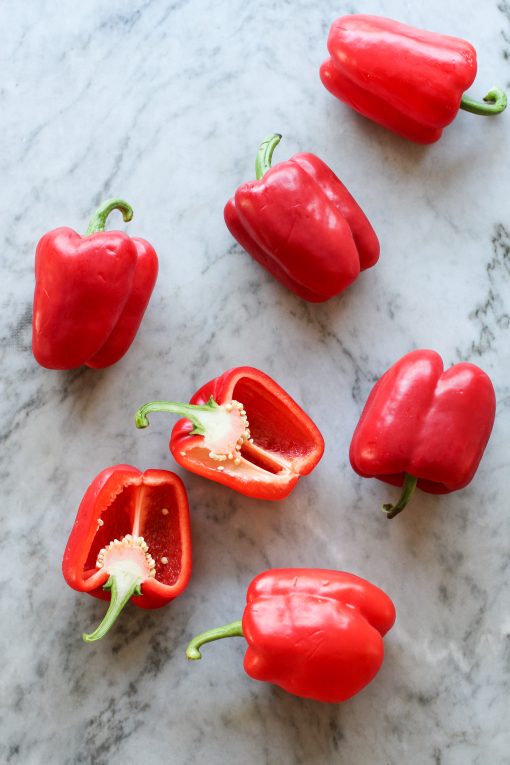 Now, I'm all about letting people use my images to help them or their business succeed because (1) it gives me exposure where I may not have had any (2) it's an amazing compliment that someone likes a photo of mine enough to share it with their community and (3) it leads to more traffic on my social media sites and to this little old blog here where I'm trying my hardest to earn an income so I can feed those baby birds of mine.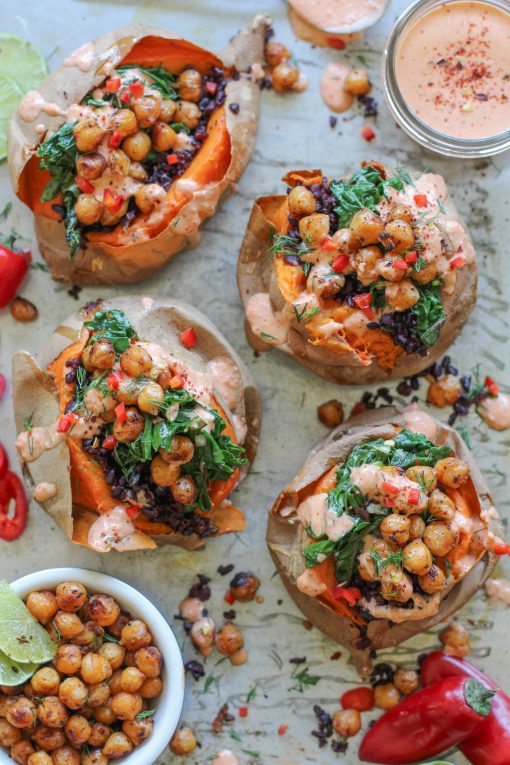 But when someone uses my images without giving me any credit – well, none of those things can happen.  They just take something that's not their creation and make it their own.  No thought or caring about the person that worked so hard to get the image ready for them to steal.
And yes, I said steal because that's exactly what it is when you take something without permission and that's what this person did – stole an image of mine and passed it off as their own.
Now, in all fairness, this person (who is really famous, and I'm talking REALLY famous with almost 10 million Instagram followers) has used my images before.  The first two times they used my pictures, they credited me with the creation of the picture which was great because it gave me exposure, made me feel happy, and drove (lots!!) of traffic to this little blog.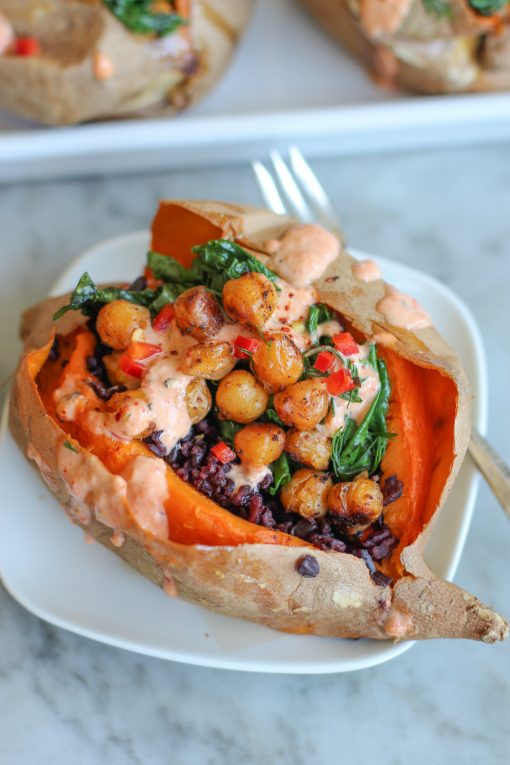 The third time they used one of my pictures, they posted without giving me credit so I contacted them and politely requested they add my name and within the hour they updated their post to reflect the credit to yours truly.  Which was great, but also made me not as happy because (1) I had to ask for something that should be done as a responsible member of social media and (2) I lost a great deal of traffic and exposure because there was no where to find me/this blog when they posted the picture.
It was annoying but it got resolved, so I moved on.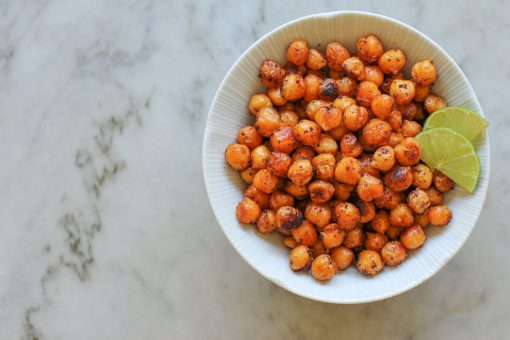 Then just yesterday, this person did it again.  They posted a fourth picture of mine with no credit to the creator at all.
This time I found it because I started following their account and imagine my surprise when I saw MY picture sitting up right there and NO CREDIT to be found anywhere!!  I was devastated!  So I politely wrote to them again, asking that they please add my name to the post so I could have credit to the picture and guess what they did???
Nothing.
Not a darn thing.
Not a correction, not a comment, not anything.
They just ignored me and continued to post on their page like I didn't even exist.  And sure, I guess if you have almost 10 million followers, one such as myself doesn't exist in their world except for the part where I CREATED THE PICTURE THAT THEY ARE USING!!!  So I guess I DO exist!!
Sorry for the yelling, I'm annoyed by this whole thing.
So I spent most of last night awake and thinking about this because that's how I operate – spending large amounts of time in the middle of the night trying to solve unsolvable problems instead of sleeping.  It's stupid but it's real.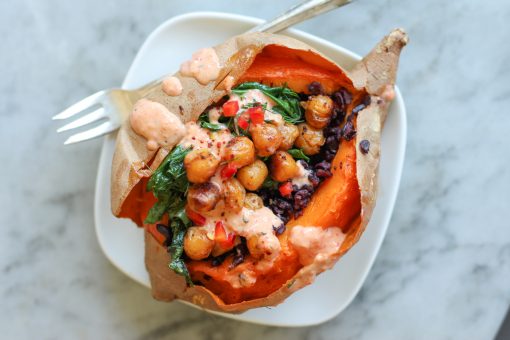 Then, the most wonderful thing happened when I got out of bed this morning – the people that follow this person that stole my picture….well, they started to say the same thing as I had said to the person.  Things like, "Hey, so-and-so-famous-person, it would be great if you would give credit to Girl on the Range because her picture is amazing!"  And there was, "Wow, this is a beautiful picture by Girl on the Range and so-and-so-famous-person should make sure that they give her credit!" 
And these people that I had never met before (and would never meet in person for sure because they live all over the WORLD!!) came to support me – with kind words on my posts, by following me on my social media page, and by sticking up for something that they believed in as well – giving credit where credit is due.
Honestly, I couldn't believe the amount of support I got from this one wrong deed that was done by someone who's apparently too famous/busy to care about the little people that they step on and steal from along their way.  I felt vindicated almost.
Unfortunately, there's no solution to this kind of problem.  It's rampant across all social media platforms and I've been lucky enough to have either not seen my pictures posted elsewhere without credit or no one has really cared about my pictures enough to steal them until now.  But I have seen it done to others and I always try my best to comment on the source because it does take a lot of work to make these recipes and pictures seem so effortless.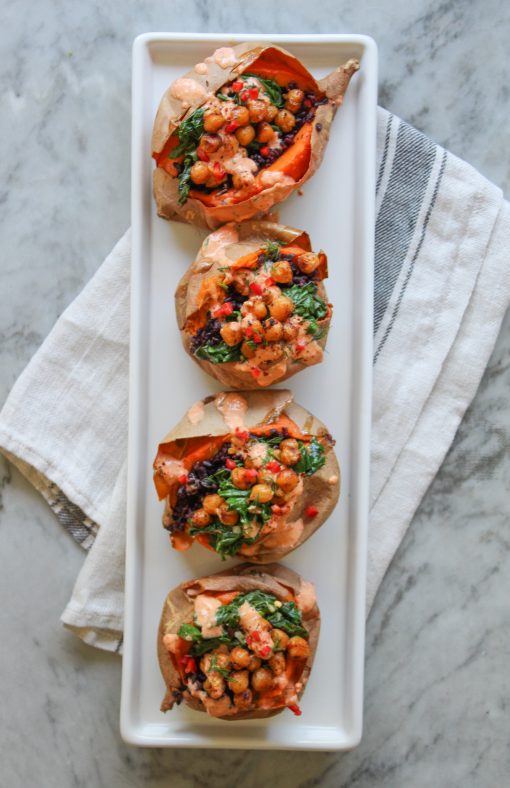 Anyway, here's another tahini dressing for you – this time mixed with roasted red bell pepper and some delicious dried Aleppo chili powder. It's got the same creamy texture that you loved about the kale tahini recipe but with a hint of spice and smokiness.  It makes a great salad dressing or vegetable dip on a crudité platter, drizzle some on your burritos or tacos, or take a stuffed sweet potato to the next (delicious) level.
Let's see if we can make THIS recipe the most pinned on my Pinterest page, shall we??
XO,
Jenn
***update – the famous person's people updated the post with my name about 24 hours after I requested they do so.  It was way too late to do any good, but they also reached out to me a day later to personally apologize for their oversight and to tell me that they didn't mean to omit me from the post.  I told them I appreciated their apology (I do!) and that I hoped they would make sure to tag me in the future because I work way too hard to give my work away for free, and they understood.  Now, back to work!  :)***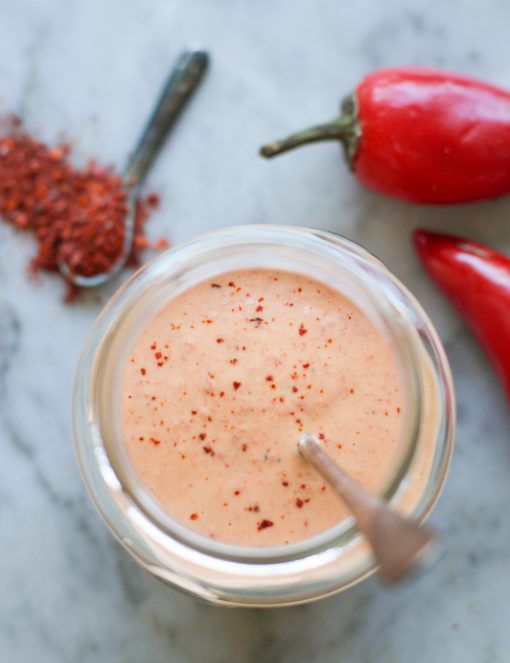 roasted red pepper tahini sauce
makes about 1 1/2 cups
1 roasted red bell pepper (I use this brand)
1 garlic clove, peeled
1/4 cup tahini (this brand is delicious!)
2 teaspoons Aleppo pepper or paprika (here's where you can find Aleppo pepper)
olive oil
the juice of one lemon
salt
black pepper
Place the roasted peppers and garlic into a food processor and combine until the peppers are broken down, stopping the processor and scraping down the sides, as needed.  Add the tahini and Aleppo pepper to the pepper mixture and with the processor running, slowly drizzle the olive oil into the mixture until reaching a creamy consistency (I used about 1/2 cup of olive oil in my batch.)  Add a bit of lemon juice, salt and pepper to the sauce, taste, and adjust seasonings if needed.
for the stuffed sweet potatoes
four medium to large size sweet potatoes
1 cup black rice, or your favorite grain (visit this page to find black rice)
2 tablespoons olive oil
1 bunch greens – swiss chard, kale, spinach, or a mix of all three
salt
black pepper
1 cup cooked chickpeas
2 tablespoons olive oil
1 teaspoon mild chili powder
the zest of half a lime
the juice of one lime
salt
black pepper
roasted red pepper tahini sauce
Preheat your oven to 400 degrees.  Wash the sweet potatoes and poke a few holes around the potato.  Place the potatoes onto a baking sheet lined with parchment paper and place them into your oven.  Bake the potatoes until completely cooked through – about 30 minutes or so, depending on the size of your potatoes.  Once they are baked, remove from the oven and set aside.
Cook the black rice according to manufacturers directions and set aside.
In a heavy bottomed skillet over medium high heat, add two tablespoons of olive oil, the greens and the garlic and cook until the greens have wilted.  Remove from the skillet and set aside.
In the same skillet, add another 2 tablespoons of olive oil, the chickpeas, and the chili powder.  Turn the heat up to high and fry the chickpeas until crispy, about five minutes, stirring occasionally.  Remove the chickpeas from the heat and toss with the lime zest, a squeeze of lime juice, and salt and pepper to taste.
to assemble:
Cut a slit in each sweet potato and gently push the ends of the potato to make a whole in the middle for stuffing.  Add a spoonful or two of the rice, some of the greens, and the crispy chickpeas to the middle of each potato.  Drizzle with the roasted red pepper tahini sauce.  Serve immediately or store, covered tightly, in your refrigerator for up to five days.