Happy New Year everyone!  Even though we are officially five days into the new year, I'm still walking around and greeting people like it's the first day of the year.  School started this week (wa-hoo!!!) and we are slowly (ever. so. slowly.) getting back into the routine again.
With the new year comes new resolutions – did you make any this year?  I made absolutely none, which is what I typically do.  I mean, sure there are things I would like to do – travel the world, laugh more, spend more time with others; and things I would like to do less of – rushing (why always with the rushing?) to get somewhere else, eating my weight in chocolate like that's a normal thing, and caring less about what I accomplish in a day.  But a resolution?  Not this year – just a plan to try to be a better me.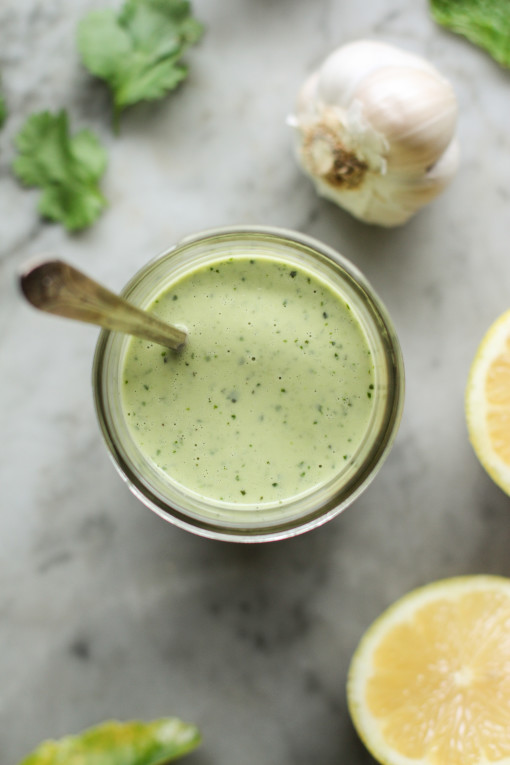 And of course, the New Year always brings conversations about food.  Are any of you trying to cut back on certain foods?  Or trying a "diet" plan this new year?
We tried the Whole30 plan between Thanksgiving and Christmas.  I know, what timing, right?  But after so many years of watching myself eat my weight in chocolate (it really is a thing over here, I might need an intervention) and gaining weight between those two holidays, I decided to give it a try and the hubby decided to go along with my plan as well, although I think he just said yes because he would be eating what I cooked anyway, haha.
Have you guys heard of the Whole30 diet?  It's pretty simple really, basically you can eat meat, vegetables and fruit and not much else.  The premise is that this plan is to eliminate a host of staple foods for 30 days, after which people can then add certain items back into their diet as they choose to.  So no soy, no dairy, no wheat, no grains, no beans, no sugar, no alcohol and the list goes on, but you probably get the idea.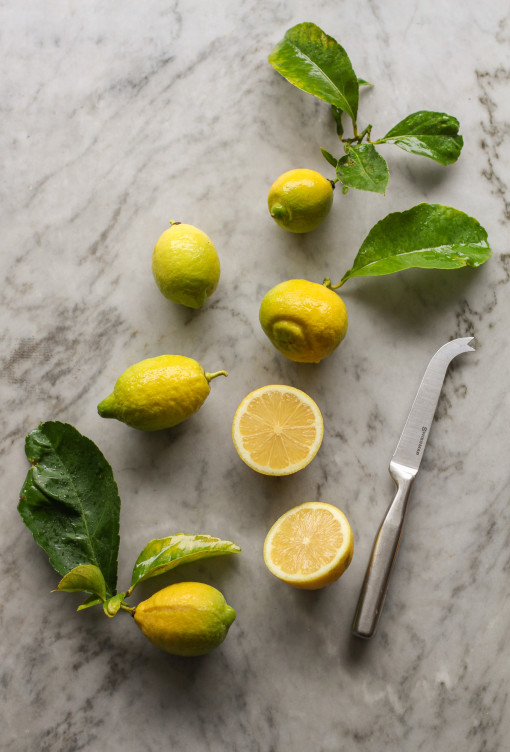 We did it.  The whole thing.  And here is our summary so you know what you might expect/encounter if you decide to try it too:
The first couple of days were really hard.  Going cold turkey on alcohol, carbs and sugar sent me into a downward spiral of craving ALL the sugar ALL of the time.  I mean, I probably ate four pounds of mandarin oranges those first couple of days because I was craving sugar so badly.  Bonus: my vitamin C consumption went WAY up.
Did I lose weight?  YES!  I lost 7 1/2 pounds in one month.  Did I fall into a dish of scalloped potatoes on Christmas?  You betcha!  You guys, I'm so very much a moderation person.  What do you mean I can't have even one bite of cheese for an entire month??!!  I'll show you!!!  And I did.  There might have even been some oinking going on at that point because I was already elbows deep in the baking dish, haha.
The one thing that was really hard though (besides the no cheese and no alcohol) was the fact that way down deep inside I'm a vegetarian/occasional meat eater and having to eat meat everyday – for every meal – I mean, ugh.  I just was completely burnt out on meat in about a week.  I did eat a lot of vegetables but couldn't stay full for very long without at least a plant protein (aka quinoa, beans, grains) to mix in with all the veggies.
And I have a small issue with bacon being okay but not a plant based protein source like quinoa.  I mean, really.
There is also a lot and I mean ALOT of shopping and cooking going on.  And you guys know I do both of those things professionally, but seriously, our grocery bill skyrocketed and I had to make everything from scratch.  I normally do cook from scratch, but I also do batch cooking and send some to the freezer for another night when I am either too busy or too tired to cook from scratch.  Batch cooking was almost impossible on this plan due to the fact that I could only cook with three main ingredients.  I did make a couple of vegetable soups and froze them, but for the most part it was all from scratch cooking every day.
Honestly, I felt like I spent the entire month in the kitchen and not in a good way.  It was exhausting.
Cooking and eating meat, vegetables and fruit was no problem, although it got kind of boring after awhile.  With a majority of condiments and sauces on the "do not eat" list, it became a bit difficult to reach that wow factor.  Grilled chicken with sautéed chard and roasted potatoes?  Check.  Any kind of fun things on top? Nope.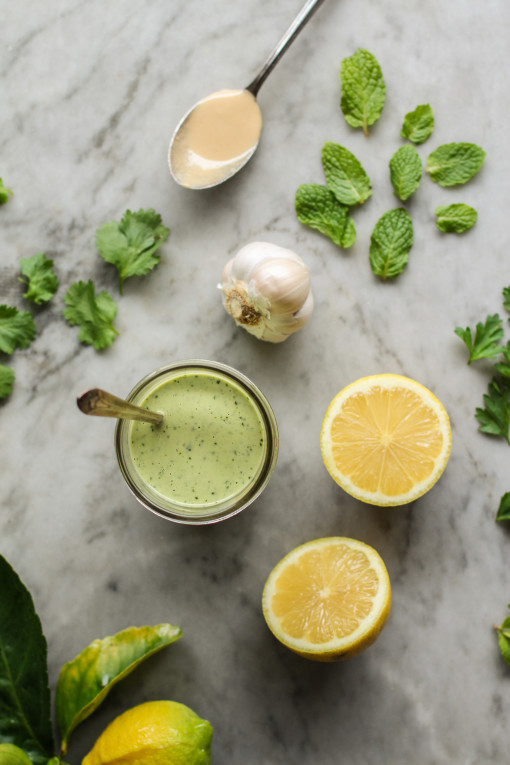 So after a few days of boring food I started playing around with the things we could have and ended up making two things that have been on repeat at our household, long after we showed Whole30 the door.  One is a homemade tomato sauce (weird, I know, but we couldn't have jarred sauce as it has sugar in it) and the other is this little lovely jar of lemon herb tahini sauce.  I'm telling you right now, this sauce is out of this world delicious and we loved it so much we were calling it "awesome sauce" because it made everything taste so much more awesome – pardon the grammar issues there…and I believe that name might also be trademarked by a restaurant…oops.
I basically raided the fridge for all things I could put in food processor and make it into a sauce – garlic, cilantro, parsley, mint, chives, lemon, tahini, salt, pepper, water, olive oil, alleppo pepper and voila!  A super delicious sauce that you can drizzle on anything and everything. It's Whole30 approved and also just yummy if you aren't doing anything but eating a big pan of scalloped potatoes all by yourself.
Happy New Year!
XO,
Jenn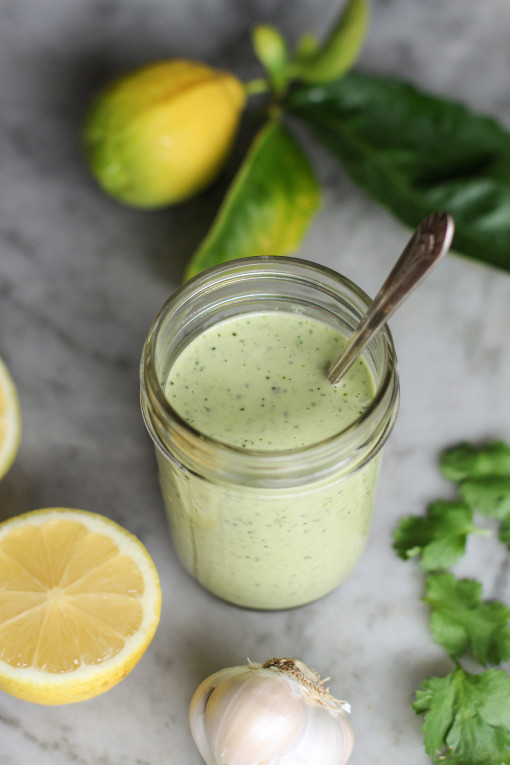 lemon herb tahini sauce
2 garlic cloves, peeled and roughly chopped
1/2 cup tahini
the juice of 1/2 a lemon
1/4 cup chopped cilantro
1/4 cup chopped mint
1/4 cup chopped parsley
3 tablespoons chopped chives
1/4 cup extra virgin olive oil
salt
black pepper
Aleppo pepper, optional
water, as needed
In a food processor, combine the garlic, tahini and lemon juice.  Process everything together for about 1 minute, or until the garlic is combined with the tahini – you may need to scrape down the sides and process again.  Add the herbs and process until you get a thick paste – again, scraping the sides of the processor as needed.  With the processor running, slowly drizzle the olive oil into the tahini/herb mixture then add a pinch of salt, black pepper, and Aleppo pepper if using.  Scrape down the sides once again, turn the processor on, and slowly drizzle water into the mixture until your mixture resembles a thick dressing.  Taste and adjust any seasonings as needed.