I have a couple of book shelves in my kitchen that hold my most precious cookbooks.  No, they aren't the latest and greatest cookbooks, but they are definitely cookbooks that have made an impact on my culinary life – both before and after getting my culinary degree.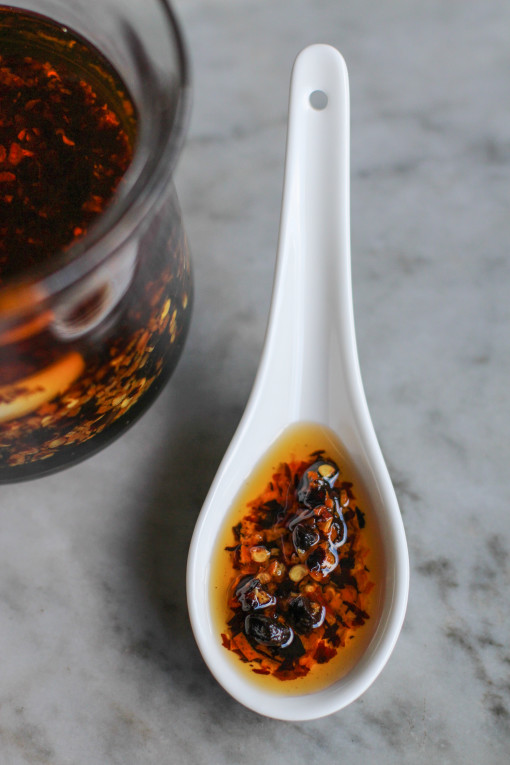 There's the very tattered copy of Larousse Gastronomique
 that has always helped me find an interesting way to cook "insert food item here."  There are a handful of classic cookbooks like Madeline's Kitchen, The French Laundry Cookbook
, and The Bread Baker's Apprentice
.  And then there is my most favorite section – cookbooks from around the world.  Cracking the Coconut
, The Japanese Kitchen
, Seductions of Rice
and the China Moon Cookbook
.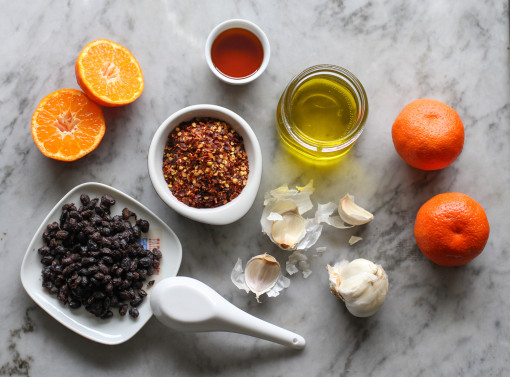 On a daily basis I probably use these cookbooks next to never.  What??  I know.  But it's true.  Once the kids came along, the late night dinner parties with 12 courses and as many bottles of wine went out the window.  They were replaced with pureed apples and squash for a few years and now have been updated with the latest cheesy-noodle obsession.  Yay.  And by yay, I mean not at all.
But I never forget about those books.  Some days I will just open them and slowly flip pages, thinking about what I wanted to make or remember that time that we made whole roasted thai bass wrapped in banana leaves and served with fermented black bean sauce and all the lemongrass I could find ….. ah, dreamland.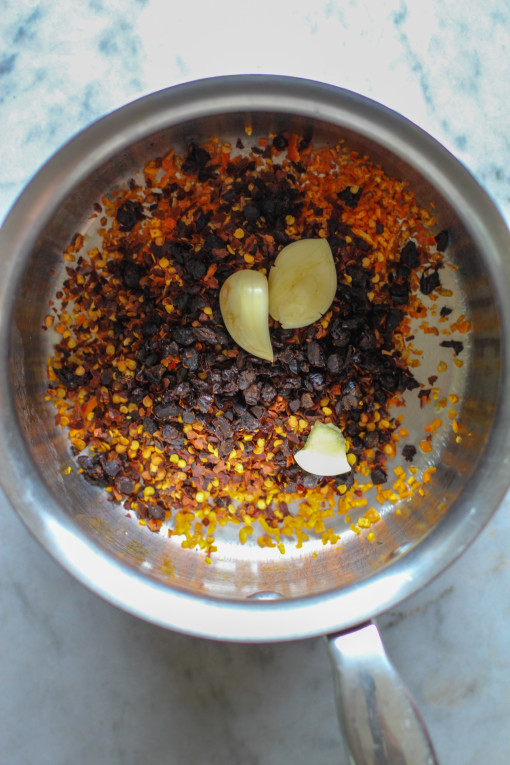 And then just last week I was looking at the pile of oranges on the kitchen counter and trying to count down how many more days I had before I needed to make another fruit run for the kiddos when – bam!  I remembered this chili-orange oil that we used to make every week.  I mean, it was probably more than once a week because once we would make a jar we would eat it almost as quickly as it took to make – which is not long.  Not long at all.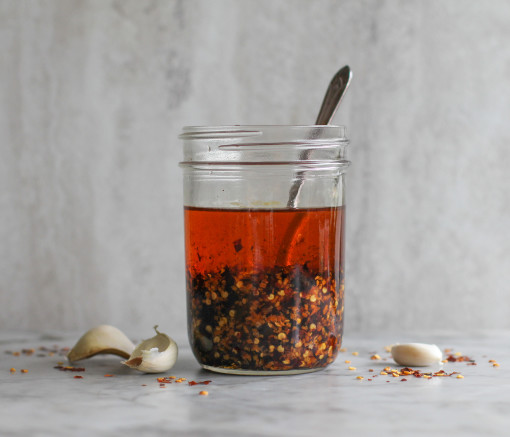 So I flipped open the China Moon Cookbook
and there it was!  The recipe for chili-orange oil, just where I left it.  I whipped up a batch of and left it in the middle of the kitchen counter so the hubby could find it as soon as he got home.
And find it he did – he woke me up in the middle of the night to tell me how excited he was to have a jar of goop again (it's actually referred to as goop – the original goop – and has no affiliation with Gwenyth Paltrow at all) and I mumbled out something to the lines of "glad you're happy, let me sleep" and we all slept happily ever after.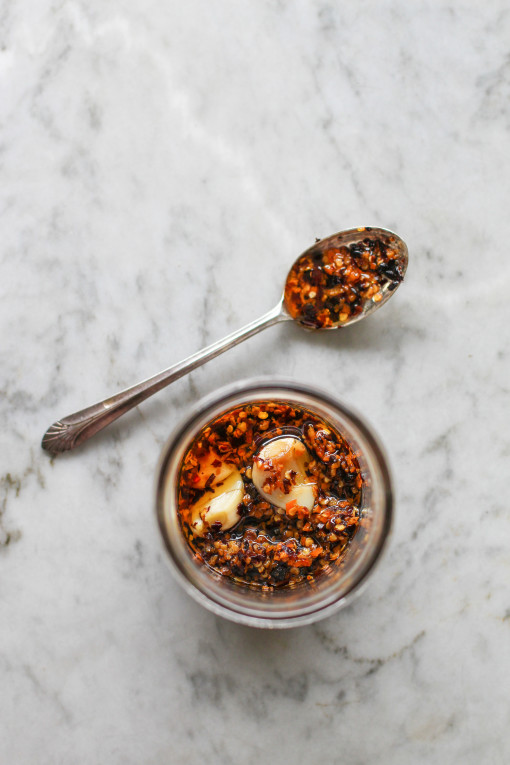 It takes all of 10 minutes to make this sauce and only a handful of ingredients.  An insane (!!!) amount of chili flakes are simmered with fermented black beans, whole cloves of garlic, orange zest, sesame and canola oils until everything is nice and toasted and fragrant and flavorful.  Then you pour it into a jar, put a lid on it and it's ready to be eaten.
This sauce is great on EVERYTHING and that's no exaggeration.  Delicious drizzled on cooked veggies and meats, even better rubbed all over a whole fish before roasting – but my favorite – a big dollop in a steaming bowl of ramen noodles.
You: Is it spicy?  Me: On a scale of 1-10 it's about a 4.  I would say it's more warm than spicy.
You: What in the heck are fermented black beans and where do I get them?  Me: They are just that – black soy beans that have been fermented and preserved in salt.  Your local Asian market or Amazon, go here: preserved black beans
You: I made it, now what?  Me: Eat it!!  On everything!!  Be sure to share though…
Hope you guys give it a try!
XO,
Jenn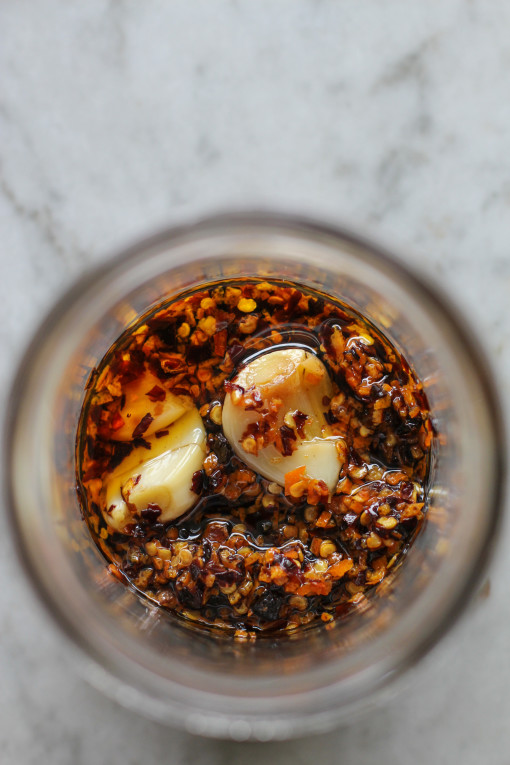 chili orange oil
from China Moon Cookbook
makes about 2 1/2 cups
3 oranges with unblemished skin
1/2 cup dried chili flakes
3 tablespoons Chinese black beans (do not rinse them), coarsely chopped
1 to 2 large garlic cloves, lightly smashed and peeled
2 cups canola or peanut oil
1/4 cup sesame oil
Wash the oranges.  Peel away the thin layer of orange zest (leaving behind the white pith) and finely mince it.
Combine the minced zest with all of the remaining ingredients in a heavy, medium sized pot.  Bring the mixture to 225-250 degrees over moderately low heat, stirring occasionally, and let bubble for 15 minutes.  Remove from the heat and let stand until cool or overnight.
Scrape the oil and "goop" into a glass or plastic container, cover, and store at cool room temperature.