The sun has finally (!!) decided to shine brightly, so we spent the morning at the park and followed that up with a trip to the farmers market where we found these gorgeous strawberries! The kids were drawn to the strawberry stall like a moth to the flame, and after all the free samples, we walked away with a flat (an entire flat!! eeek!!) of strawberries!!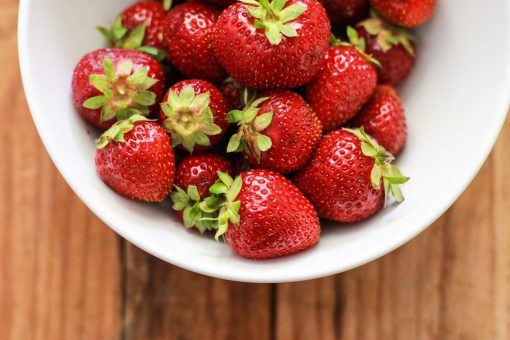 You've heard that saying, "you eat with your eyes" right?  Well, apparently my eyes were super hungry and very excited to see the first of the spring strawberries, what can I say??!! We all ate a whole bunch right away, stuffing our cheeks and exclaiming how wonderful they tasted, and after that we made a big batch of this chia jam for the kiddos lunches next week, rolled out some pastry for our yearly strawberry-rhubarb pie, and then we whipped up a quick batch of these delicious strawberry ricotta muffins!!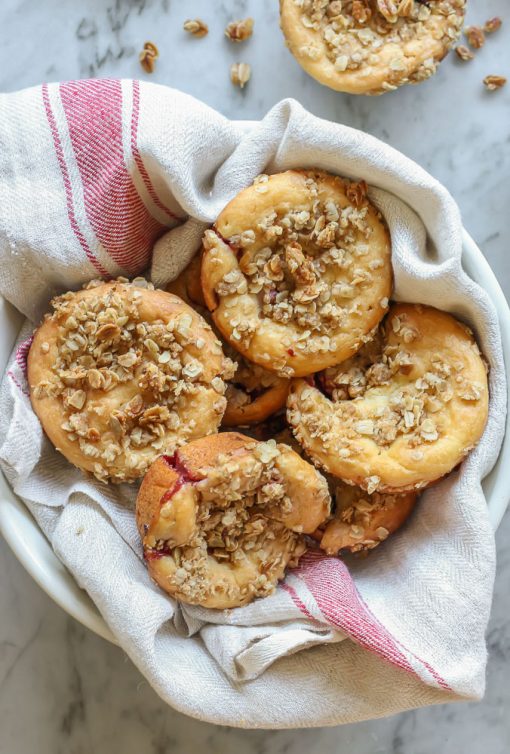 I don't know about you, but I always seem to have about a half of a container of ricotta cheese in my cheese drawer. I can never seem to use the entire container for one meal/recipe so most of the times I just add the remaining cheese to a puff pastry shell, or slather it all over some toast and top it with some fruit/veggie for a quick snack.  But when I walked into the house with all these strawberries my heart said "muffins" and my brain was trying to formulate a plan!!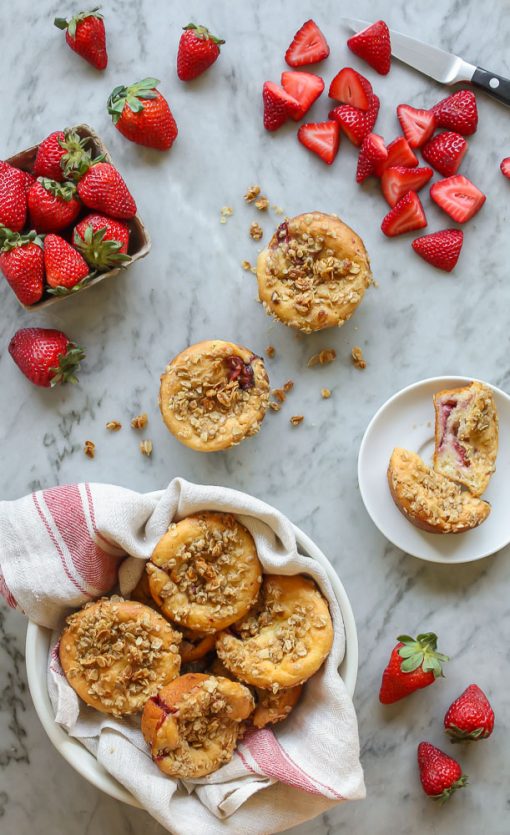 I ended up taking parts from my two favorite muffin recipes and combining them with the gorgeous strawberries and that one remaining cup of ricotta and ta-dah!!! Strawberry ricotta muffins!!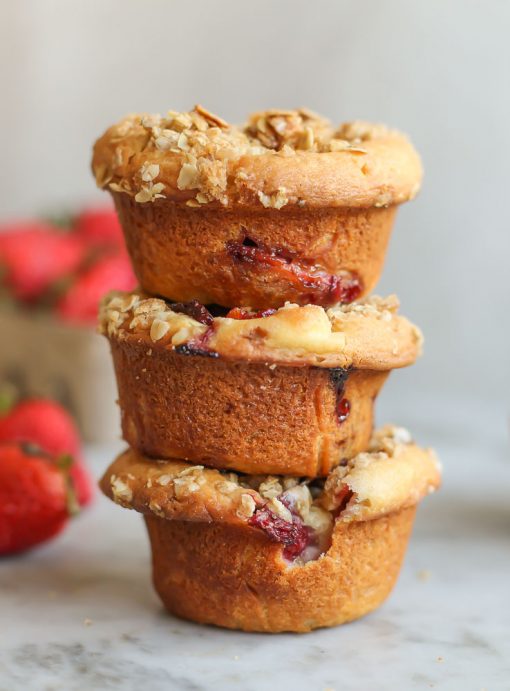 Perfect for breakfast, or an afternoon snack, these delicious ricotta muffins are packed full of fresh strawberries and topped with honey-kissed oats!! The recipe is quick and easy, and the muffins are so light and moist – a perfectly sweet way to enjoy some spring strawberries!!
XO,
Jenn
PS Here are some other strawberry recipes you might enjoy:
strawberry lemonade popsicles – a refreshing treat on a warm day!!
strawberry cheesecake tart – fresh strawberries layered over a creamy cheesecake filling!!
strawberry handpies – warm strawberry filling in a handheld pie crust!!
mango and strawberry granita – the perfect frozen treat!!
strawberry ricotta muffins
Perfect for breakfast or an afternoon snack, these delicious ricotta muffins are packed full of fresh strawberries and topped with honey-kissed oats!
Ingredients
2 1/4

cups

all purpose flour

2/3

cup

granulated sugar

2

tsp

baking powder

1/2

tsp

salt

1

cup

ricotta cheese

2

eggs

2/3

cup

whole milk

3

tbsp

unsalted butter

1/4

cup

canola oil

1

tsp

vanilla extract

1 1/4

cup

diced fresh strawberries

1/2

cup

oats

1

tbsp

honey
Instructions
Preheat your oven to 350 degrees.Spray 12 muffin cups with cooking spray, or line cups with paper liners.In a large bowl, combine flour, sugar, baking powder, and salt. Set aside.In a medium bowl, whisk ricotta cheese until smooth. Add eggs and milk, and whisk until smooth. Add oil and vanilla, and stir until well combined. Add ricotta mixture to flour mixture, and fold with a wooden spoon or a rubber spatula just until combined. Gently fold in strawberries. Divide batter among prepared muffin cups, filling about three-fourths full.Combine the oats and honey in a small bowl. Using a spoon and your fingers, place 1-2 tablespoons of the oat mixture over each muffin.Place the muffin pan into the oven and bake until a wooden pick inserted in center comes out clean, 20-25 minutes. Let cool in pans for 10 minutes. Remove from pans, and let cool completely on wire racks.

Notes
Muffins are best the same day they are made, but they can be stored in an airtight container at room temperature or in refrigerator for up to 3 days.