I'm lucky that my little man likes to help me in the kitchen.  From before he could stand on his own kitchen stool, he has had his hands in food – helping me pick out apples at the farmer's market, or practicing counting as we load the limes into the bag.  He still gets really excited when it's time to "stir round and round" (aka whisking) and is always first to volunteer to help me when I walk in the kitchen by gleefully exclaiming "I help! I help!"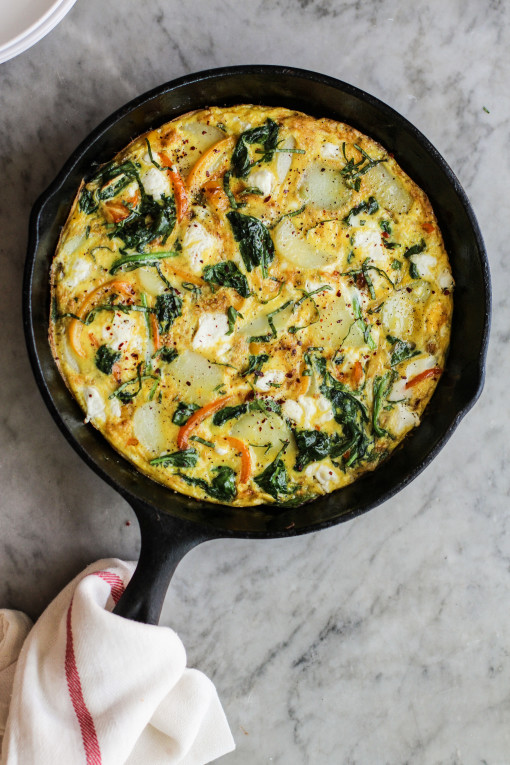 So on the day this creation was on the menu, I asked him, "little man, do you want to help mama make a frittata?"
He looked very seriously at me and asked, "what's a tata mama?"
I tried to look serious too and not laugh when I answered, "No, not a tata, a frittata.  A frittata is an egg and vegetable dish that gets baked all together and eaten for breakfast or lunch or just because it's so yummy.  Would you like to help me make a frittata?"
He repeated his same questions, "mama, what's a tata?"
At this time I just laughed and said, "well, a tata is something completely different and we can talk about that later.  But let's make a frittata."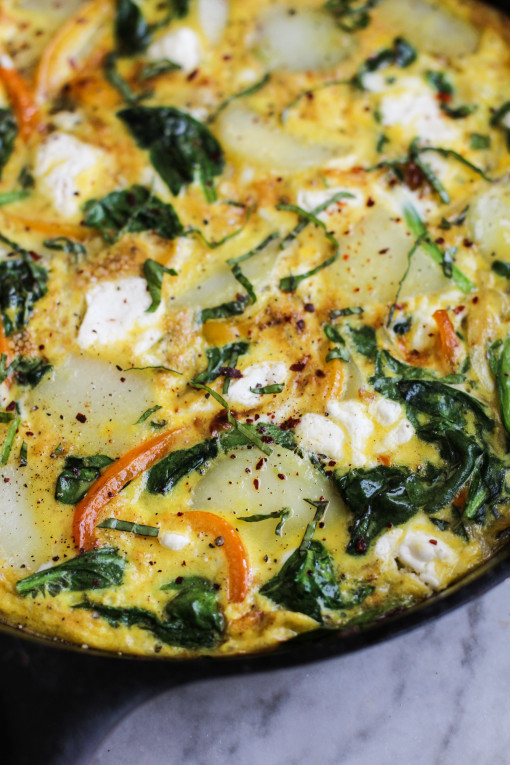 And so we made a frittata and forgot all about the tata…for awhile anyway.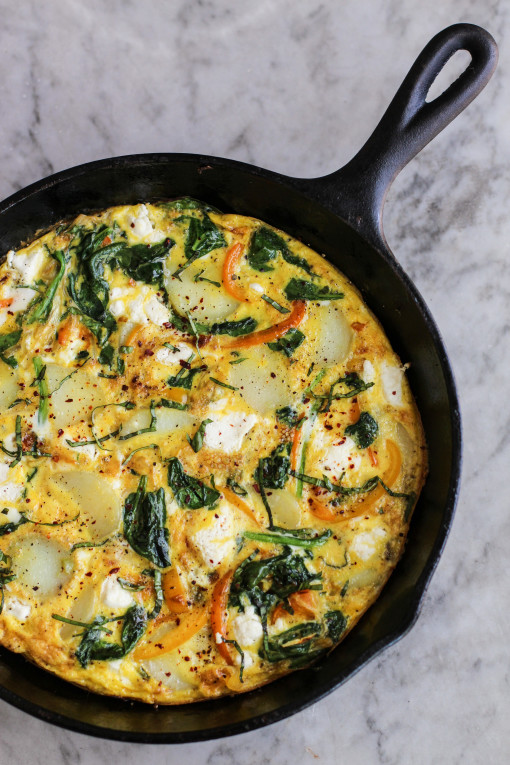 Now I'm sure no one needs a recipe for a frittata – but it's a great reminder of a quick and healthy meal that comes together in less than 30 minutes.  You could pair it with some lightly buttered toast and serve it for breakfast, or add a citrus vinaigrette tossed green salad and you have lunch or dinner ready to go.  Frittatas are great for picnics and make great appetizers – just cut them into smallish squares and serve them with some bubbly.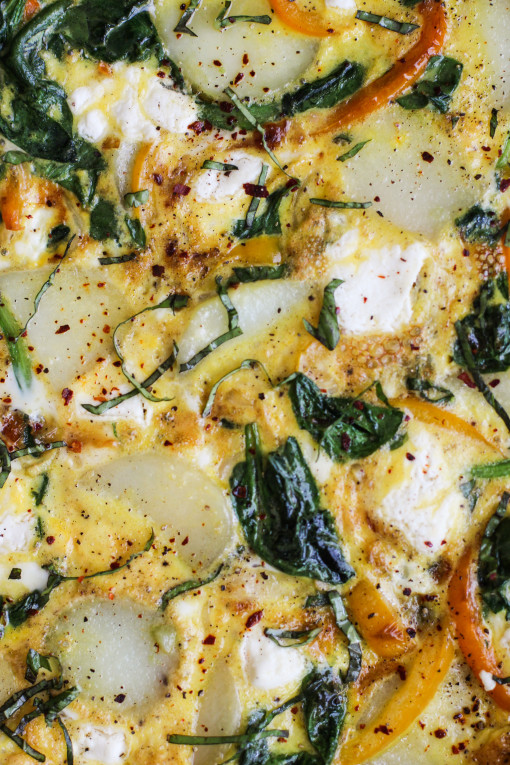 This frittata is a wonderful blend of crispy bell peppers and onions mixed together with creamy potatoes and goat cheese, fresh spinach and basil leaves.  The eggs are cooked first on the stove top and then placed under the broiler – resulting in a perfectly crispy frittata with different vegetable textures and layers of flavors.
And this recipe is supposed to serve eight.  But the little man and I ate this whole dish (yes, by ourselves) within a couple of days.  If there's anything leftover when you make this yummy frittata, wrap it tightly and place it in the refrigerator for up to five days.
Enjoy!!
xo, Jenn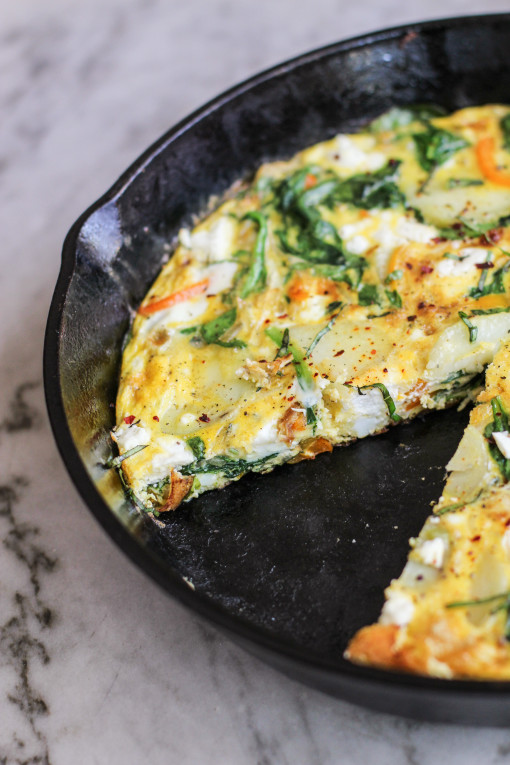 orange pepper, spinach and goat cheese frittata
from Saveur.com
1 pound medium sized red potatoes
1/4 cup extra virgin olive oil
1 garlic clove, minced
1 cup orange bell pepper, seeded and thinly sliced
1/2 cup white onion, thinly sliced
salt
black pepper
2 tablespoons basil, thinly sliced
8 eggs, beaten
2 cups baby spinach
2 ounces fresh goat cheese, crumbled
Place the potatoes into a medium sized pot and cover with water.  Bring to a boil, then turn down and simmer, covered, until the potatoes are tender, about 20 minutes.  Let the potatoes cool, then peel and thinly slice.
Heat your oven on the broiler setting.  In an ovenproof 12 inch nonstick or cast iron skillet, heat the olive oil over medium-high heat.  Cook the garlic, pepper and onion until soft, 3-4 minutes.  Add the spinach and cook until wilted, about 1 minute.  Stir in the potatoes and season with salt and pepper.  Stir in half of the basil and the eggs and reduce the heat to medium.  Sprinkle the goat cheese over the eggs and cook until the frittata is golden on the bottom, 8-10 minutes.  Broil until the frittata is set and golden on top, about 3 minutes.  Garnish with remaining basil.