Finally, finally, finally…it rained.  And it's been raining off and on ever since.  And it's wonderful.
After living in Seattle for a time and then moving back to California…well, I miss the rain sometimes.  I know, call me crazy, but sometimes I just crave the winter weather.
Grey skies heavy with mist and fog, twisting colorful hand knit scarves around my neck, and the feeling of the squishy wet earth under the soles of my warm winter boots.
Just like Julie Andrews, these are some of my favorite things.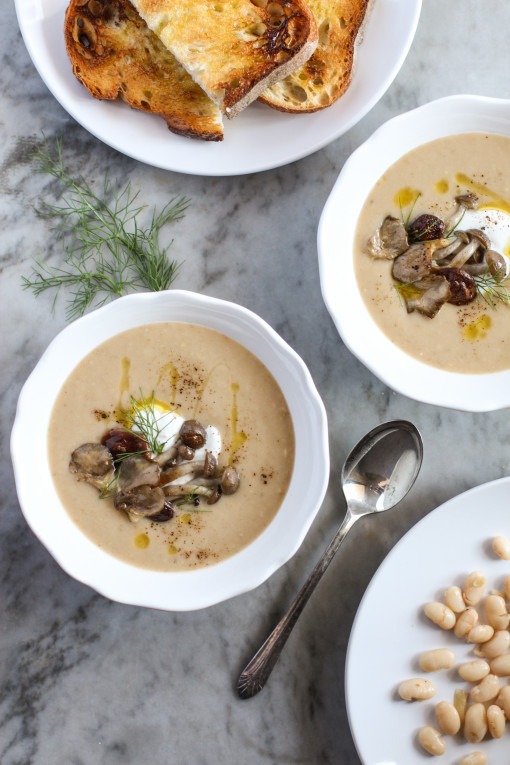 The cold and rainy weather also lends itself to marathon cooking sessions and that's what I look forward to the most when winter comes.  Cooking seems to root me and reminds me what's really important in this crazy busy life.
Cooking brings me back to my center.  When winter comes I can just cook and think and feed and nest and nurture all the things that were overlooked during the hectic summer play schedule that somehow turned into the back to school craziness before I even realized what was happening.
Soup for the soul, if you will.  It's such a great idea that I think someone even wrote a book about it.
white bean soup with roasted mushrooms
from Fine Cooking
1 tbsp. fennel seeds
extra virgin olive oil
1 small sprig of rosemary, leaves only
2 tbsp. fresh thyme leaves
1 cup chopped yellow onion
1/2 cup chopped fennel
3 cups cooked cannellini beans
6 cups vegetable stock, or water
salt and black pepper
1/2 lb mixed mushrooms, trimmed and cleaned
Toast the fennel seeds in a small skillet over medium heat until they release their aroma, about 2 to 3 minutes.  Grind them coarsely in a spice grinder.
In a large pot over high heat, add a good glug of olive oil to the bottom and add in the onion, fennel, rosemary, thyme and fennel seeds.  Reduce heat to medium and slowly let the onions and fennel cook until they take on a caramelized hue, about 5 minutes.
Add the beans and vegetable stock to the pan, stirring to get the bits off of the bottom of the pan.  Bring the beans to a boil and then reduce the heat to medium and simmer for 20 minutes, stirring occasionally.
While the soup is cooking, turn your oven to 350 degrees and line a baking sheet with parchment paper.  Toss the mushrooms with some olive oil and salt and pepper and place them on the baking sheet.  Roast the mushrooms for 2 to 3 minutes and then flip them and cook for 2 to 3 minutes on the other side.  Remove from the oven and set aside.
Once the beans have cooked, carefully remove the soup to a blender and puree until completely blended.  Return the soup to the pot and season with salt and pepper.  Ladle the soup into bowls and top with the roasted mushrooms.