Fava beans always remind me of my friend R.  We met way back in culinary school and he always likes to tell me how many years it's been since we were in school together (10!?) which didn't bother me at first but now starts to make one feel a little, uh, older and wiser let's just say.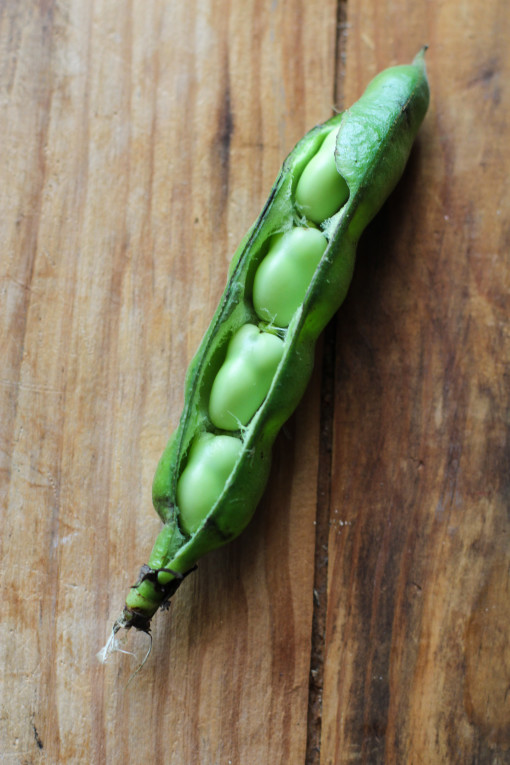 Way back when R and I first met we were just little kids trying to find our path in the culinary world.  R is an amazing chef and even back then you could see his talent peeking through as we worked and learned and cooked and tasted our way through plate after plate of yummy creations.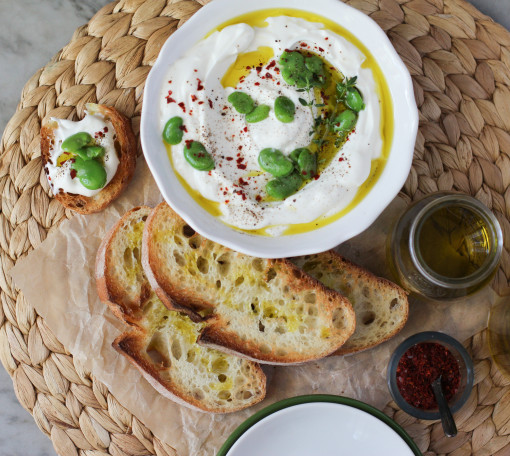 One of his creations still sits firmly in my head – a chilled crab salad with fresh fava beans and a lemongrass broth – it was one of those dishes that the whole class couldn't stop tasting.  I think of my friend R every year around this time when the fava beans start to show up at the market.
Fava beans require a little bit of work, but they are so worth the effort.  Needing another toast fix, I opened the fridge and looked around and here's what I came up with: labneh and fava beans with a pinch of spicy Aleppo pepper and a generous glug of fruity olive oil.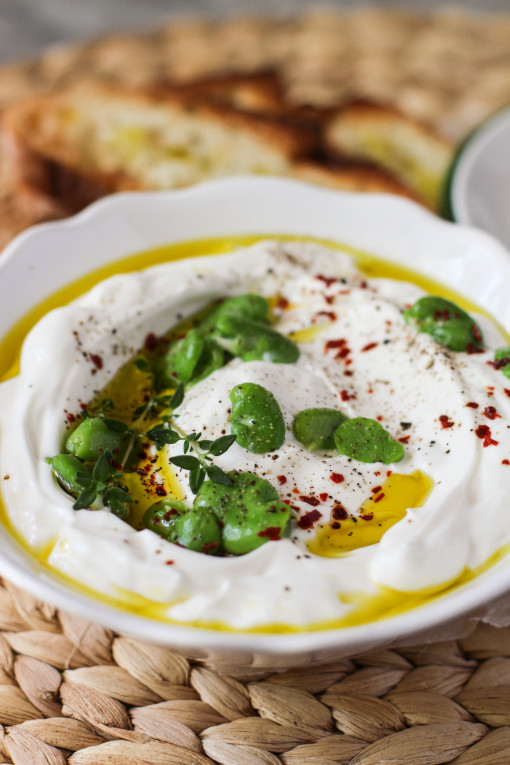 In case you haven't used labneh before, it's a middle eastern yogurt cheese that is really easy to make and quite tasty.  You can roll it into little balls and marinate it in some fruity olive oil and fresh herbs or spices, or you can use it in place of cream cheese on your toasted seed bread or just place it into a bowl and top it with all kinds of yummy things for a quick snack or filling lunch.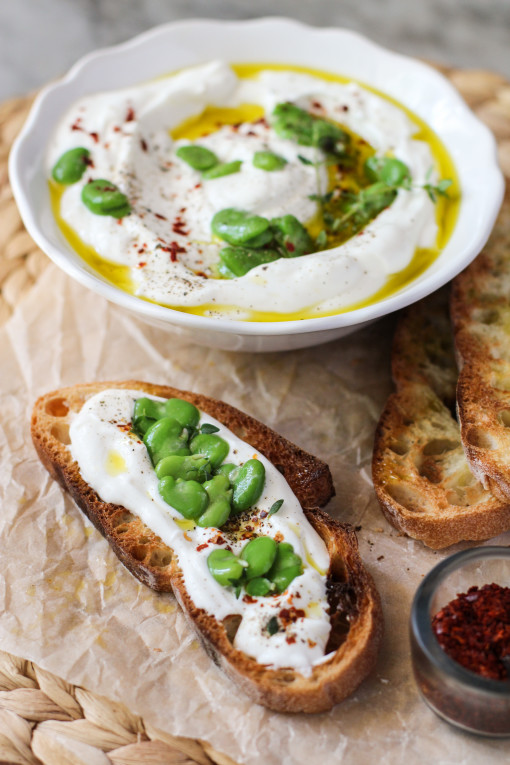 spiced labneh and fava beans
1 cup peeled and cooked fava beans (recipe follows)
2 cups labneh (recipe follows)
a generous glug of extra virgin olive oil
pinch of Aleppo pepper
fresh thyme sprigs
salt and black pepper to taste
Place the labneh in a bowl.  Stir slightly to make small indentions into the yogurt.  Sprinkle the fava beans on top of the yogurt and pour a generous glug of olive oil over the top.  Sprinkle salt and black pepper and some Aleppo pepper flakes on top of everything.  Serve with grilled bread.
how to prepare the fava beans:
Peel the individual beans out of their pods (pulling the "string" end of the pods will open the whole pod easily) and place the beans in a bowl.
Fill a medium sized bowl with ice water and set aside.  Bring a medium pot full of water to a boil and add a generous handful of salt to the water.  Place the beans into the pot of water and boil for three to four minutes.  Remove the beans from the boiling water and place them directly into the ice bath to stop the cooking.
Leave the beans in the cold water for a few minutes, until cooled, and then drain the beans.  While holding the bean in your hand, pierce the bean with your fingernail and squeeze the bean out of their skin.  Continue until all of the beans have been peeled from their skin.
how to make the labneh:
Each quart of yogurt will produce about 6 ounces of labneh, give or take, plus plenty of whey to use in other recipes.
1/4 to 1/2 gallon fresh yogurt
1/2 tsp salt per quart of yogurt
extra virgin olive oil
strainer
large enough piece of cheesecloth so that it can be folded into four levels and still fit into your strainer
Set the strainer in a bowl and fold the cheesecloth into quarters and set it inside the strainer.  Mix the yogurt with the salt and pour the yogurt into the cheesecloth/strainer.
Let the yogurt sit in the cloth for about 10 minutes and then gradually and carefully fold the ends of the cheesecloth in toward the center and twist them gently into a nice, tight package of yogurt that can easily hang from a hook.
Tie the package together with a twine and hang it from a hook, placing your bowl beneath to catch any dripping whey.  (I did this in my fridge using one of the shelf brackets as a hanger.)  Leave the yogurt to hang for at least 12 hours and up to 24 hours – the longer the yogurt hangs, the thicker it will be.
Once the yogurt has hung for as long as you like, remove it from the hook and gently take off the cheesecloth.  You can store the yogurt in the refrigerator for up to two weeks.