I woke up on Friday to crispy cool weather and a stagnant layer of low fog – which sent me straight to the store to get supplies for the marathon cooking weekend that I had been planning all year.  Welcome fall!  Let's get cooking!!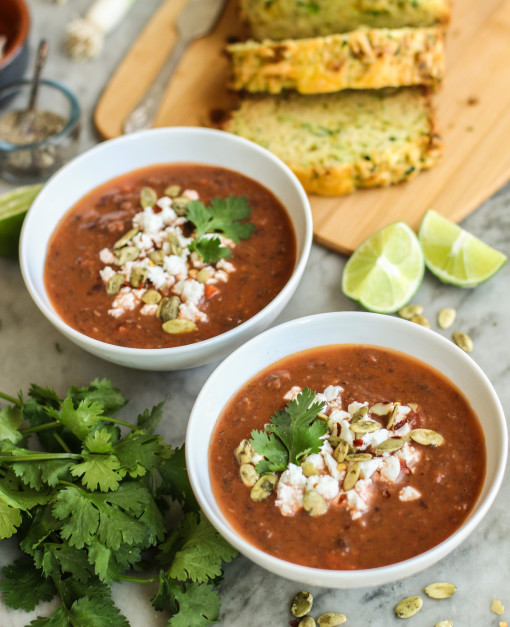 But on the way to the store, my car died.  And not just died on the side of the road, but died as I was driving down the road.  And as I was still barreling down the highway when my car actually died, it took a few moments for me to realize that the engine had actually even turned off.  Radio still on, hands still on the wheel at 2-and-10, me turning the left signal on, and merging into the left lane…but yet I didn't.  The steering wheel locked up and the gas pedal stopped working before it even registered to me that something was seriously wrong with my car
Without thinking, I responded by turning the key in the ignition again and voila!  The engine turned over and the car was driving down the road once again.  But instead of feeling much better about the situation, I was driving around scared half to death that I would be hoofing it somewhere quickly (and perhaps with a couple of little humans in the backseat) when the car decided to take another vacation.
So as soon as I pulled safely into my driveway I called our mechanic and tried to explain the situation.
Me: Hello, I need to bring my car in for a look-see as my car seems to be either too tired to continue or possessed by an engine demon.
Mechanic: Hmmm, a "look-see" you say? I'm not sure what my manual says about that but you say something is wrong with your engine?
Me: Yes, just driving down the road yesterday and the car turned completely off like someone turned the key off in the ignition but they didn't because it was just me in the car…driving…by myself.
Mechanic: Well, that doesn't sound safe, why don't you bring it in?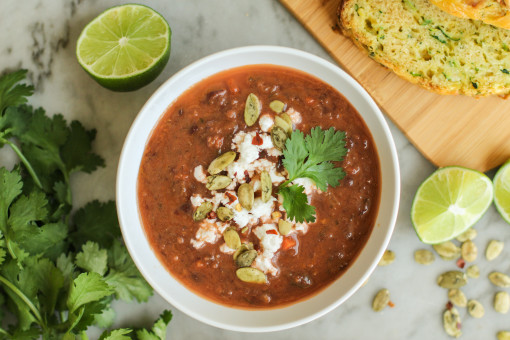 And so I did.
Turns out the mechanic "couldn't find anything wrong with the car" although his best guess was to change the ignition switch (which apparently did have a couple of burned wires) and to do something different with the differential – whatever that means. Either way, after paying $$$ to exorcise my car demons I was sent home feeling much more confident about driving my car down the road.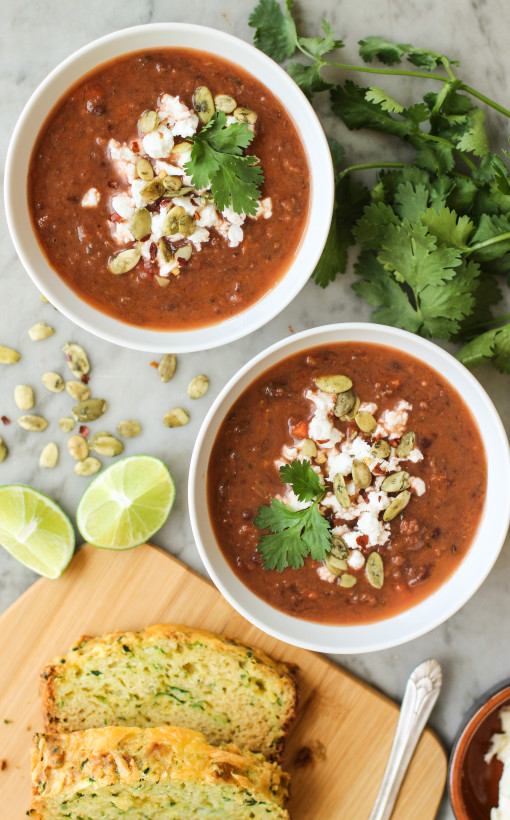 Oh, and while I was waiting for my car to return home, I made this soup.  A warm and comforting bowl of healthy goodness – hearty black beans cooked together with crunchy veggies, garlic and a bit of smoky heat.  Make sure to serve it with a side of this cheddar zucchini bread.
xo,
Jenn
smoky black bean and poblano soup
2 tablespoons extra virgin olive oil
1 poblano chile, trimmed, seeded and chopped into small pieces
1 medium carrot, peeled and chopped into small pieces
1 stalk of celery, chopped into small pieces
1/2 cup chopped yellow onion
2 garlic cloves, minced
1 tablespoon chipotle pepper
1 14 ounce can of diced tomatoes
4 cups cooked black beans
4 cups vegetable broth or water
kosher salt
black pepper
feta cheese (omit the cheese for a vegan option)
fresh cilantro
toasted pumpkin seeds
In a large stockpot over medium high heat, add the olive oil, poblano pepper, carrot, celery, and onion.  Cook, stirring occasionally until the onion is soft and golden, about 8 minutes.  Add the garlic, chipotle pepper, tomatoes, and beans and cook for another 2 minutes, stirring everything together.  Add the broth and bring the soup to a boil.  Reduce the heat and simmer the soup until it is slightly thickened, about 20 minutes.
Working in batches, and being careful not to burn yourself, puree about half of the soup in a blender until smooth.  Add the pureed soup back to the soup pot and stir everything together, seasoning with salt and pepper.  You should have a thickened and chunky soup.
Ladle soup into bowls and top with feta cheese, pumpkin seeds and chopped fresh cilantro.