Sometimes the best laid plans just don't work out.  Instead of this wrap that you see here…this post was almost about a ruby salad that I had been dreaming about over the last two weeks.  My thought was simple – shredded radicchio, dark baby greens, roasted beets, quinoa, blood orange segments, chopped Kalamata olives, maybe some toasted pumpkin seeds…definitely crumbly feta cheese over the top…and then I got a cold and ended up laying around for a week nursing my sore throat and feverish body with lots and lots of body-healing soups and stews and all things cold medicine.
Then fast-forward to a week later and here I was this very morning in the kitchen, finally cracking into all things "ruby salad."  My knife was slicing, the salad spinner was spinning, the oranges were segmented and the beets were roasted.  Salad greens lined the big white bowl and made a great base for the layered look – one thing on top of the other (similar in style to this salad seen here) until it was perfect and picture ready.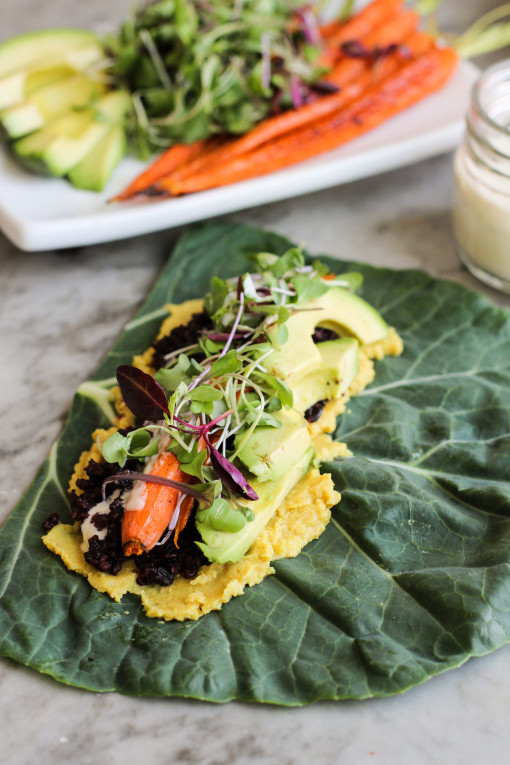 Except it wasn't.  The salad was completely and totally flat.  I mean, the salad itself wasn't flat – but once it got under the camera and lights….bleh.  Is bleh even a word?  Well, bleh it was – word or no word.
Then I tried another route and threw everything in a big bowl and tossed it together – you know, to try again to get that depth in the shot.  But instead of depth, I just got a bowlful of purple mess.  Everything was covered in everything else and it was even worse than before.  So I promptly dressed it with the blood orange vinaigrette and ate it for breakfast.
It was a delicious breakfast-y salad, if you are into those kinds of things…but it was ugly.  And ugly is okay, because the funny thing is my stomach doesn't judge on appearance and my body was more than happy to eat something healthy that wasn't soup.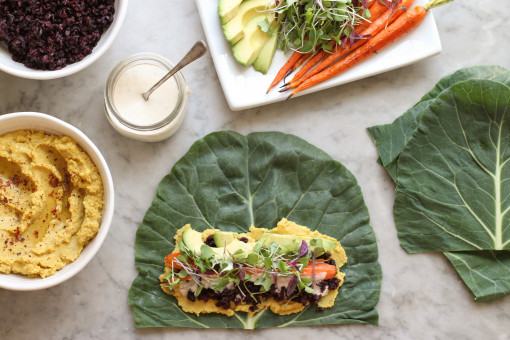 Even though I failed this morning, I'm not beating myself up over it because there are lots of things that I can't do…
I can't sing to save my life.  I can't even hum a tune.  I think I must be hum-deaf.
Under whatever color my hair might be today, it's all grey underneath.  All.  Of.  It.  Yes, even that part in the back.
I am not a patient person.  I try.  I really do.  But I'm impatient about my own impatience.
I have a phobia of sytrofoam.  My teeth hurt and I get goosebumps just thinking about that horrible material.  I can't even be in the same room with it.  I know, it's weird and I'm okay with it – just get it away from me asap.
I cannot make rice.  Ever.  It's either under-cooked or burnt.  Watery or "over-roasted."  I've never even heard of roasted rice before…but I can make it.  Just saying.
I am afraid of the ocean.  More specifically I believe that the movie Sharknado
 is actually based on a true story.  Yes, really….scared!!!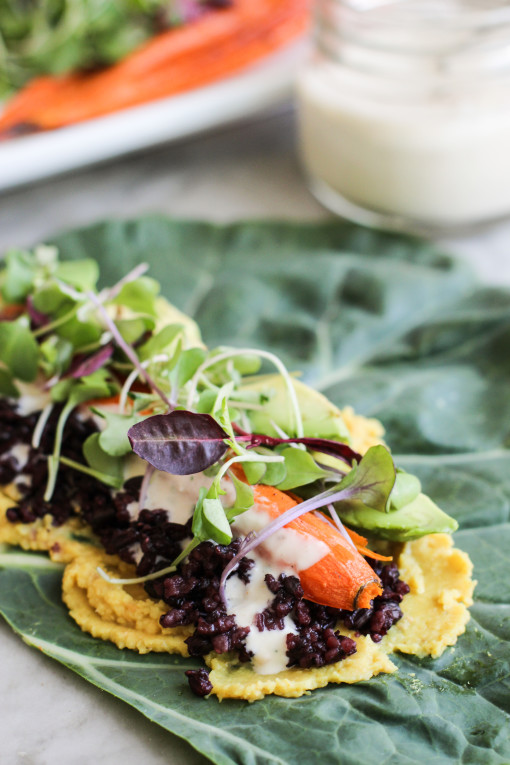 So after I failed this morning I moved on… rummaging around the fridge looking for inspiration and something yummy to feed the family for lunch.  I had a bit of leftover black rice from a thai coconut curry meal + a bunch of collard greens just hanging out in veggie bin minding their own business + we always have hummus on hand for a quick snack + the carrots were looking a little tired + what to do with that package of microgreens + oh and always an avocado ripening on the counter, looking for a good home.
Hmmm…
Just a quick little lunch made out of leftovers and some of this and that and whatever else sounded good.
And it was amazing!!  And I want to share it with you – Crispy roasted carrots, curried hummus, creamy avocado, spicy microgreens and black rice all layered on each other, drizzled with a lemony-yogurt sauce and wrapped up in a collard leaf.  Let's do lunch – it's one of the things I CAN do.
xo,
Jenn
PS No I didn't cook the rice – the handsome hubby is the house rice maker, thank goodness!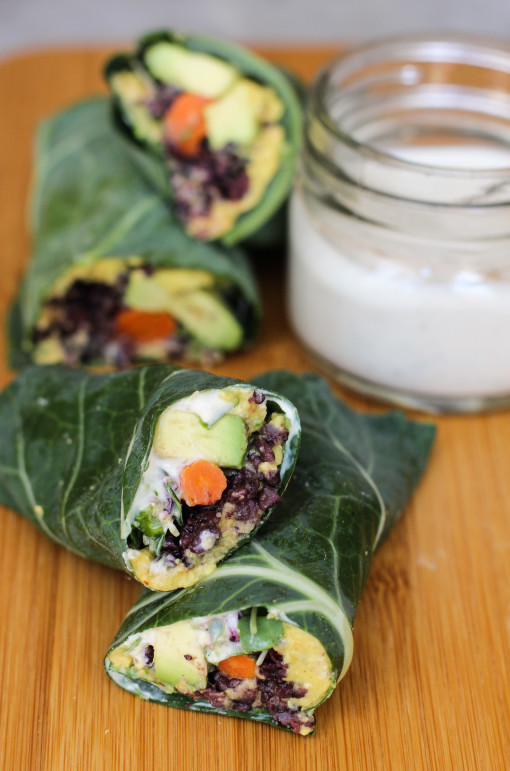 curry hummus and black rice collard wraps with lemon-yogurt sauce
1 cup curry hummus, recipe follows
1cup cooked black rice
1 bunch of collard green leaves, washed, trimmed of the ribs, and cut into large rectangle-shaped pieces
1 ripe avocado, sliced
1 bunch of microgreens, or other greens, washed
1 cup lemon-yogurt sauce, recipe follows
Lay the pieces of collard greens out on a clean cutting board.  Spoon a bit of the curry hummus into a line in the middle of the wrap.  Add some black rice on top of the hummus, followed by a roasted carrot or two, avocado slices, microgreens and a drizzle of the lemon-yogurt sauce.  Fold the collard green over the filling, tucking the sides in and under the middle.  Cut in half and serve a bit of the lemon-yogurt sauce on the side for dipping, if needed
makes about four wraps
for the curry hummus
1 cup cooked chickpeas
1 tablespoon tahini
1 teaspoon curry powder
1 garlic clove
1 lemon
salt
black pepper
extra virgin olive oil
Place the chickpeas, tahini, curry powder and garlic in a food processor and pulse until roughly combined.  Squeeze a bit of the lemon juice, a pinch of salt and black pepper and pulse again.  Then, while the food processor is running, drizzle the olive oil into the mixture slowly and until the hummus reaches the perfect creamy consistency.  Taste it and adjust the lemon, salt and pepper as needed.
for the roasted carrots
eight carrots, washed and trimmed/peeled
extra virgin olive oil
salt
black pepper
Preheat the oven to 400 degrees and line a baking sheet with parchment paper.  Place the carrots on the parchment paper, drizzle a bit of olive oil over the top, add a pinch of salt and pepper and toss everything to combine.
Place the carrots into the oven and roast until almost fully cooked – about 15/20 minutes.  Remove from the oven and allow to cool.
lemon-yogurt sauce
1 cup nonfat greek yogurt, coconut yogurt, or almond yogurt
1 teaspoon chopped fresh dill
1 teaspoon chopped fresh parsley
salt
black pepper
the juice of one lemon
water
In a medium sized bowl, add the yogurt, dill, parsley, pinch of salt and pepper, and stir everything to combine.  Add a little bit of lemon juice to the yogurt and some water, and stir to combine.  Taste it for seasonings and adjust as needed.  The sauce should be somewhat pourable – you might need to add some more water to bring it to pourable consistency.