I wouldn't say I'm getting wiser as the years roll by, but I'm certainly getting more patient.  When things tumble out of control (as they have this past week) or dreams don't come true (no matter how hard I try and try)….well, I finally realize that there's nothing I can do about it but continue on and hope for the best.
Or open a bottle of wine and try to do something nice for someone else.  Enter this soup.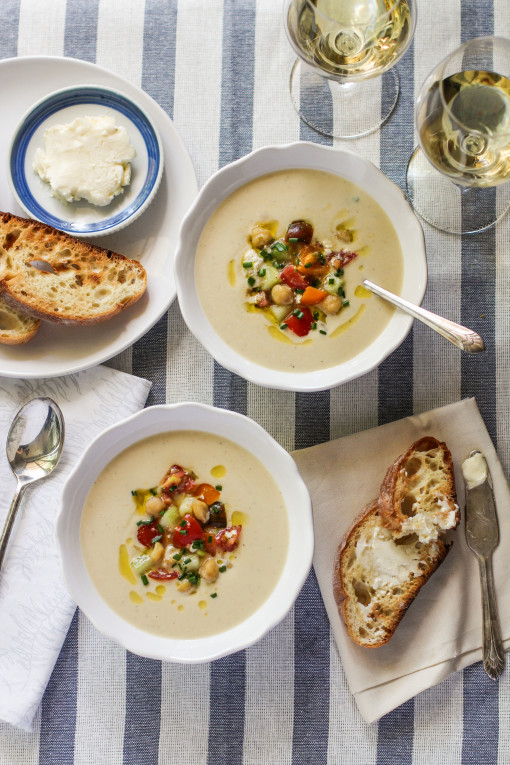 One of my dear friends is going through one heck of time right now, so in order to cheer her up I invited her over for lunch.  She brought the wine and I made a super creamy cream-less chickpea soup to commiserate over.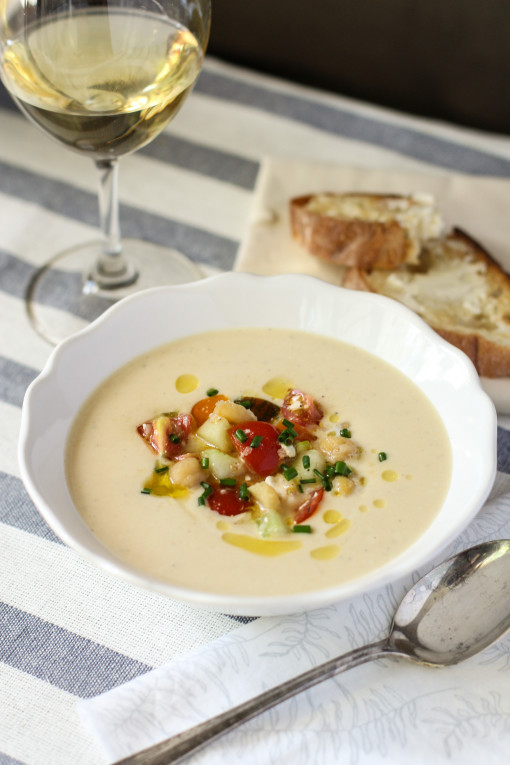 The secret to this soup is to cook the chickpeas yourself and blend them while they are hot – that way you won't need to add any unnecessary fat to the recipe.  This chilled bean soup has a hint of lemon and dab of tahini that adds a bit of richness to the puree.  The tomatoes are tossed with crunchy cucumbers, fresh herbs and a very fruity olive oil – which adds a bite of summer to every spoonful of soup.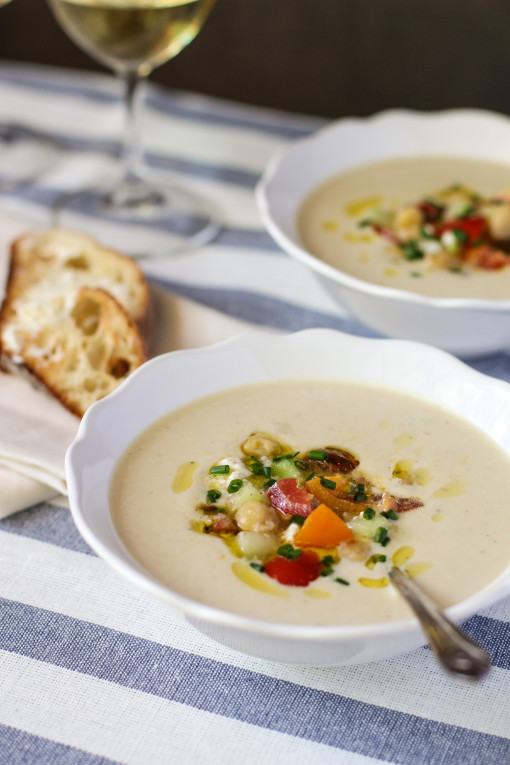 chilled hummus soup with heirloom tomato relish
for the soup:
2 cups dried chickpeas
1 garlic clove
1/4 cup tahini
3 cups vegetable stock or water
the juice of one lemon
salt
black pepper
Wash and pick through the dried chickpeas, removing any debris.  Place the washed chickpeas in a large bowl and cover with cold water.  Let the chickpeas soak overnight.
When you are ready to cook the chickpeas, drain and place them in a large pot.  Cover the chickpeas with cold water and bring to a boil.  Once the water comes to a boil, turn the heat down to medium and simmer the chickpeas until the are tender – about 1-1 1/2 hours.  When the chickpeas are fully cooked, drain them and set 1/4 cup aside for the relish.
In a blender, place the chickpeas, garlic, tahini and 2 cups of the stock.  Blend until the chickpeas are completely pureed, adding more stock as needed to thin the mixture to a soup consistency.   Add lemon juice, a pinch of salt and black pepper and blend again.  Taste the soup and adjust seasonings as needed.  Place the soup into the refrigerator until chilled completely.
for the tomato relish:
1 1/2 cups heirloom cherry tomatoes, cut into half
1/2 cup diced cucumber
1/4 cup cooked chickpeas
3 tbsp. chopped chives, basil or parsley
extra virgin olive oil
salt
black pepper
In a medium sized bowl, add the tomatoes, cucumber, chickpeas, herbs, a pinch of salt and black pepper, and a good sized glug of extra virgin olive oil.  Stir to combine.  Taste and adjust seasonings as needed.
to serve:
Ladle the chilled soup into bowls and top with about 1/4 cup of the tomato relish.  Drizzle another glug of olive oil over the top of the soup and serve.
my notes: If you don't have the time or inclination to cook your chickpeas from scratch, you can use canned chickpeas.  However, with canned chickpeas you will need to add about 1/2 cup – 1 cup of olive oil to the blender when you are pureeing them in order to achieve the same creamy consistency that you will achieve when blending freshly cooked chickpeas.