Oh, hey, what's that you say?  I was done with cornbread?  Well, yes, but….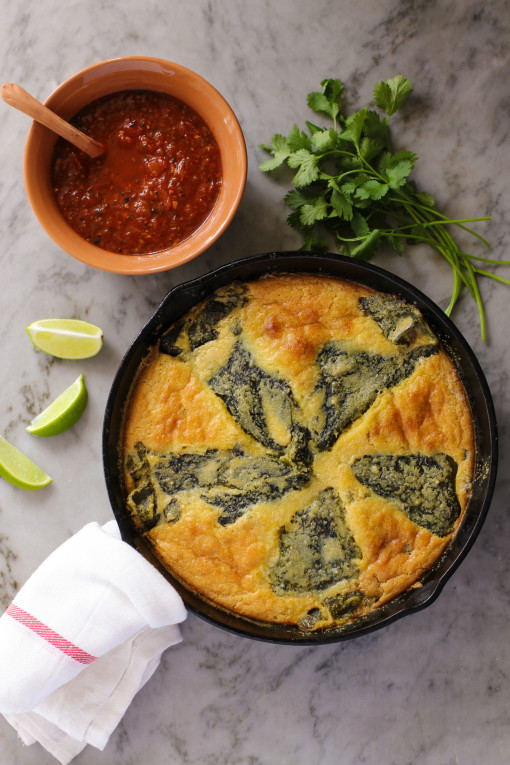 I happened to be flipping through some old recipes and came across this oldy but goody.  Super easy to make for dinner one night, on a camping trip, or even as a great dish for national drink-your-margarita day which is just around the corner.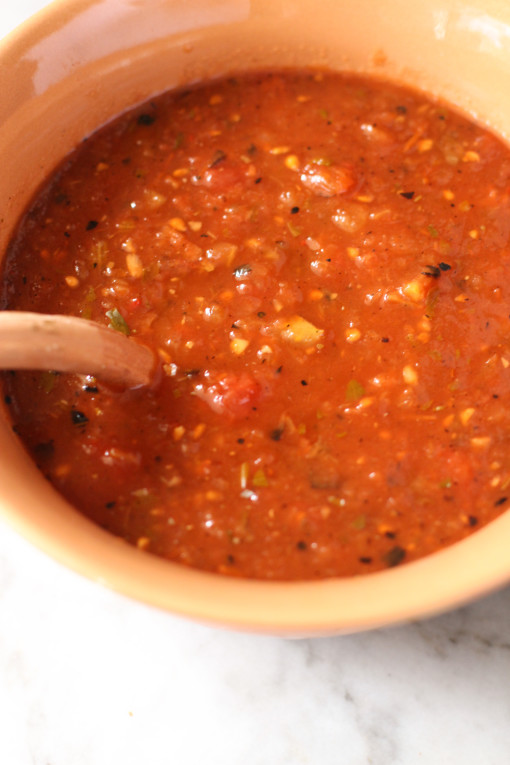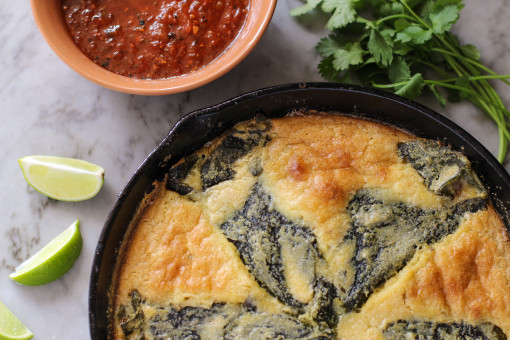 I stuffed these rellenos with feta cheese and pinto beans, but you could pretty much put anything inside the peppers and this dish would be delicious.  Topped with some freshly made fire roasted tomato salsa and maybe a dab of tangy greek yogurt –  it's a perfect balance between the mild heat of the peppers and the sweet cornbread.  All it needs is a salty rimmed margarita or three.
chile rellenos bakes in cornbread
adapted from San Francisco Chronicle
5 poblano chiles, charred, peeled, seeds removed
2 cups cooked pinto beans
1/2 cup yellow onion, chopped finely
2 garlic cloves, minced
2 tbsp. olive oil, plus more for the pan
2 tsp ground coriander
1 tsp ground cumin
1 tbsp. mild smoked paprika
1 cup vegetable stock or water
1/2 cup feta cheese, crumbled
2 eggs
1 1/2 cup lowfat milk
1 cup cornmeal
1 cup spelt flour or all purpose flour
1 tsp salt
1 tsp baking powder
1/2 tsp baking soda
Preheat your oven to 375 degrees.  Put a good glug of olive oil in the bottom of a 12-inch cast iron pan (or large baking dish.)
In a medium sauté pan, over medium-high heat, cook the olive oil with the onions and garlic for about five minutes.  Stir in the coriander, cumin and paprika and add the vegetable stock.  Add the beans and cook for another five minutes then remove from the heat and set aside.
Stuff each chile with some of the bean mixture and a bit of the cheese.  Place the stuffed chiles into the cast iron pan in a star pattern, where the tips meet in the middle.
In a large bowl, beat together the eggs and milk.  In a smaller bowl, stir together the dry ingredients – cornmeal, flour, salt, baking powder and baking soda.  Whisk the dry ingredients into the wet ingredients.
Pour the cornbread batter over the chiles and use a small spoon to move the chiles slightly in order to get some of the cornbread under and over the chiles.  Place the pan in the oven and bake until golden on top, about 25 minutes.
fire roasted tomato salsa
1 14-oz can of fire roasted tomatoes
1/2 cup yellow onion, roughly chopped
1 garlic clove, peeled
small handful of cilantro, leaves and stems, washed
the juice of one lime
1 Serrano chile, seeded and roughly chopped
salt and pepper to taste
In a food processor or a blender, blend together the garlic, onion and a small piece of Serrano chile until roughly chopped.  Scrape down the sides of the processor, add the tomatoes, cilantro and a pinch of salt and pepper and mix together until blended fully.  Taste, add as much lime juice as you like, and add more Serrano chile, if needed.