In between baking crazy amounts of cookies for everyone I know and eating, I mean, tasting them to make sure they are delicious – I've been playing in my soup bowl again.
You know, because keeping a balance in life is important.  And, as I talked about in this post, I need to use that saffron before the end of the year.
So let's get to it!!
There's something so satisfying in making soup – slowly chopping the aromatics, adding spices and deglazing, and adding layer upon layer of flavors that end in a delicious and filling bowl of loveliness.  I'm not sure who said it, but soup is definitely good for the soul…and the waistline after another cookie binge, I mean, cookie tasting.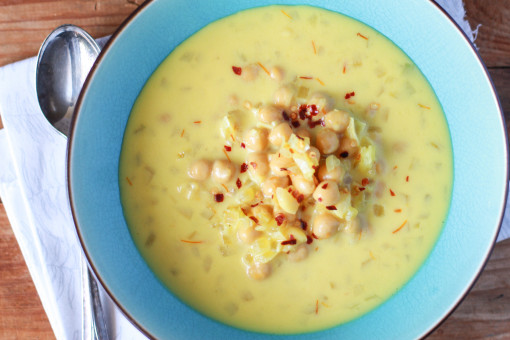 I had marked this recipe a ways back but found it again this week.  It's a delicious combination of slowly cooked chickpeas with creamy yogurt and the perfect amount of saffron and chili – definitely good for the soul.
And the waistline.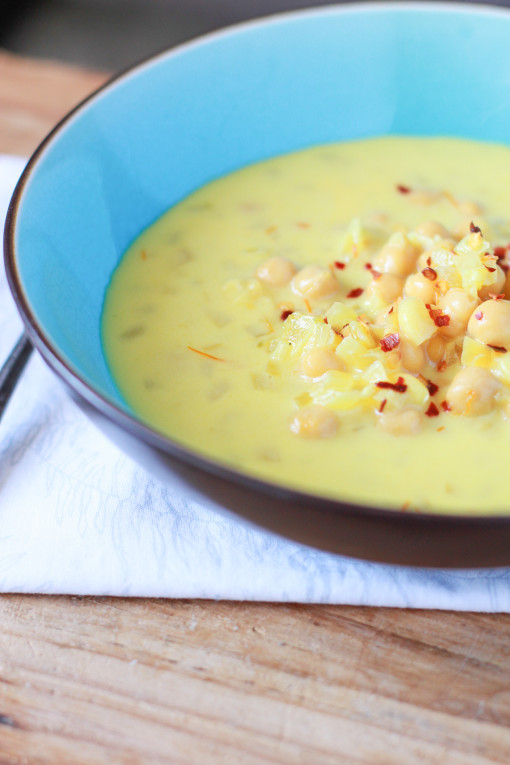 chickpea stew with saffron and yogurt
from Heidi Swanson's cookbook Super Natural Every Day
2 tbsp. olive oil
1 medium yellow onion, finely chopped
salt
3 cups cooked chickpeas
3 cups vegetable broth or water
2 garlic cloves, finely chopped
2 modest pinches of saffron
3 egg yolks, lightly beaten
1 cup plain yogurt
chili flakes
In a medium pot over medium-high heat, combine the olive oil, onion, and one pinch of salt.  Cook until the onions soften, about three minutes.  Stir in the chickpeas, vegetable broth and garlic.  Bring to a simmer and remove from the heat.
In a medium bowl, whisk the saffron and egg yolks, then whisk in the yogurt.  Slowly add a big ladleful, at least one cup, of the hot broth to the yogurt mixture, stirring constantly.  Very slowly whisk this mixture back into the pot of soup.  Return the pot to medium heat and cook. stirring continuously for another five minutes or so, until the broth thickens to the consistency of heavy cream, never quite allowing the broth to simmer.
Serve with chili flakes or Heidi recommends a sprinkle of paprika and some chopped cilantro.