Hello my friends, how are you?
I was just looking over my last couple of posts and realized that I had given you nothing but the color brown for the last few weeks.  That was  certainly not something I intended to do, but brown can get a little boring, don't you think?  So let's get some color in our lives today!!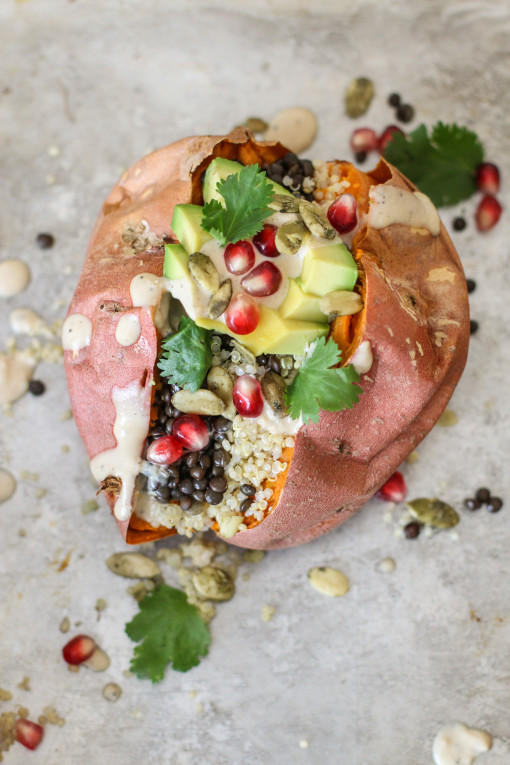 Tis the season to crank up the oven and make the house smell all yummy and inviting and these stuffed sweet potatoes are just that ticket.  Baked until soft, the sweet potatoes are split open and loaded with all things good for you – black lentils, quinoa, pomegranate seeds, creamy avocado and crunchy sprouted pumpkin seeds – and then everything gets a generous dollop of lemon and garlic tahini sauce.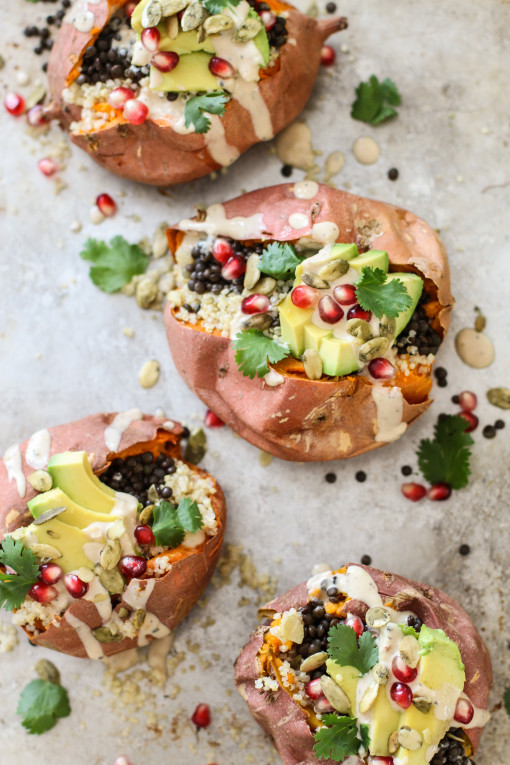 This is a great recipe to make on a weekend for the week ahead – stuffing each potato with something different to keep it exciting…  Or even something fun for a week night meal – hunting around the fridge and pantry to find all kinds of goodies to set up a sweet baked potato bar where everyone can make their own creation.
What is your favorite sweet potato topping?  Let me know by leaving a comment below – can't wait to see what your creation will be!
xo,
Jenn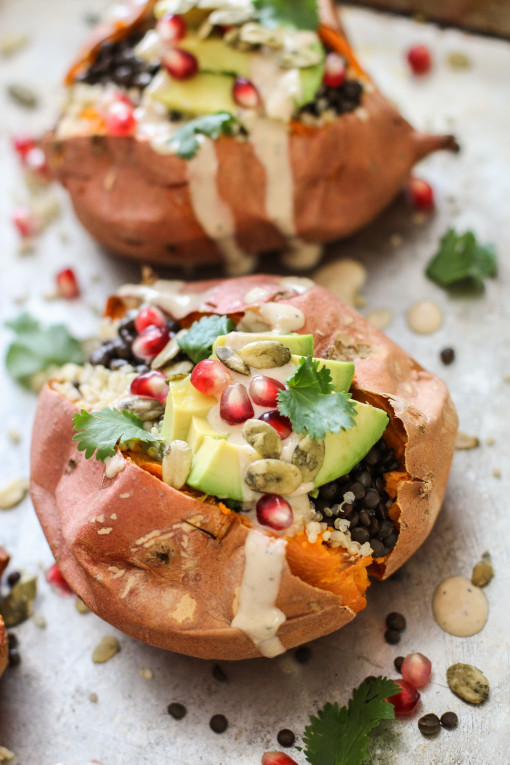 black lentil and quinoa stuffed baked sweet potato
makes 4 potatoes
4 medium – large sweet potatoes
1 cup cooked black lentils
1 cup cooked quinoa
1 ripe avocado
1/2 cup pomegranate seeds
1/4 cup sprouted raw pumpkin seeds
3 tablespoons fresh cilantro leaves
1/4 cup – 1/2 cup tahini sauce (recipe follows)
Preheat oven to 400 degrees and line a baking sheet with parchment paper.  Scrub the outside of the potatoes and pierce them a few times with a sharp knife to allow them to release steam as they cook.  Place the potatoes on the baking sheet and bake in the oven for about an hour – or until they are soft when squeezed.  Once they are cooked through, remove from the oven and allow to cool slightly, about 10 minutes.
Once the potatoes have cooled enough to be handled, cut a large slit (lengthwise) on one side of the potato, and push the ends together so that the potato opens up to form a well.   Make a well in each potato.
Scoop a spoonful of quinoa into each sweet potato well, followed by a scoop of black lentils.  Open and pit the avocado and thinly slice each half.  Scoop out a few pieces of avocado and lay them on top of the quinoa and lentils.  Drizzle a bit of the tahini sauce over the top of everything and then sprinkle the potatoes with pomegranate seeds, pumpkin seeds and cilantro.
lemon-garlic tahini sauce
1 clove of garlic, peeled and minced
1/2 cup tahini – I use this brand – Joyva Tahini 15 ounces
the juice of one lemon
1/4-1/2 cup water
salt
black pepper
In a small bowl, combine the garlic and tahini together with a whisk.  Add a bit of lemon juice and water to the mix (a few tablespoons at a time) and add a pinch of salt and black pepper.  Whisk everything together and give it a taste.  Adjust the lemon/salt/pepper as needed.  Also add more water if needed – you want a consistency similar to a vinaigrette so that you can drizzle it over the top.