Well, it's grey and cloudy over here again.  I don't know about you but I'm really hoping that this little cold bit of weather is heading outta here pretty soon.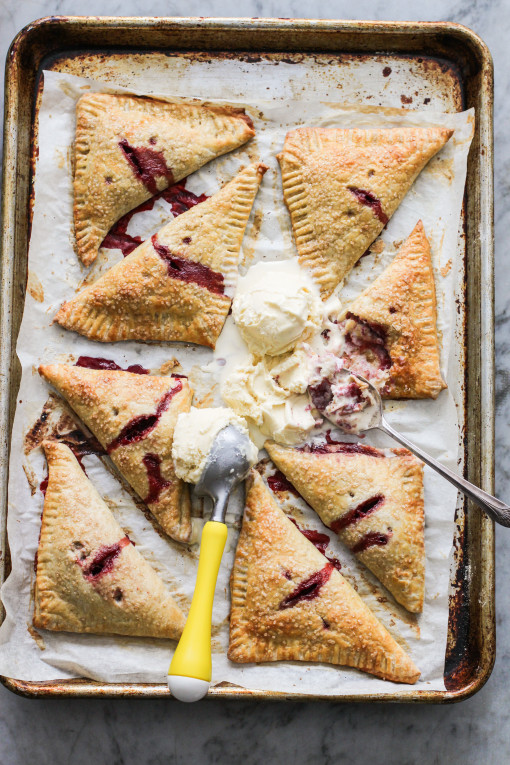 In the meantime, and while we wait – let's make some pie!
Oh darn, pie.  Poor us.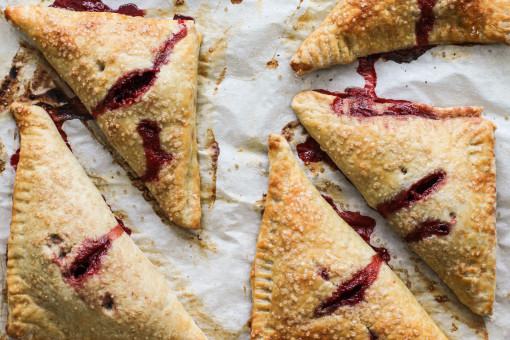 Yesterday I found myself with an over-abundance of pie dough.  I had made a strawberry tart (recipe coming soon, I promise!!) and had also made a broccoli and cheddar quiche (as seen in the background here.)  With these two recipes came a bit of pie dough scraps just waiting to be put to good use.  So I rolled them out, cut them into squares, and stuffed them with some strawberries cooked down with a bit of vanilla bean and orange juice.  The cute little squares were folded over into triangles, sprinkled with sugar and sent into a warm oven to get all brown and crispy.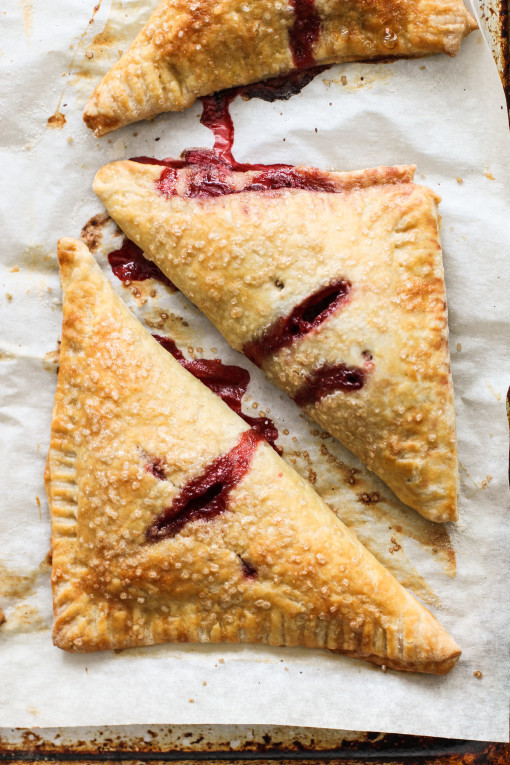 The house smelled amazing and the gloomy day was brightened just a bit by these lovely little hand pies.  I hope these will brighten your day and that spring will soon bring you warm and sunny days.
xo,
Jenn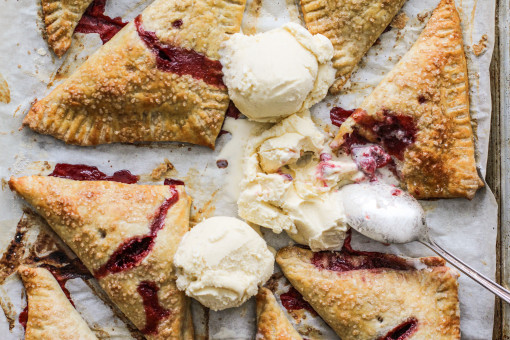 strawberry hand pies
makes about 8
one recipe of pie dough (recipe can be found here)
1 pint of strawberries, washed, trimmed and roughly chopped
3 tablespoons orange juice
1/2 vanilla bean, split and scraped (or 1 teaspoon vanilla extract)
1 egg
2 tablespoons milk or water
3 tablespoons turbinado sugar
Preheat your oven to 400 degrees and line a baking sheet with parchment paper.
On a lightly floured surface, roll out the pie dough to about 1/16 of an inch.  Cut 8 4×4 inch squares out of the dough and remove the excess dough from the sides.  Place the dough squares on the baking sheet and place them into the refrigerator for 20 minutes.
Meanwhile, place the strawberries, orange juice and vanilla into a large heavy bottomed skillet over medium-high heat.  Simmer the strawberries until they start to break down and lose their shape, about 5 minutes, stirring constantly so they don't burn.  Remove from the heat and set aside.
Remove the tray from the refrigerator and place it on your counter.  Using a spoon, scoop about 2 tablespoons of the strawberry mixture into the center of each of the squares.
In a small bowl, whisk together the egg and milk.  Brush a bit of the egg wash along the edges of the squares.
Working in batches, fold over one corner of the dough to another corner forming a triangle.  Use a fork to crimp the edges together.  Repeat with the remaining squares until they are all filled and closed.
Using a paring knife, slice a small hole (or holes) into the top of the dough in order to let the steam escape.  Brush the tops of the hand pies with egg wash and sprinkle the sugar over the top.  Place the tray into the oven and bake until warm, bubbly, and golden brown – about 30 minutes.