Okay friends, here we are in the midst of all things holiday – do you know what you are bringing to your next holiday party?
How about these mini berry cheesecakes?
I made these a couple of weeks ago for a friends housewarming party and they were such a hit that I made them again for Thanksgiving and then tried not to eat them all before we actually made it to dinner.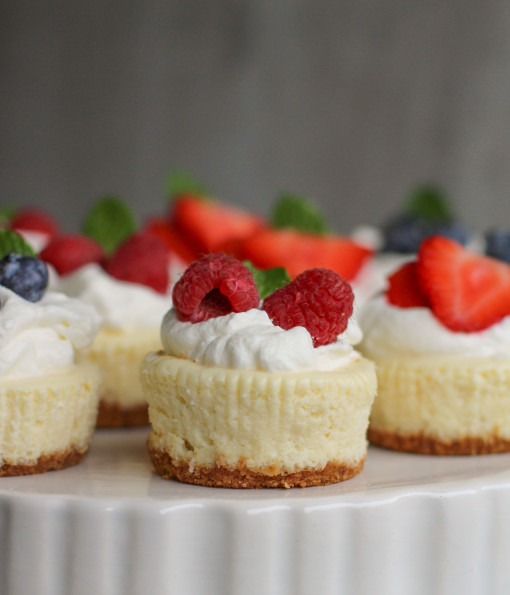 There was a certain someone (see below) who was sniffing around and offering to "help" me take their picture before the holiday while saying, "yummy, yummy, yummy!" and rubbing his tummy like I wouldn't get the hint.
And then there was a lot of his dad walking by and asking if he could "taste them to make sure they are good enough for everyone else"…what are you guys, kidding me?  It's like these two had never had cheesecake before of something!!??!!
Well, one of them hadn't, so he's excused.  Sure is cute though…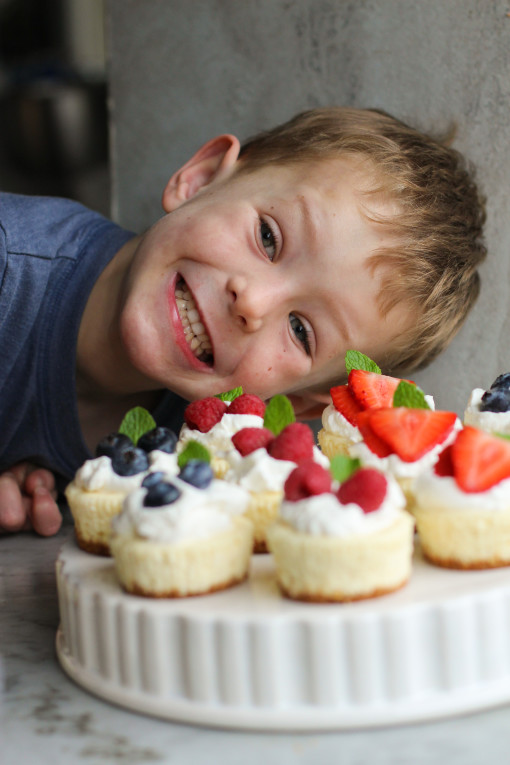 These cuties came from just a basic cheesecake recipe – cream cheese, sugar, eggs and vanilla – but the fact that these cheesecakes are individually sized makes it more fun to make and even more fun to eat.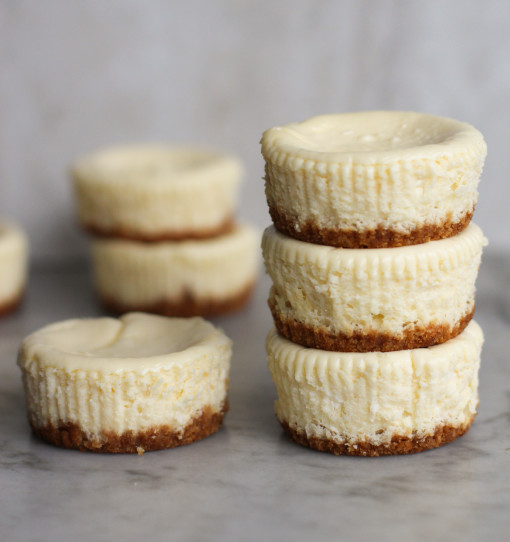 No standing by the stove waiting for hours to pull out one large cheesecake and then waiting even more hours for it to cool down before you can even slice into it.  These little cuties bake in 20 minutes and cool down in about 40 minutes.  So in just one short hour, your family can be eating these mini cheesecakes by the dozen – don't turn your back!!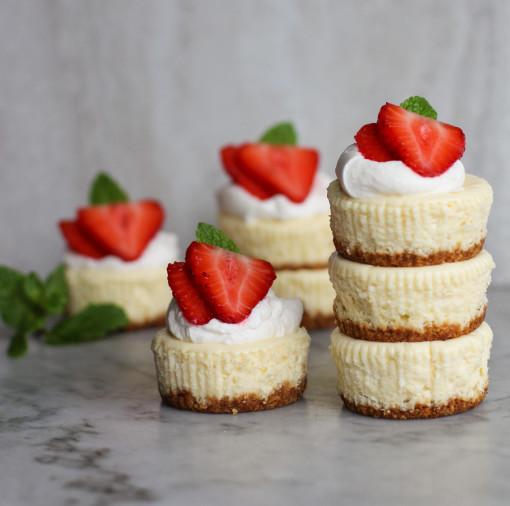 And you can top them with almost anything you want.  These were just whipped cream and fresh berries (as my friend ordered) but you could top with sautéed apples with caramel sauce, or melted chocolate and chopped walnuts – even the graham cracker base could be replaced with chocolate wafer cookies – whatever your heart (and taste buds) can imagine!
XO,
Jenn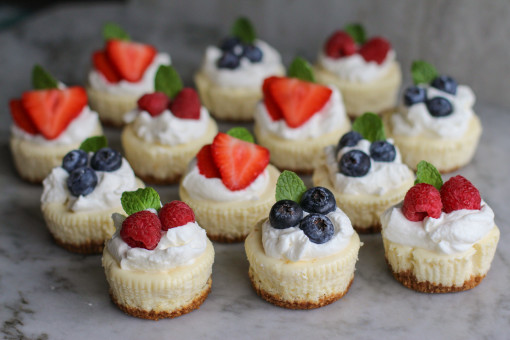 mini berry cheesecakes
recipe from kraft
makes about 18
1 cup graham cracker crumbs
3/4 cup plus 2 tablespoons sugar, divided
3 tablespoons butter, melted
3 packages (8 ounces each) cream cheese, softened
1 teaspoon vanilla extract
3 eggs
1 cup whipping cream
2 cups berries
mint leaves
Heat oven to 325 degrees and line 18 muffin cups with cupcake liners.
Combine graham crumbs, 2 tablespoons sugar and butter in a small bowl.  Place about one tablespoon of the graham mixture into each cup and press it down firmly using the bottom of a measuring cup or a muddler.
Beat the cream cheese, vanilla and remaining sugar with a mixer until blended.  Add the eggs, one at a time, mixing on low speed after each just until blended.  Spoon about 1/4 cup of the cream cheese batter over the crusts.
Bake 25 to 30 min. or until centers are almost set.  Cool completely on a baking rack and then refrigerate for about two hours or overnight.
Beat whipping cream with mixer on high speed until stiff peaks form.  Dollop the cream each onto cheesecake.  Top with berries and mint.
my notes: To make graham crumbs, place some graham crackers into your food processor and pulse until crumbs form.  You can also use chocolate wafer cookies in place of the graham crackers.  Any topping can be used in place of the berries – sautéed apple with caramel drizzle and a bit of cinnamon, fresh cherries, crumbled peppermint or candies of your choice.