Alrighty folks, let's get to the point: it's Valentine's Day and we are here for the chocolate!!!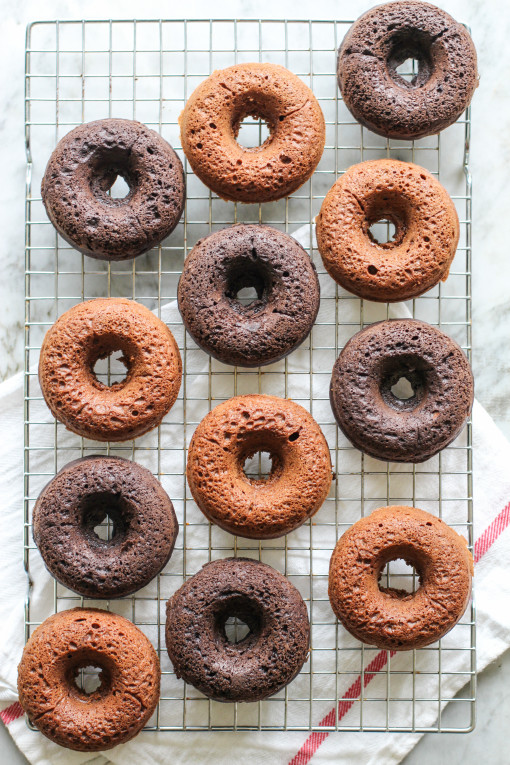 Chocolate donuts, I mean.
And which one is your favorite?  Are you team milk chocolate?  Or team dark chocolate?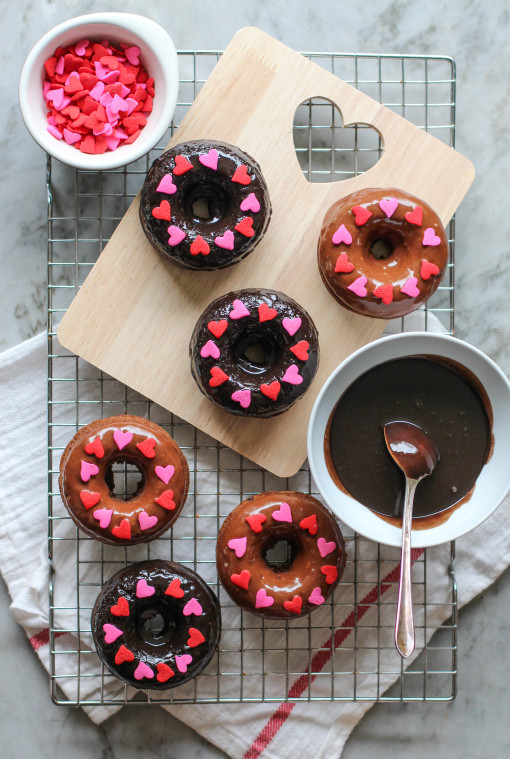 Or are you like me – I'm the "yes please, I will take ALL the chocolate – and be quick about it!!" team chocolate.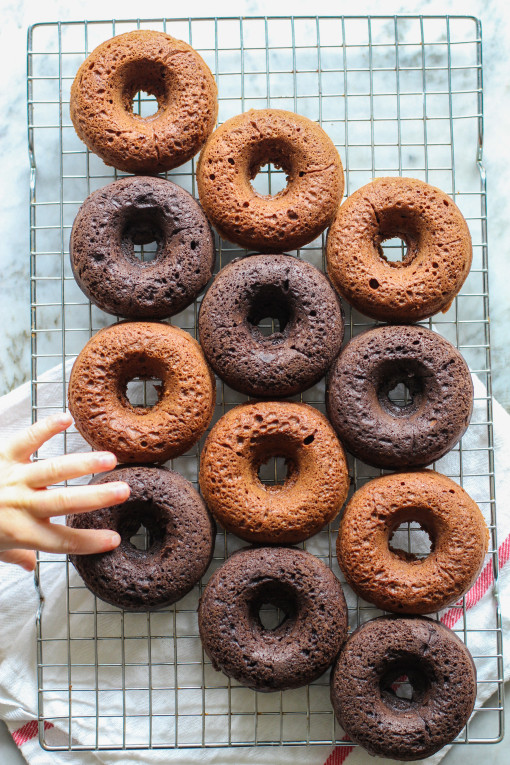 Well, no matter what chocolate type you are, these double chocolate donuts are the perfect breakfast/snack/dessert for those days when nothing but chocolate will do.  Or because it's Valentine's Day – the best reason to make something wonderful for that special someone in your life.
And hey – YOU are that special someone, so go make these decadent donuts for yourself!!
Happy Valentine's Day!
XO,
Jenn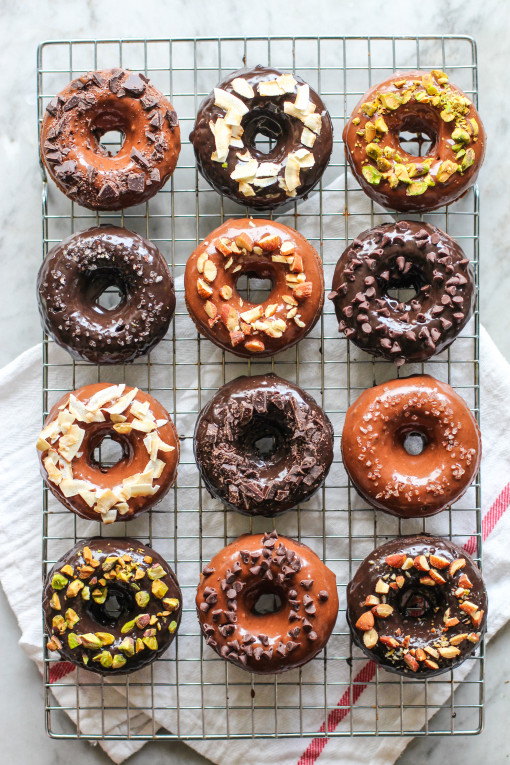 double chocolate donuts
makes about 10 doughnuts
recipe adapted from Joy the Baker
For the Doughnuts:
1 cup all-purpose flour
1/4 cup unsweetened cocoa powder (use dark cocoa powder for the dark chocolate donuts, and regular cocoa powder for the milk chocolate donuts)
1/2 teaspoon baking soda
1/4 teaspoon salt
1/2 cup light brown sugar, packed
1/2 cup buttermilk
1 large egg
4 tablespoons unsalted butter, melted until just browned
1 teaspoon pure vanilla extract
For the Chocolate Glaze:
1 1/4 cup powdered sugar
3 tablespoons unsweetened cocoa powder
big pinch salt
3 to 4 tablespoons whole milk
2 teaspoons pure vanilla extract
any type of sprinkles, if using
Place a rack in the upper third of the oven and preheat oven to 325  degrees F.  Spray a doughnut baking pan with nonstick cooking spray and set aside.
In a medium bowl, whisk together flour, cocoa powder, baking soda, salt, and brown sugar.
In a small bowl, whisk together buttermilk, egg, melted butter, and vanilla extract until thoroughly combined.
Pour the wet ingredients into the dry ingredients and fold together until all of the ingredients are well combined.  Scrape the bottom of the bowl to ensure that you're not leaving any flour behind.  Use a small spoon to portion batter into the prepared doughnut baking pan.  Each doughnut mold should be about two-thirds full.  Bake doughnuts for 11 to 13 minutes or until a skewer inserted into one of the doughnuts comes out clean.  Remove from the oven.  Allow to rest for five minutes before inverting doughnuts onto a wire rack to cool completely.  Allow doughnuts to cool completely before glazing.
Repeat the baking process until all of the batter is turned into doughnuts.
To make the glaze, in a medium bowl whisk together powdered sugar, cocoa powder, and salt.  Add 2 tablespoons of milk and all of the vanilla extract.  Whisk to combine.  Mixture may be thick.  Add milk, a tablespoon at a time, until the glaze is thick but still pourable.
Dip each doughnut into the chocolate glaze.  Shake off some of the excess glaze.  Return to the wire rack and sprinkle with color jimmies.   Allow to rest a few moments for the frosting to harden slightly.  These doughnuts are best served within two days of baking.