Today was such a crazy and trying day that I don't even know what to do about it.  I mean, I do know what to do, and I'm doing it – big 'ol glass of red wine sitting to my right and right next to that is a big 'ol slice of this chocolate truffle tart with raspberries.
I'm telling you what.  If chocolate can't make today better, then wine AND chocolate have to, right??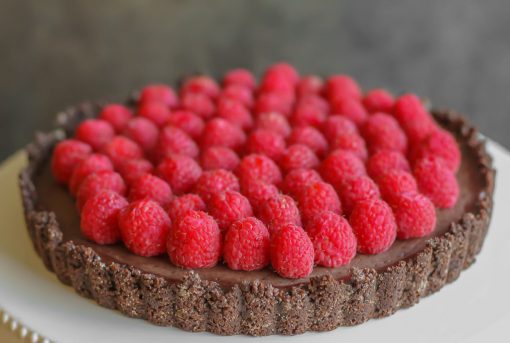 It really wasn't such a terrible day.  I mean, it started out promising….the kids woke up in a great mood, we played, we went to the store to pick up Thanksgiving groceries (don't do this by the way – don't go the weekend before the holiday – save yourselves) and headed home to have some more fun baking treats for the upcoming holiday festivities.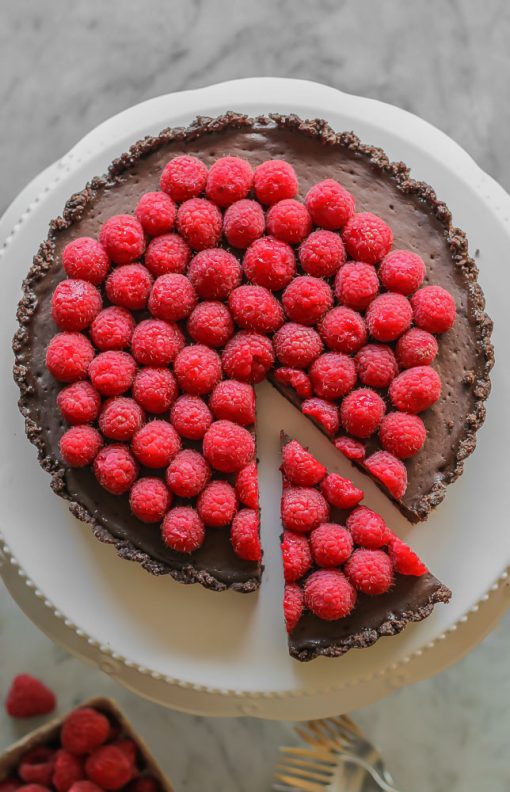 And then somewhere between baking treats and having fun, the kids lost their dang minds!  They fought over every single toy, yelled, hit, screamed at each other.  They couldn't stand to be next to each other so in an attempt to keep them quiet I would separate them.  But like magnets….scoot, scoot, scooting back to each other to fight over the ONE toy that they both had to play with.
It was exhausting.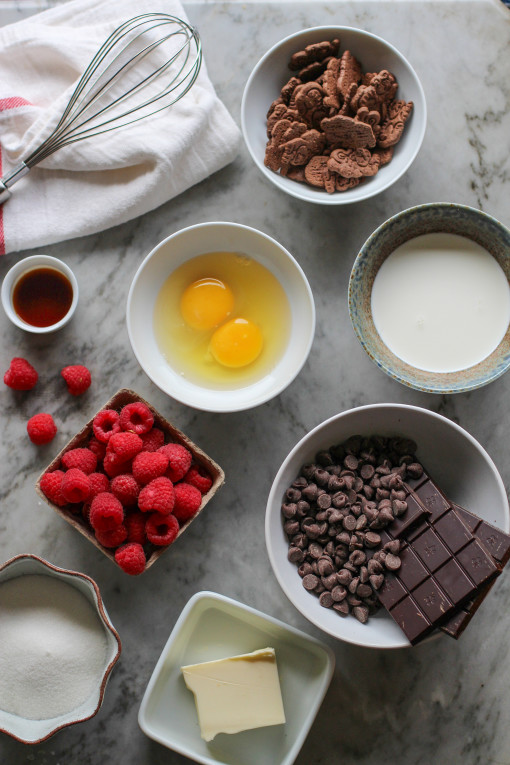 And separate, and try to reason, and separate again, and hand out time outs, and separate and pour a glass of wine and finally – bed-freaking-time!!
GO TO BED!!!  Mama needs a break!!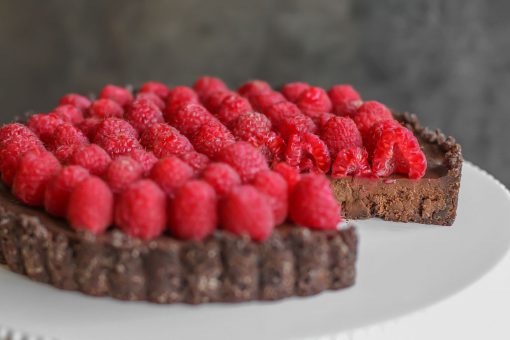 Off to bed they went.  One almost passing out with exhaustion, and the other crying themselves to sleep because exhaustion too I think?  I dunno.  At this point I just wiped my hands of the whole thing and went out to find some pictures of this deliciously gorgeous chocolate truffle tart with raspberries.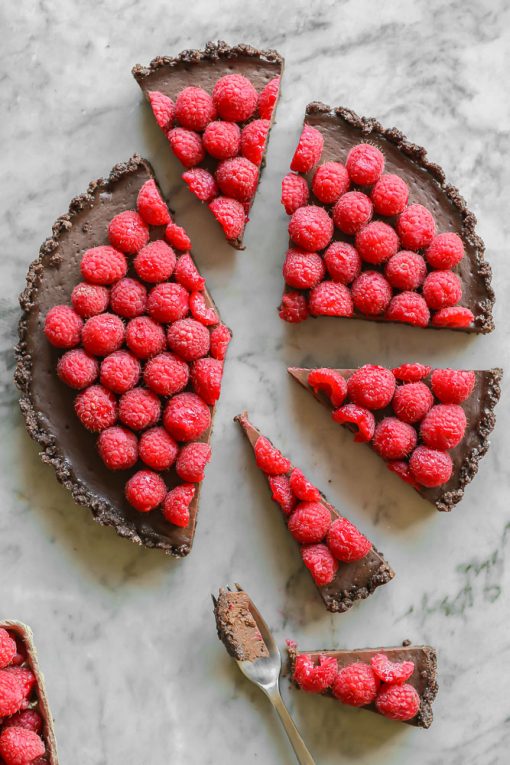 You guys – this tart.  Don't be afraid.  It only has eight ingredients and comes together in less than an hour.  After a quick cool down period, you can top it with your favorite berry and call it dessert.
Or call it mommy stress relief.
Or pour yourself a big ol glass of red wine, and call this dinner.  Fork optional.
This tart helps with whatever day you are having.  Promise.
XO,
Jenn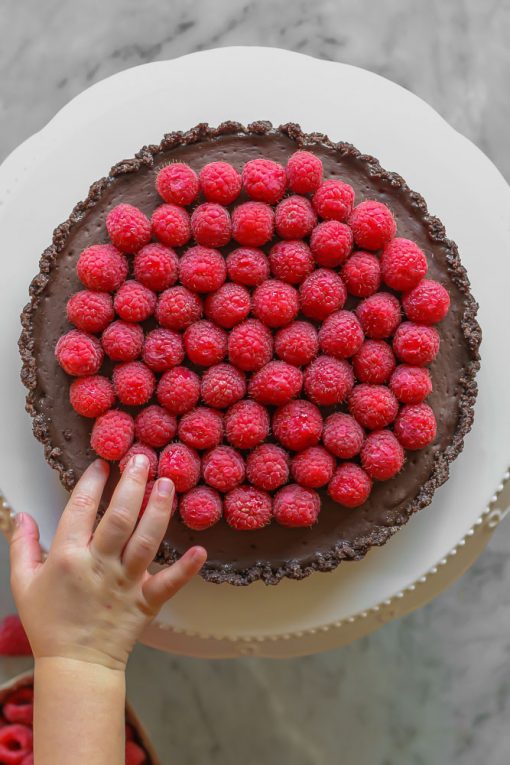 chocolate truffle tart with raspberries
recipe  from epicurious
1 cup finely ground chocolate wafer/graham crackers
5 tablespoons unsalted butter, melted
1/4 cup sugar
1 1/4 cup heavy cream
9 ounces bittersweet chocolate (not more than 65% cacao, if marked), chopped
2 eggs
1 teaspoon vanilla extract
1/4 teaspoon salt
Preheat your oven to 350°F
Stir together the chocolate crumbs, sugar and butter and press evenly onto bottom and 3/4 inch up side of 9-inch tart pan with removable bottom.
Bake crust until firm, about 10 minutes. Cool on a rack 15 to 20 minutes.
Bring cream to a boil, then pour over chocolate in a bowl and let stand 5 minutes. Gently stir until smooth. Whisk together eggs, vanilla, and salt in another bowl, then stir into melted chocolate.
Pour filling into cooled crust. Bake until filling is set about 3 inches from edge but center is still wobbly, 20 to 25 minutes. (Center will continue to set as tart cools.) Cool completely in pan on rack, about 1 hour.
Add fresh fruit, whipped cream, or serve as is.  Tart can be made a day ahead and decorated before serving.  Store any uneaten portions in the refrigerator, tightly wrapped.