Baking and the holidays seem to go hand-in-hand.  Mix up something yummy, share some with your friends and family, make a donation to a charity and everyone wins.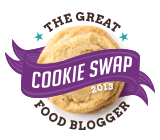 Love & Olive Oil and The Little Kitchen food blogs hosted their third annual Great Food Blogger Cookie Swap and I signed up to be a "cookie pen pal" with three other food bloggers.  The premise of the cookie swap was simple – sign up and make a donation to this years charity recipient.  Receive the addresses of three other food bloggers. Send each of them one dozen delicious homemade cookies. Receive three different boxes of scrumptious cookies from other bloggers. Eat them all yourself (or, you know, share. If you want. No judgment either way.) Post your cookie recipe on your blog. See everyone else's cookie recipes. Salivate. Get lots of great ideas for next year's cookie swap. Rinse and repeat.
The charity that will receive all the donations this year is 
Cookies for Kids Cancer
, a national non-profit organization committed to funding new therapies used in the fight against pediatric cancer, which claims the lives of more children in the US than any other disease.
I have to admit, this was really fun.  I thought about what cookies I wanted to send to my new blogger pals – which would make it through the journey, which would best represent "me," which one would be the most tasty – you know, important things.  And so I decided on this biscotti recipe that I used to make all the time at the winery.  I tweaked it slightly and dipped it in chocolate, because nothing represents me more than chocolate!  I wrapped them up and sent them off to Kathleen at
Fearlessly Creative Mammas
, Stacy at
Treats for Ta Ta's
, and Justine at
Cooking and Beer
.
(I hope you liked them and they arrived in one piece!)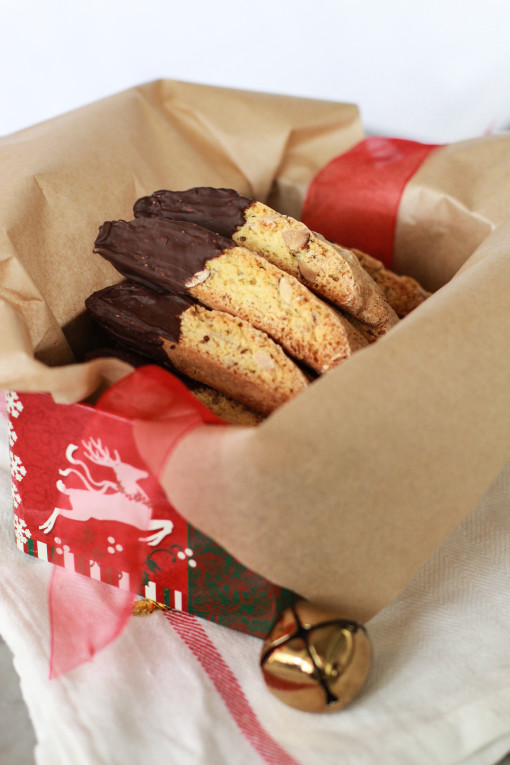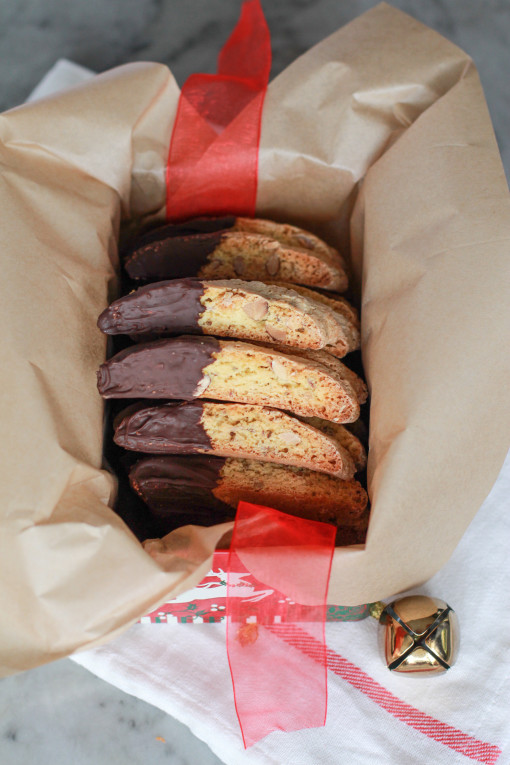 And then just one week later I received the most delicious cookies on my doorstep, and all on the same day!  One dozen cowboy cookies
(chocolate, toffee, coconut goodness!)
from Jessica at
Jessica is Baking
, one dozen oatmeal raisin cookies with a twist
(soft and buttery tastiness!)
from Chris at
Hye Thyme Café
, and one dozen olive oil and cornmeal biscotti
(dried apricots and crunchy almond love!)
 from Cheryl at
Crazy World of Cher
.
They were all delicious! Be sure to check out their cookie recipes!  Also be sure to check back here in a couple of days and I will post the links to Julie & Lindsay's round up posts.  So many cookie recipes! AMAZING!
 chocolate dipped almond biscotti
makes about five dozen cookies
2 3/4 cup all-purpose flour
1 2/3 cup granulated sugar
1 tablespoon lemon zest
1 teaspoon baking powder
1 teaspoon anise seed
1/2 teaspoon salt
3 eggs
3 egg yolks
1 teaspoon vanilla extract
1 cup chopped and toasted almonds
2 cups good quality chocolate, cut into small pieces
Preheat your oven to 325 degrees and line two baking sheets with parchment paper.  Lightly spray the parchment paper with cooking spray.  Set aside.
In a large bowl, mix together the flour, sugar, lemon zest, baking powder, anise seed and salt.  In a medium bowl, mix together the eggs, egg yolks and vanilla extract.  Mix the wet ingredients into the dry ingredients until the dough just starts to clump together then stir in the almonds.
Divide the dough into four sections.  Working with lightly floured hands, form one piece of dough into a log approximately 10 inches long and 2 inches wide.  Place the dough (lengthwise) onto one side of the parchment.  Repeat the process with the remaining sections of dough – with two logs on each baking sheet.
Bake the logs until they are lightly golden brown and there is no indention in the middle of the dough when you press lightly with your fingers – about 30 – 40 minutes.  Make sure to rotate the pans around the oven so all the logs bake evenly.  Once they are set, remove the baking sheets from the oven and let them cool slightly.
Carefully remove one log at a time and cut on a bias – about 1/2 inch thick.  Place the cut cookies back on the baking sheet and repeat with the other logs until all the cookies are cut.
Place the cookies back into the oven and bake until the cookies are lightly golden brown and dry on one side.  Flip all of the cookies over and bake the other side until they are lightly golden brown and dry.
If you are dipping your cookies in chocolate :
Set two pieces of parchment paper on a flat surface.  Place the chopped chocolate into a heatproof bowl.  Put a small amount of water into a medium sized saucepan and bring to a boil.  Place the bowl on the saucepan, turn down the water to simmer over medium heat and let the chocolate melt completely.  Stir the chocolate, remove from the heat and carefully dip the cookies into the chocolate and set them on the parchment to cool.  Once you have covered all your cookies in chocolate, place the cookies into the refrigerator so the chocolate sets completely.
notes: The cookies will be good for five days if wrapped tightly with plastic or placed in an airtight container.