Hi!  I just realized that I haven't posted about these warm and gooey chocolate chip cookie pots!!  You guys, I'm so sorry!  I had all the best intentions to get this recipe to you asasp  – I mean, how rude of me to post a preview/teaser and drop off the face of the cookie planet.  I've been in a little bit of a whirlwind over here lately and somehow these little pots of chocolatey goodness got pushed down to the bottom of the stack.
But wait no longer!!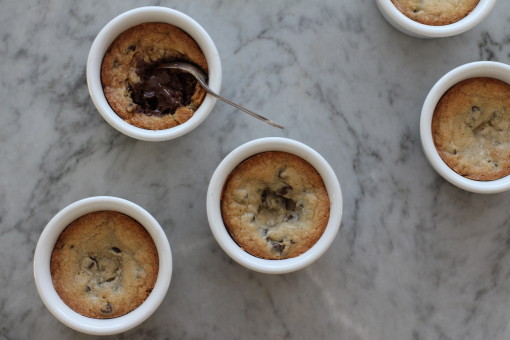 Our little Whitney is turning one this weekend.  One.  Like a whole year has passed.  365 days of kisses, snuggles, laughs, cries and tons and tons of being grateful and thankful that she was able to join our family.  Honestly, we weren't complete until she got here and now we can't remember what life was like before her beautiful soul graced us with her presence.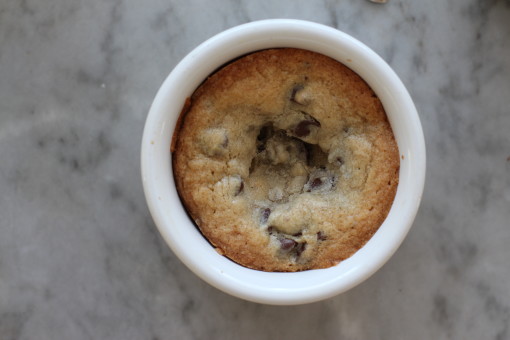 I know I don't talk a lot about super personal stuff on this blog and it seems that when I get any sort of emotional, or introspective about something I'm feeling…well, I get a whole lotta emails and texts asking me if I'm okay.  And yes, I am, I am just being me.  Highs, lows, joys and pains – it's all here, just like anyone else would feel I suppose…  And I am super grateful for all the support I get from you guys everyday.  I mean, I certainly couldn't do this without each and every one of you!!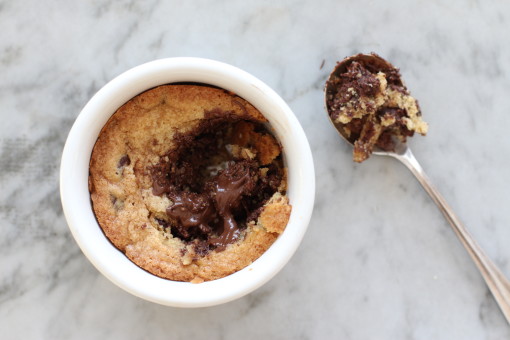 I guess what I'm saying is that I am going to make an effort to write more about me AND food and try to talk more about what's going on over here – the good, the bad, the diaper-rashed, the unending mosquito bites from the unseen mosquito bandit, the dirt (!!) that's about to become a bon-a-fide yard (!!) and my little munchkins because duh, that's a major reason why I'm doing what I'm doing here.  I want to leave a recipe book for them, to let them read about all the things we did as a family, the little steps here and there that made them the kiddos (and future adults) that they are and are going to be…
I hope you guys are okay with all that.  I mean, being the introvert that I am, I get a bit of cold feet sometimes and tend to sway towards the comfortable subject line (food) – but I'm going to do my best to actually do what I set out to do when I started this blog.  Share.  Share food, share recipes, share family, share memories with you guys too.
In the meantime…these cookie pots.  Basically it's a giant chocolate chip cookie cooked in a ramekin until melty and golden brown.  I suppose you could serve them topped with some frosty vanilla ice cream (darn!) or maybe a big pile of fluffy whipped cream (poor us!) or pop them out of the ramekin, place them on a plate and add BOTH ice cream and whipped cream (ah!! you gotta stop!!) and maybe some fresh berries and call it dinner.
Just saying.  Cookies for dinner – that's how memories are made!
xo,
Jenn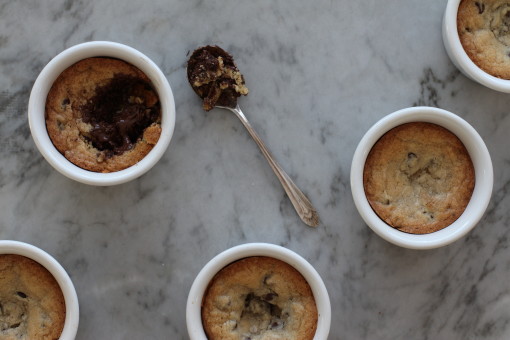 chocolate chip cookie pots
recipe from Nestle Toll House
makes 6-8 cookie pots and a little bit left over for regular cookies (unless you eat it raw like me – then you will have only the cookie pots)
6-8 ramekins 3 1/2 inch x 2 1/4 inch (or use disposable foil cups or a cupcake tin)
1 cup plus 2 tablespoons all purpose flour
1/2 teaspoon baking soda
1 teaspoon salt
1/2 cup unsalted, softened butter
6 tablespoons granulated sugar
6 tablespoons packed brown sugar
1/2 teaspoon vanilla extract
1 large egg
1 cup chocolate chips
Preheat oven to 375 degrees.
Generously coat the ramekins with cooking spray and set them on a rimmed baking sheet.
Combine the flour, baking soda and salt in a small bowl.  Beat the butter, sugars and vanilla in a large bowl until creamy.  Add the egg and beat well.  Gradually add the flour mixture.  Stir in the chocolate chips.
Fill each ramekin halfway with the cookie mixture (about 1/4-1/2 cup each) and place the filled ramekins/baking sheet into the oven.  Bake until the edges are golden brown – about 20-25 minutes.  Remove from the oven.
Try to let them cool slightly before inhaling them – you probably want to keep the roof of your mouth intact – and enjoy!!