Fall baking has commenced at our house, and I couldn't be more excited.  Apples, pears, cinnamon, sugar, pies, pastries, and these delicious baked apple cinnamon donuts.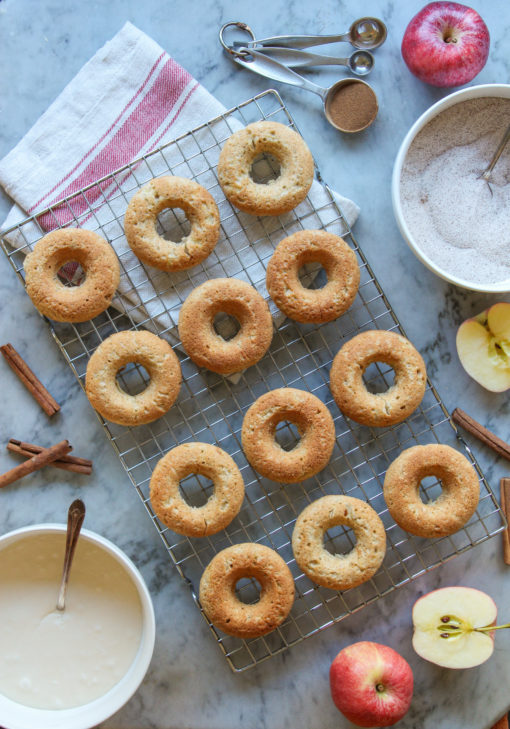 I've been actively trying to plan a trip up to the orchards with the family but our schedules just have not aligned yet.  I have big dreams of apple picking and train riding with the kiddos, eating all the apple-goodies one can stuff in ones face before being judged by ones spouse (what? It's for the baby!!) and making some fun fall memories before heading home with a crate (or two!) of freshly picked crunchy and sweet apples.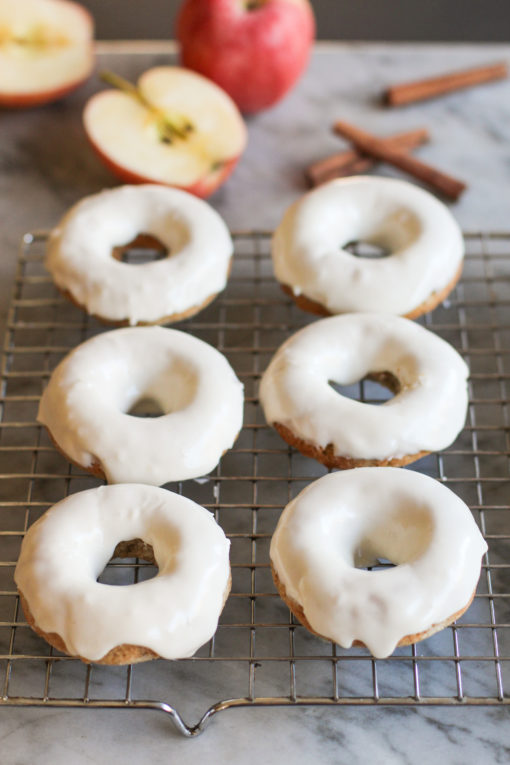 In the meantime, the local farmers market is doing a great job of driving those orchard apples down the hill and up the street for an easy pickup by yours truly.  The kids and I tried all the samples today – thank you very much – and finally decided on a big box full of honey crisp to eat as soon as possible, and a big bag of Braeburn apples to bake into something wonderful.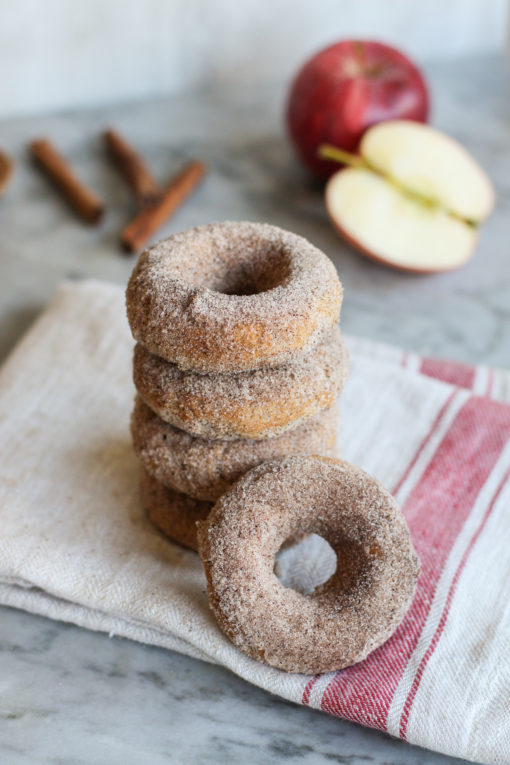 Enter these baked apple cinnamon donuts.  Full of crispy fall apples and warming spices these donuts are just what you need to welcome fall into your corner of the world.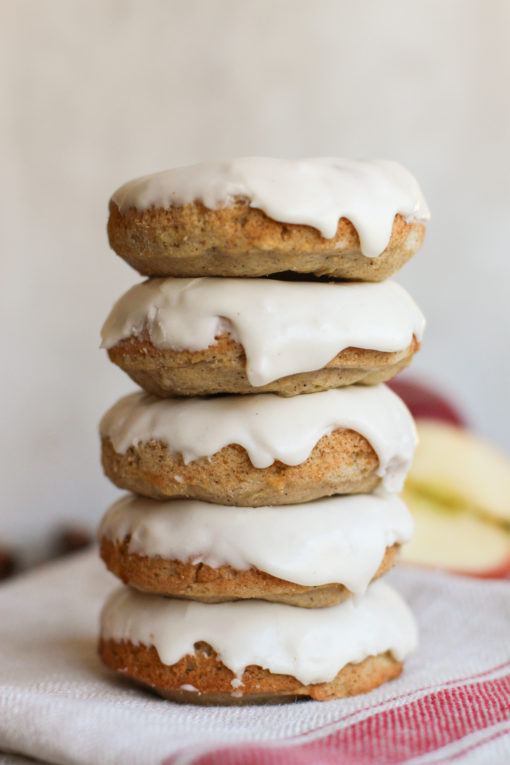 And the hardest decision you will have to make?  Whether you coat them in cinnamon sugar or maple glaze before you eat them all.
Mmmmm….
XO,
Jenn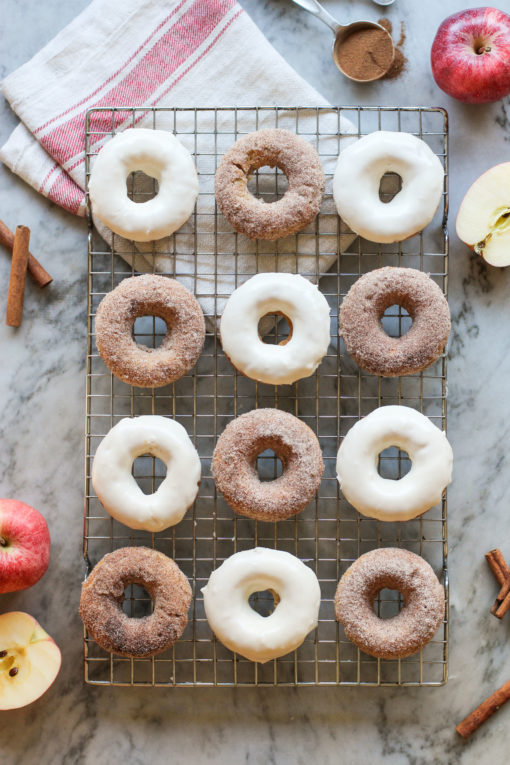 baked apple cinnamon donuts
recipe from One Hungry Mama
makes one dozen donuts – special equipment: donut baking pan (get it here)
1 1/2 cups all purpose flour
1 1/2 teaspoon baking powder
3/4 teaspoon ground cinnamon
3/4 teaspoon freshly grated nutmeg
2/4 teaspoon salt
3/4 cup sugar
2 eggs
3/4 vegetable oil
3/4 cup peeled, grated apple
Preheat oven to 350 degrees.  Coat a non-stick donut pan with cooking spray and set aside.
In a medium bowl, whisk together flour, baking powder, cinnamon, nutmeg, and salt.  Set aside.
In a small bowl, whisk together sugar and eggs until smooth.  Slowly whisk in oil until well combined.
Add wet ingredients to dry and mix until just combined.  Add apple, along with any juice that has accumulated, to the batter and mix until thoroughly incorporated.  Spoon batter into prepped donut pan, filling each well 3/4 full.  Bake in preheated oven for 15 minutes.
Remove from the oven and allow to cool in pan for 2 minutes before inverting onto a wire rack to cool completely.  Repeat process until all the batter is gone.  Serve plain or coat cooled donuts with either cinnamon sugar or maple glaze, recipes below.
Cinnamon Sugar
1 cup granulated sugar
1 tablespoon cinnamon
cooking spray
Combine the sugar and cinnamon in a bowl and stir together completely.  Spray the cooking spray onto the donut in a light covering, then dip the donut into the cinnamon-sugar mixture to coat completely.
Maple Glaze
1 1/2 cups powdered sugar
1 tablespoon maple syrup
1 teaspoon vanilla extract
3 to 4 tablespoons milk or water
In a medium sized bowl, whisk together the powdered sugar, maple syrup and vanilla extract.  Add just 2 tablespoons of the milk/water and whisk to combine.  Continue to add milk/water as needed to thin to dip-able consistency.  Dip donuts into the glaze to cover.  Place donut on a wire rack to set.