Peaches.  I think I wait all year long just for ripe and juicy peach season.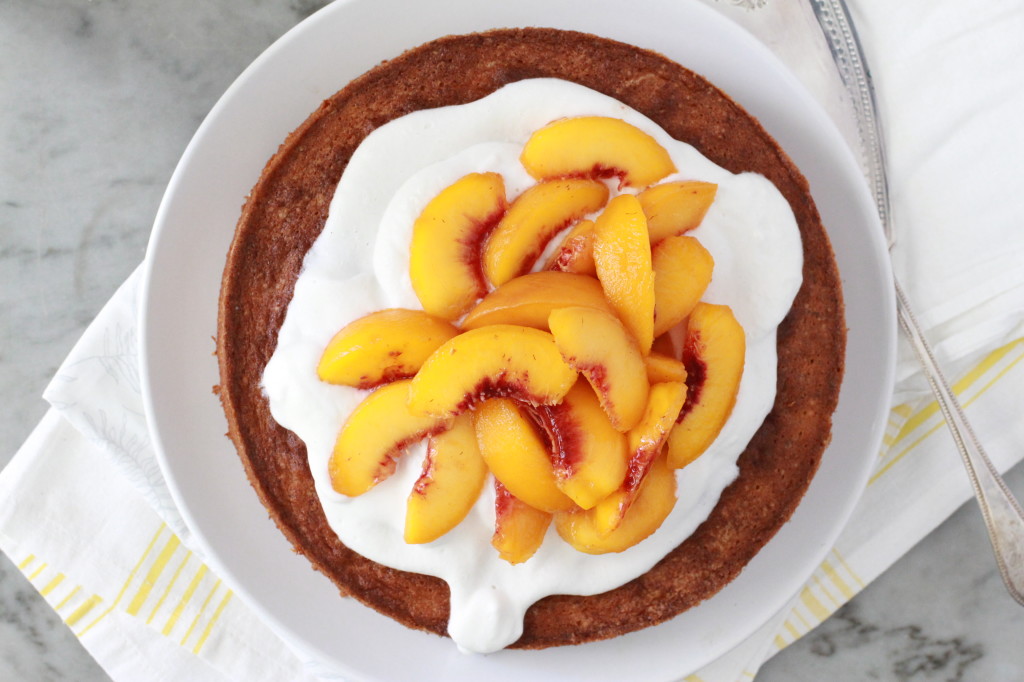 My favorite is eating them plain, and stuffing as many in my face before the season is over.
I'm quite the peach glutton.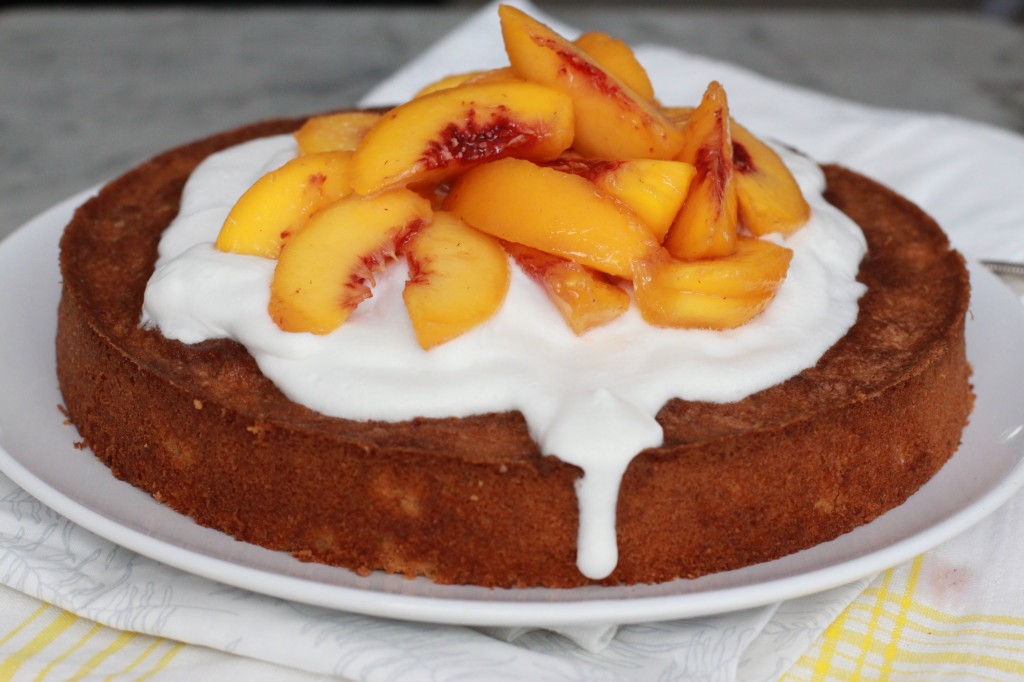 So when my counter was supporting a couple of (ahem) pounds of ripe peaches, the challenge was on.
Peach jam – check.
Peach cobbler – check.
Peach smoothie – check.
Poached peaches – che…wait, what?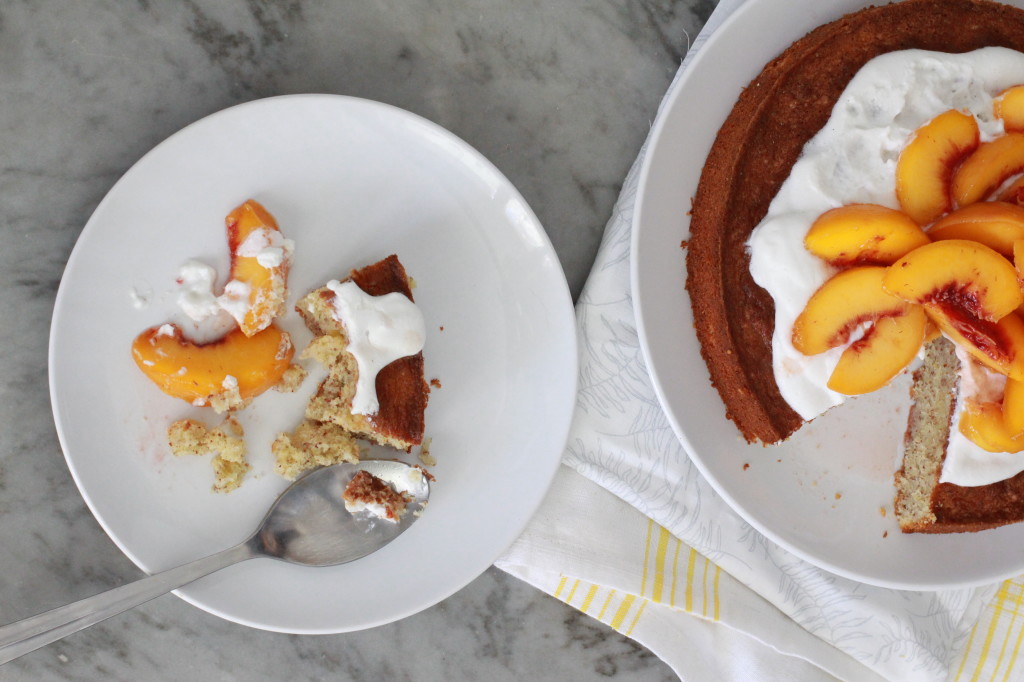 Poached peaches.  Huh, why not?  I had poached all kinds of other fruit, so why not peaches.  And of course, they needed a cake to soak up all those delicious peachy flavors.  Enter a light and fluffy almond cake and top it with some whipped coconut cream.  It's the perfect summer dessert.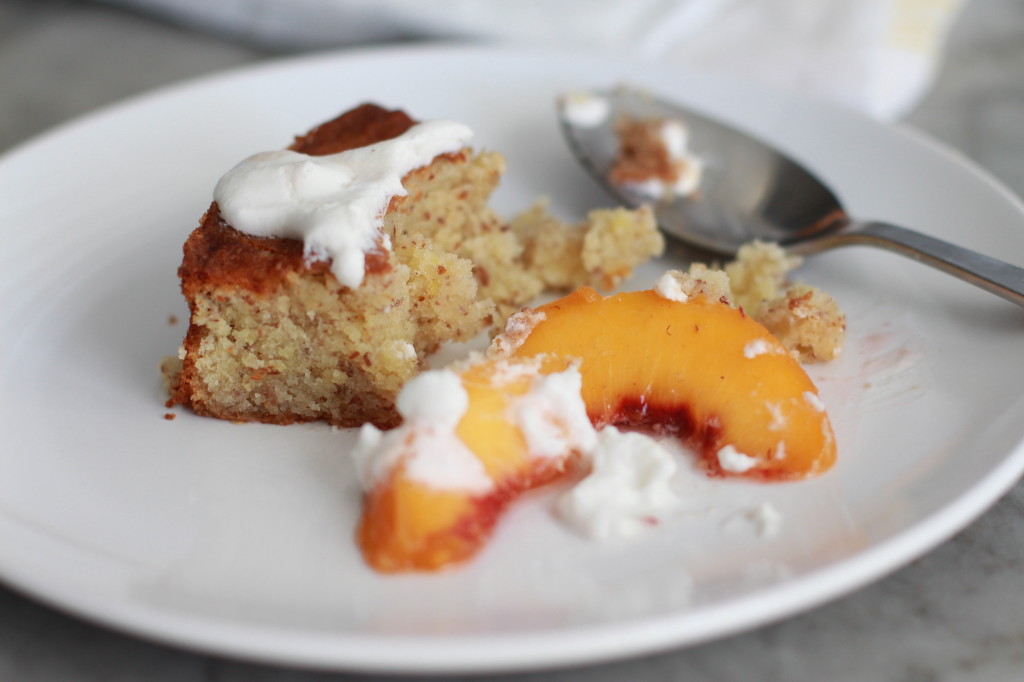 almond cake
recipe from Ethan Stowell's New Italian Kitchen
1/2 cup olive oil
1/4 c softened butter
1 tsp salt
3/4 cup sugar
nutmeg
4 eggs
zest of one lemon
1 Tbsp lemon juice
1/4 tsp vanilla
1 cup almond meal
2/3 cup flour
Preheat oven to 350 degrees.  Butter the cake pan (or ramekins) and set aside.
In a mixer with the paddle attachment, cream olive oil, butter, salt, nutmeg and sugar.  Beat until the mixture has doubled in size and gets white in color.  Add eggs one at a time, beating after each addition.  Add lemon zest and juice, vanilla, almond meal and flour, mixing until just combined.
Bake 50 minutes, or until a skewer inserted in the middle of the cake comes out clean.  (20-30 minutes for ramekins)
notes:  This recipe makes one 9 inch cake or 8-6oz ramekins.  The cake is best eaten the day it is made.  However, if you need to store it overnight, make sure to wrap it tightly in saran wrap before placing it in the refridgerator.
poached peaches
recipe from Ethan Stowell's New Italian Kitchen
3 medium peaches
1/4 cup sugar
2 cups sweet or fruity (or both) wine
1 tsp nutmeg
1 vanilla bean, scraped (or 1 tsp vanilla extract)
Set up a medium bowl with ice and cold water.  Set aside.  Fill a medium saucepan with water and bring to a boil.  Once the water comes to a bowl, slowly add your whole peaches to the water.  Leave the peaches in the boiling water for two minutes, then remove the peaches and set them in the ice water.
Once the peaches have cooled, remove the skins and set aside.  Slice the peaches into 1/8th's and place them in a heatproof bowl.
In a small saucepan, add peach skins and all other ingredients and bring to a boil.  Boil for five minutes.  Pour hot liquid over the peaches.  Cool peaches before serving.
notes:  The original recipe called for rose wine but all I had on hand was a chardonnay and it worked perfectly.  This recipe will produce about 1 1/2 cups of poaching liquid that you can pour over your cake, or use to poach more peaches or other stone fruit.
coconut cream
inspired by Edible Perspective
1/2 can coconut milk
1/4 cup powdered sugar
1 tsp vanilla extract
In a mixer with the whisk attachment, add all ingredients and whip for 3-4 minutes or until the cream gets slightly thick.  (It will not look like whipped cream, only like a thickened cream.)