Okay folks, here we are on day number two of all things pumpkin…are you excited to see what's next on the pumpkin menu??
Today we have a super simple roasted pumpkin soup.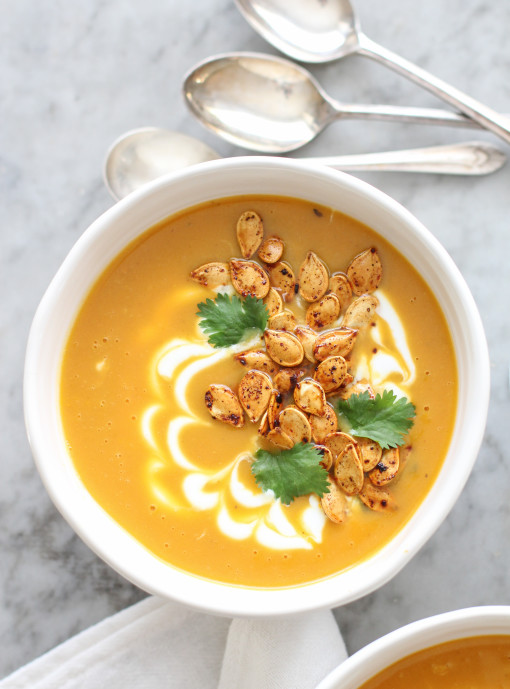 I can hear you asking…soup?  For Thanksgiving?
Well, sure!  Why not?  Doesn't everyone love soup??!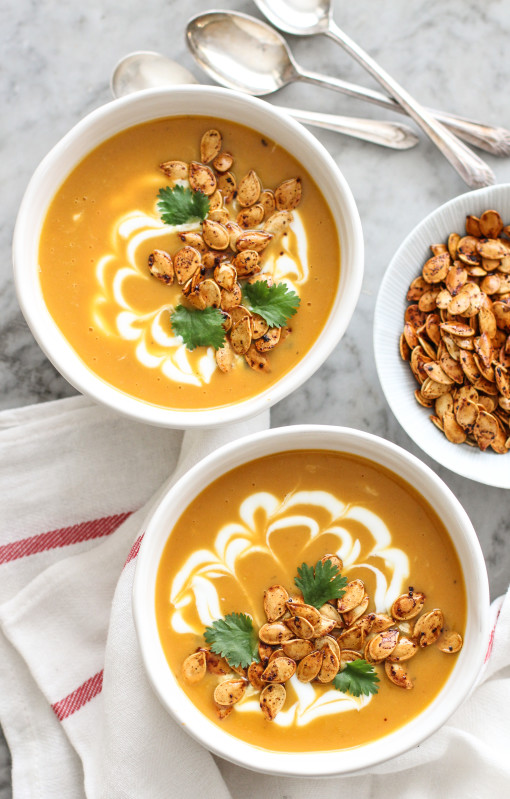 Maybe you are looking for a way to make your turkey day a little more sophisticated and need a starter for your elegant five course meal…  Or maybe you are looking for a fun little appetizer to round out your extravagant buffet menu…  Either way, this delicious roasted pumpkin soup is just the ticket to help you achieve your turkey day dreams.
Serve it warm or serve it cold.  Ladle it into your fancy china bowls or pour a bit into shot glasses and place it on your buffet.  Make it a filling vegan option by using veggie stock or crank up the protein by using turkey stock and topping it with toasted quinoa.  Either way, this tummy filling soup is flexible and will make all your guests happy to share the holiday with you.
See you tomorrow with pumpkin recipe #3!
xo,
Jenn
PS In case you missed our first pumpkin recipe, here is the link for recipe #1 pumpkin risotto with thyme and parmesan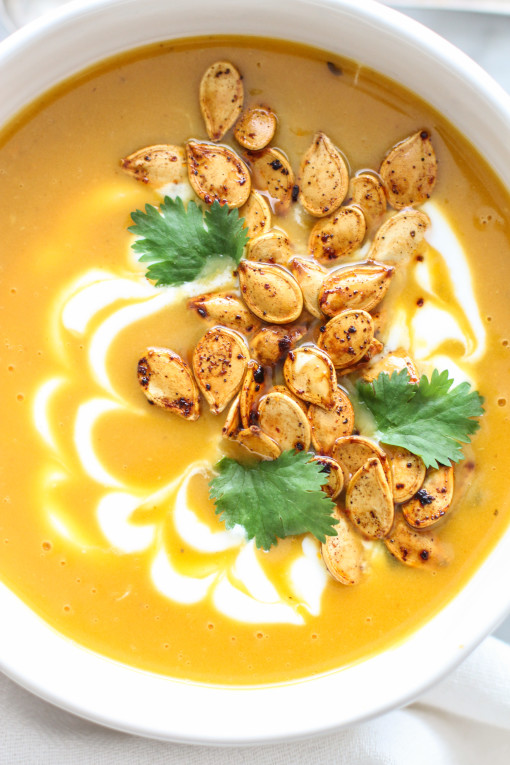 roasted pumpkin soup with spicy toasted pumpkin seeds and yogurt
makes about 8 cups of soup
3 tablespoons extra virgin olive oil
1 cup chopped white onion
2 cloves of garlic, minced
2 cups roasted pumpkin puree
4-6 cups vegetable stock (or chicken stock or water)
salt
black pepper
optional toppings: spicy toasted pumpkin seeds, yogurt, cilantro
In a large stockpot over medium-high heat, cook the olive oil and the onion for about three minutes or until the onion softens.  Add the garlic, stir, and turn down the heat to medium.  Add the pumpkin puree and four cups of the stock, turn the heat back up to high.  Once the soup begins to boil, turn the heat down to medium and simmer for 30 minutes, stirring occasionally.
Remove the soup from the heat.  Working in batches, carefully blend the soup in a blender or food processor until smooth.  Season with salt and pepper, taste, and adjust seasonings as needed.  (If you like your soup a little thinner than this puree, add a little bit of the remaining stock until you get your perfect consistency.)
Serve the soup warm and topped with a bit of toasted pumpkin seeds, a swirl of yogurt and some fresh cilantro.  If you rather serve the soup cold, place it into the refrigerator overnight or for at least four hours, until completely chilled.
my notes:  This soup would be just as delicious using butternut squash or acorn squash in place of the pumpkin puree.  I tried to make this recipe as healthy as possible, but if you want to up the ante and aren't worried about calories, then a splash of heavy cream would really take this soup over the top.  To make this vegan, use vegetable stock and omit the yogurt topping.