We've been "Halloween-ing" over here for a couple of days already.  Homemade costumes were definitely the way to go this year since the little man requested a mummy costume and the baby gets dressed in mama's choice.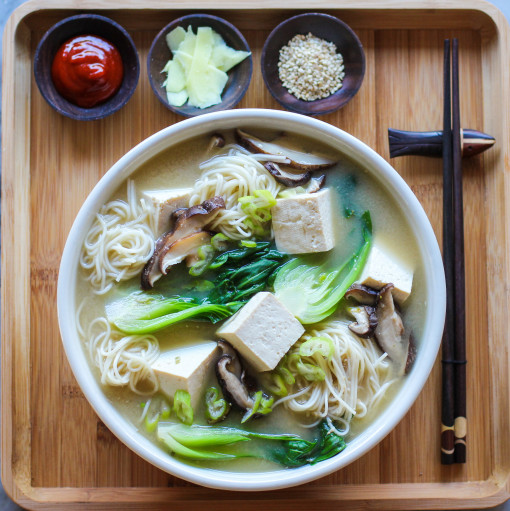 The good thing about homemade costumes is that the cost is quite low.  Mummy costume?  Ripped up bed sheets and some burlap – done.  Baby witch costume? A bedazzled skirt and a little witchy apron.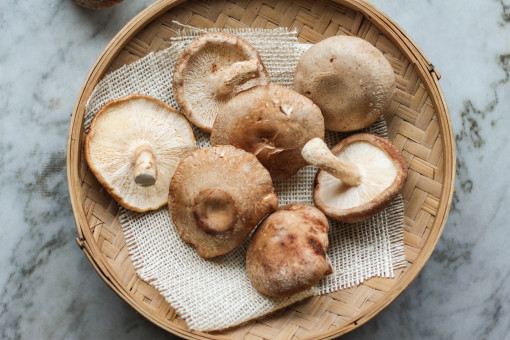 Bad thing about homemade costumes….. I've had to repair my little mummy twice already because as soon as he runs anywhere (which is often), pieces of bed sheet come flying off in all directions.  He's been "unwrapping" himself all over the greater Bay Area this weekend which actually looks a little more mummy-ish than if he wasn't falling apart I suppose.
The other bad thing about homemade costumes is that I buried my computer so deep under fabric, burlap, and needles that I almost forgot all about wanting to share this recipe with you!  Almost.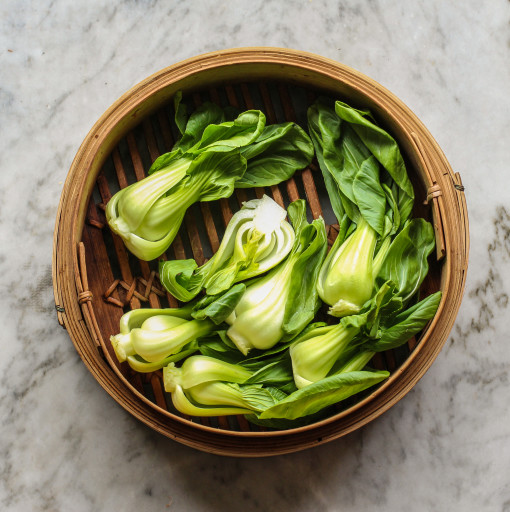 Is it raining in your neck of the woods?  It's been pouring down here all weekend and I've been battling another cold so I whipped up this soup to in an attempt to make me feel better but also to warm me up because dang, it was rainy AND cold.   Even the mummy got chilly during our trick or treat party in the middle of a downpour.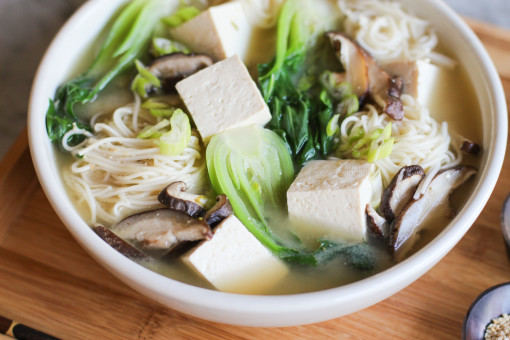 Of course, it's all nice and sunny now that our party is over and we are home – boo.  That must be the trick part of Halloween this year…
Hope you have a great Halloween!
XO,
Jenn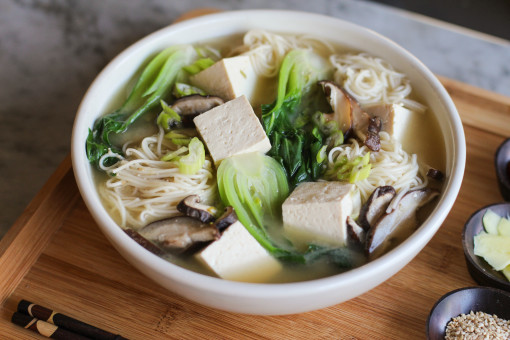 miso noodle soup with bok choy and tofu
makes two big servings or four smaller ones
2 cups bonito flakes (omit if you want to make a vegan dish)
1/2 cup dried wakame seaweed
1/4 cup red miso paste
6 cups chicken broth, vegetable broth, or water
12 ounces fresh rice noodles
4 bok choy, washed and sliced in half lengthwise
4 ounces shitake mushrooms, dirt removed and thinly sliced
8 ounces firm tofu, cut into 1 inch pieces
2 teaspoons soy sauce
In a large pot over medium heat, combine the bonito flakes (if using), the wakame, miso paste and broth.  Bring to just a boil, whisk everything together to combine and then turn down the heat to a simmer.  Let the broth simmer for about 10 minutes while you prepare the rest of the ingredients.
Cook the noodles as per the manufacturers instructions.  Once they are cooked, drain the noodles and divide into two larger sized bowls and set aside.
Return to the broth.  Strain the broth into a bowl and discard any solids.  Return the broth back to the pot and simmer again over low heat.  Add the mushrooms and bok choy to the broth and simmer until softened – about 5-7 minutes – and then turn off the heat.  Stir in the soy sauce.
Divide the tofu into the two bowls and ladle the broth over the noodles – making sure to place some mushrooms and bok choy into each bowl.
my notes:  I served mine with a bit of sriracha hot sauce, pickled ginger and sesame seeds.  Hoisin sauce is good in this too.