Here I am, working away on all things Thanksgiving!!  Today I have a recipe for stuffing – one of my all-time favorite side dishes that I make every year.  Every year the stuffing is different – sometimes made with sausage, sometimes with just vegetables, but I've always made stuffing with bread as the base.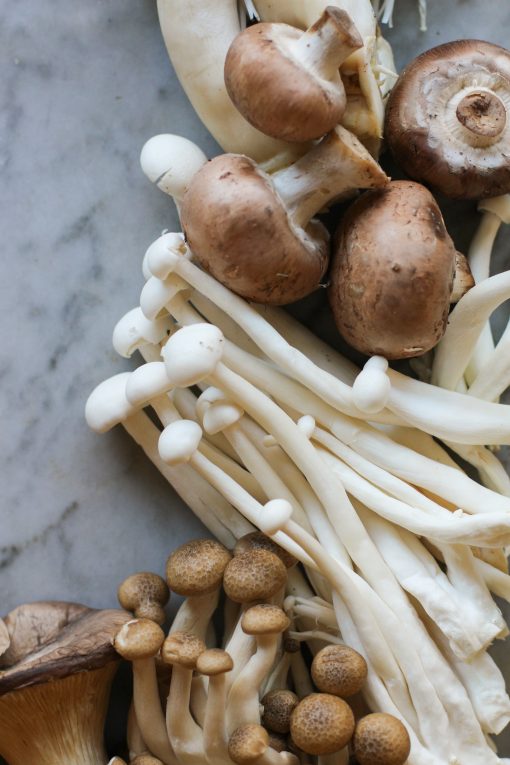 Until this year.  This year I'm making something completely different and I'm so excited to tell you all about it!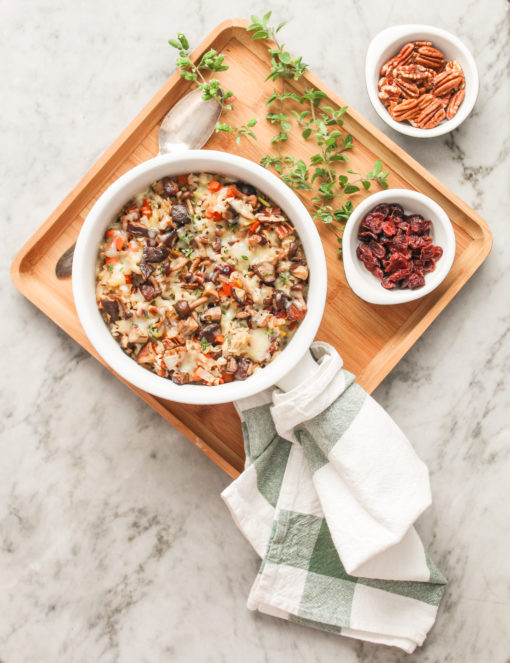 This year I've made a roasted mushroom and barley stuffing and it is ah-mazing!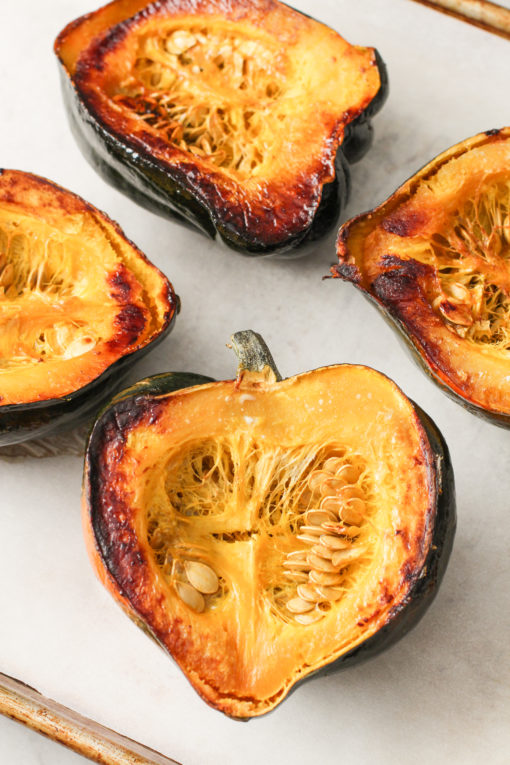 It has all the yummy ingredients that you would normally find in a stuffing – aromatics like onion, celery and herbs; crunchy bits like fennel and toasted pecans; a little bit of sweet from dried cranberries; and lots and lots of deliciousness from the roasted mushrooms and barley.
What it doesn't have?  Bread.  Now, hear me out you bread stuffing lovers!!  I have nothing against bread, (seriously, it's a major food group in our house) but with bread in the stuffing and a side of bread like these rosemary popovers, it seems like I'm the one who gets the most stuffed at Thanksgiving.  So I thought I would lightening it up a bit with a bread-less stuffing.  Plus, did I mention mushrooms??!!?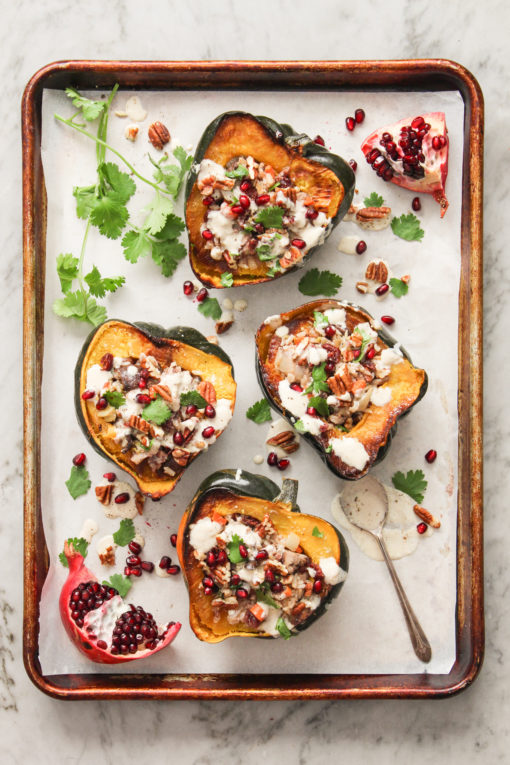 Now you can totally just roast this stuffing in your favorite pan and call it the perfect side dish, ready for thanksgiving dinner.  Or, if you are looking for a vegetarian or vegan main dish for your thanksgiving day, you can get creative and stuff the stuffing into some roasted mini pumpkins or a roasted acorn squash and drizzle it with a bit of garlic tahini sauce and sprinkling of pomegranate seeds.  Either way, it's a delicious recipe and I hope you guys will give it a try!
XO,
Jenn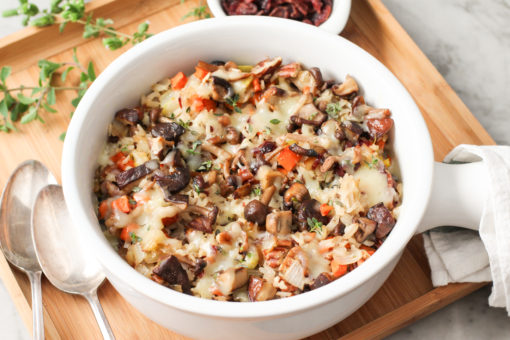 roasted mushroom and barley stuffing
adapted from cooking light
3 cups water
1 cup uncooked pearled barley
2 tablespoons olive oil
1 cup chopped yellow onion
1 cup chopped celery
1 cup chopped fennel
1/2 cup chopped carrots
8 ounces mushrooms (your choice – I used trumpet, shitake and brown button), trimmed and cut into bit sized pieces
2 teaspoons minced garlic
1 teaspoon chopped fresh rosemary
1 teaspoon chopped fresh thyme
1/2 cup chopped pecans
1/2 cup dried cranberries, roughly chopped
2 tablespoons chopped fresh parsley
salt
black pepper
3 ounces gruyere cheese (or vegan cheese)
Bring 3 cups of water and barley to a boil in a medium saucepan.  Reduce heat, and simmer 25 minutes; drain.
Preheat oven to 350 degrees.  Place the mushrooms and 1 tablespoon olive oil onto a baking sheet lined with parchment paper.  Toss the mushrooms with a pinch of salt and pepper, then place into the oven.  Roast until golden brown, about 20 minutes, stirring once so that the mushrooms cook evenly.
Heat 1 tablespoon oil in a large skillet over medium high heat.  Add onion, celery, fennel, and carrots; cook 8 minutes.  Add the rosemary, garlic and thyme; cook 1 minute.
In a large bowl, combine the barley, mushrooms, vegetable mixture, pecan, cranberries, parsley and another pinch of salt and pepper.  Spoon the mixture into a 2-quart baking dish coated with cooking spray.
Bake at 350 degrees for 25 minutes.  Remove pan from oven.
Preheat broiler with oven rack in top position.  Sprinkle cheese over stuffing.  Broil 1 minute or until lightly browned.  Let stand 10 minutes before serving.