Day four of all things pumpkin brings us to the world of appetizers – specifically, these savory pumpkin cheesy puffs that will make you the most popular Thanksgiving host/guest ever.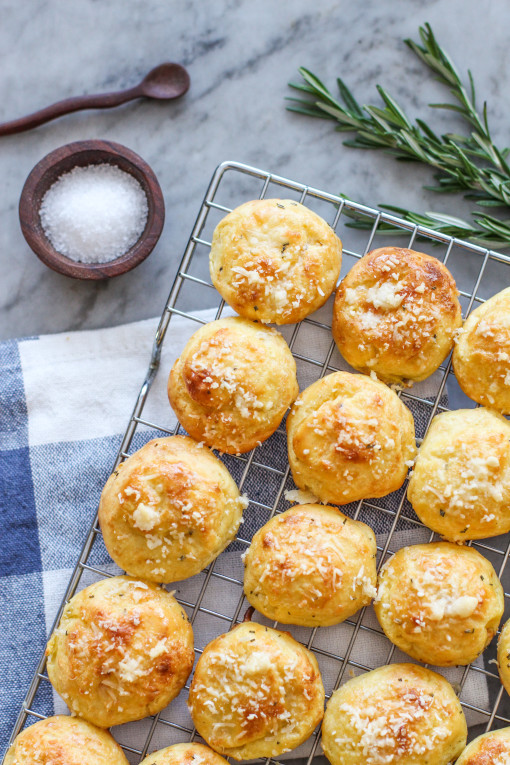 When I was dreaming up all these pumpkin ideas this is the one that came to my mind first and the one that I couldn't wait to make.  These crunchy, cheese-crusted gougeres present a very subtle pumpkin flavor that marries perfectly with the fresh rosemary and sprinkling of flaked sea salt.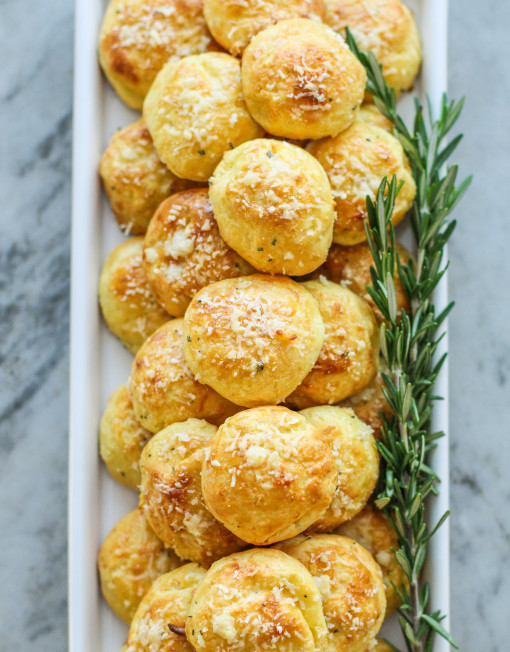 Baked in the oven until golden brown, these little puffs come out warm and full of cheesy pumpkin goodness.
You can eat them warm or at room temperature.
You can eat them cold.
You can even eat them one by one and out of a zip-lock bag while standing in front of the fridge late at night when no one is looking.
Not that I know anything about that…just something I heard one day…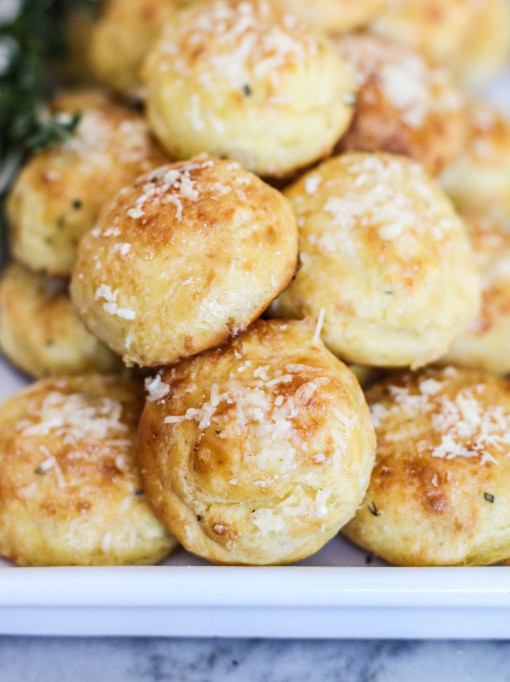 Okay my friends, enjoy these pumpkin gougeres and I will see you tomorrow for the big finale – pumpkin recipe #5!!
xo,
Jenn
PS In case you missed it, here are the links to all things pumpkin so far:
recipe #1 pumpkin risotto with thyme and parmesan
recipe #2 roasted pumpkin soup with spicy toasted pumpkin seeds and yogurt
recipe #3 dark chocolate brownies with pumpkin cheesecake swirl
pumpkin gougeres with rosemary and sea salt
makes about 30-40 gougeres
1/2 cup milk
4 ounces butter
1 1/4 cup all purpose flour
1 teaspoon salt
1/2 teaspoon ground black pepper
1/4 teaspoon ground nutmeg
3/4 cup pumpkin puree
1 cup grated gruyere cheese
5 eggs
2 tablespoons finely minced rosemary
2 tablespoons flaked sea salt (This is my go-to sea salt, clean and pure –Maldon Sea Salt Flakes, 8.5 ounce Box
)
3 tablespoons grated parmesan cheese
Preheat your oven to 400 degrees.  Line two baking sheets with parchment and set aside.
Place the milk and the butter in a medium sized pot over high heat.  Melt the butter and bring the milk to just a boil – then add the flour and stir quickly with a wooden spoon.  Keep stirring until the flour absorbs the liquid and a dough-ball is formed, about 3 minutes.
Place the dough-ball into a food processor and add the salt, pepper, nutmeg, pumpkin puree and gruyere cheese and process to blend everything together.  With the processor running, add the eggs, one at a time, and blend until combined.
Remove the dough from the processor and scoop it into a piping bag fitted with a round 1/2 inch tip.
Pipe the dough into tablespoon size rounds, about two inches apart.  Sprinkle the rosemary, sea salt and parmesan cheese over the rounds and place both trays into the oven.  Bake the gougeres for about 30 minutes, or until the dough has puffed up and become golden brown.
Remove the trays from the oven and allow the gougeres to cool for five minutes before removing them from the tray.
Serve the gougeres warm or at room temperature.
my notes:  These pumpkin cheese puffs can be made one day before you want to serve them.   When you are ready to reheat, place the puffs onto parchment lined baking sheets and bake in a 400 degree oven for 10 minutes.  And, if you have any left over (yea, right!) just place them in a sealed plastic bag and refrigerate for up to five days.