Happy New Year my friends!!  I hope your year is off to an amazing start and you had a wonderful holiday season!
You may or may not have noticed but I've been gone from this lovely little space for a bit – but not by my choosing.  Right after the school break started the law of threes happened.  You know, three things happen at or about the same time and rattle your world until you have to sit up and take notice.  Well, this happened to me and I'm still not sure why the universe chose this time and these things but…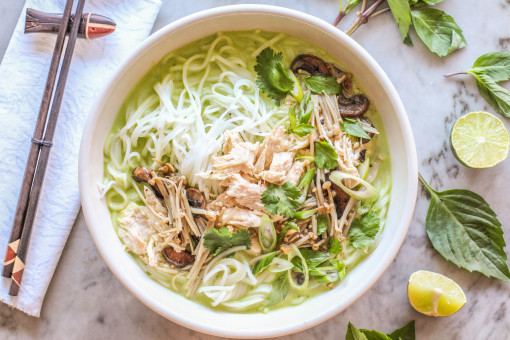 I had big plans for the school break with my little man and then my car died.  I had bigger plans for sharing tons of healthy recipes with you right at the first of the year and then my computer crashed.  And just to add a little frosting to my "what the heck!!?!" cake…my cell phone started randomly face timing my contact list, while sprinkling in some voice control beeps, and flashing all of my apps and then closing them again.
Waaaht?  I seemed to have a ghost in my machine…well, in three of my machines.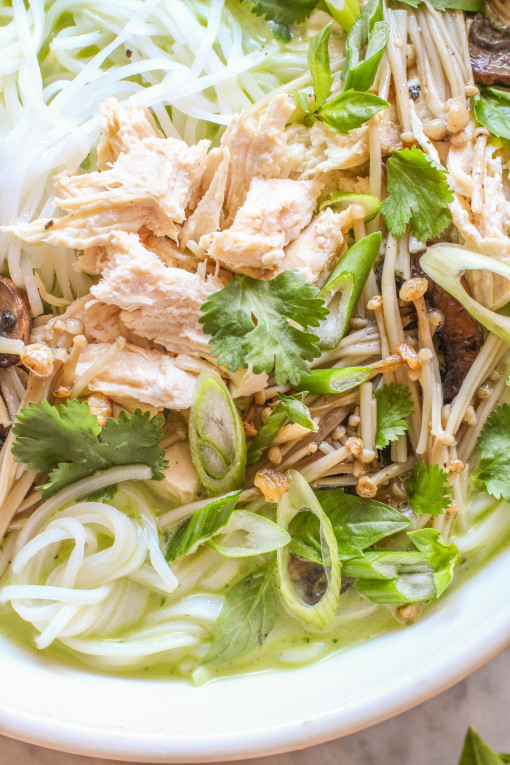 My car was fixed a few days ago and my computer just yesterday – although we had to completely wipe the computer clean and start over from scratch (I still am struggling to organize my foodie pics – grrr.)  And I believe that my cell phone heard what happened to the computer and thought it might get wiped out too so it straightened up right away.  No more weirdness which is even weirder because I really thought it was set to die any minute and had already picked out it's shiny new replacement but…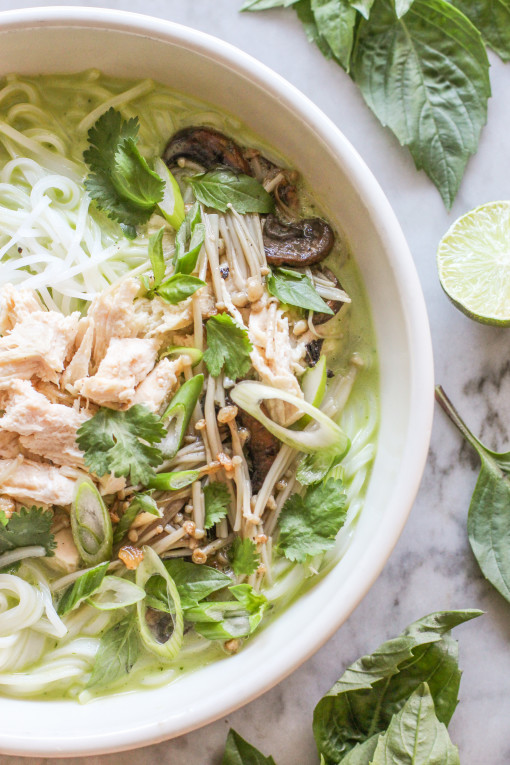 Anyway…since my car was idle for close to two weeks there was a lot of cooking going on.  I have some lovely, healthy, and delicious recipes all set up to share with you and here's the first one…
A bowlful of warm rice noodles topped with ginger poached chicken, two types of garlic roasted mushrooms, and swimming in a fragrant coconut broth seasoned with lemongrass, Thai basil, cilantro and lime.   A bowlful of yum, yes?
Don't be discouraged by the length of the recipe because it comes together rather quickly and without much work.  It's also a great recipe to use what ingredients you have on hand, and you can even make a vegetarian or vegan version.  Make sure to check out the notes at the bottom for some alternative noodle bowl ideas.
Happy eating!
xo,
Jenn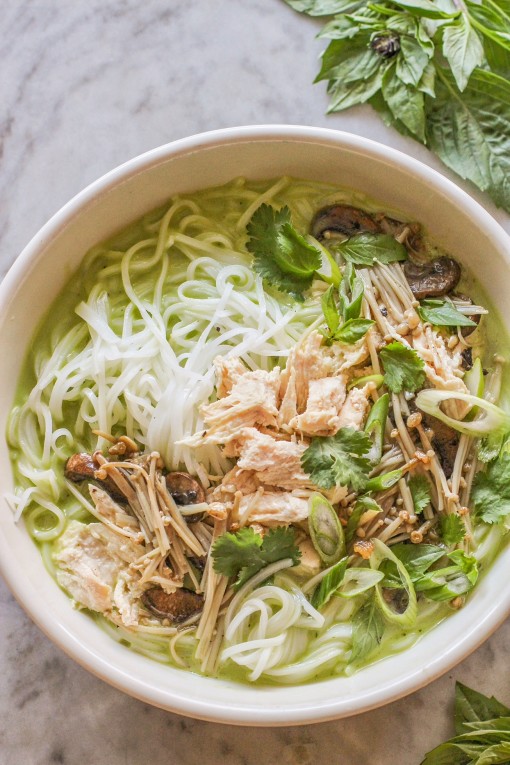 thai green curry with shredded chicken, rice noodles and mushrooms 
makes two big bowls
for the chicken:
15 ounces of chicken stock
2 inch piece of ginger root, peeled and sliced thinly
1 teaspoon chili-garlic sauce, optional
2 skinless and boneless chicken breast
In a small pot or saucepan, place the chicken stock, ginger, chili-garlic sauce (if using) and the chicken breast.  Bring the stock to a boil and then turn down the heat, cover the pot, and cook at a low simmer until the chicken is cooked through – about 15-20 minutes.  (Depending on your pot size, you may need to turn your chicken breasts over halfway through cooking.) 
Once the chicken is fully cooked, remove the chicken to a cutting board and either shred it or dice it into bite-sized pieces and set it aside.  Drain the chicken stock through a colander, reserving the stock for the curry sauce.
for the curry sauce:
4 inch piece of lemongrass, trimmed of the outside layer and finely chopped
1 clove of garlic, peeled and roughly chopped
1 small shallot, peeled and roughly chopped
1/2 cup thai basil leaves
1/2 cup cilantro leaves and stems
2 tablespoons olive oil
2 cups of coconut milk (I use this brand: Chaokah Chaokoh Coconut Milk, 13.5-Ounce (Pack of 8)
)
the remaining poaching liquid from the chicken breasts
water or additional chicken stock
2 teaspoons soy sauce
2 teaspoons fish sauce (I use this brand: Three Crabs Brand Fish Sauce, 24-Ounce Bottle
)
the juice of one lime
In a food processor, add the lemongrass, garlic, shallot, Thai basil and cilantro.  Pulse everything together until a paste forms and the lemongrass is completely pureed.
In a medium sized pot, heat the olive oil over medium-high heat, add the curry paste and cook for about five minutes, or until fragrant, stirring constantly.  Add the coconut milk and poaching liquid to the paste and stir to combine.  At this point you will need to add some water or additional chicken stock to thin the curry sauce to the consistency that you like.  Turn down the heat to low and simmer the curry sauce for about 10 minutes.  Add the soy sauce, fish sauce, and some lime juice – tasting the sauce and adjusting the seasonings as needed.
for the mushrooms:
2 cloves of garlic, finely minced
2 tablespoons olive oil
salt and black pepper
8 ounces of brown mushrooms, sliced
5 ounces enogi mushrooms, trimmed and separated
Preheat the oven to 350 degrees and line a baking sheet with parchment paper.  In a bowl, combine all the ingredients and toss together.  Place the mixture onto the baking sheet and roast until the mushrooms are caramelized, about 15 minutes.  Remove from the oven and set aside.
for the noodles:
1 package of fresh or dried rice noodles
Cook the noodles as per the package instructions.  Once the noodles are cooked, thoroughly rinse them in cold water to remove the starch and set aside.
assembly:
Add a bit of noodles to each of the two bowls and ladle the green curry sauce over the noodles.  Top each bowl with some chicken, the mushrooms and a bit of cilantro, Thai basil and thinly sliced green onion.
my notes: To make a vegetarian or vegan version, substitute vegetable stock or water for the chicken stock.  Tofu is a great substitution for the chicken, and you can even cook it in a hot skillet with a bit of oil to add a crunchy texture to the tofu.  Any vegetables would be a great substitution for the mushrooms, but carrots, bok choy, green cabbage, and even roasted sweet potatoes would be yummy.