Once a year I go through my closets and drawers and cabinets and purge.  I get rid of clothes that were never or barely worn, I check expiry dates and toss weird things that I collected throughout the year, and I get rid of all the clutter that somehow multiplies when I'm not looking.  You know, so I can start the year with a clean slate.
Usually I start in January, but this year I started last week and I started in the kitchen.  Out went some expired sauce jars I found in the fridge, I donated some serving utensils that hadn't seen the light of day since I don't know when, and then I dug into the spice rack.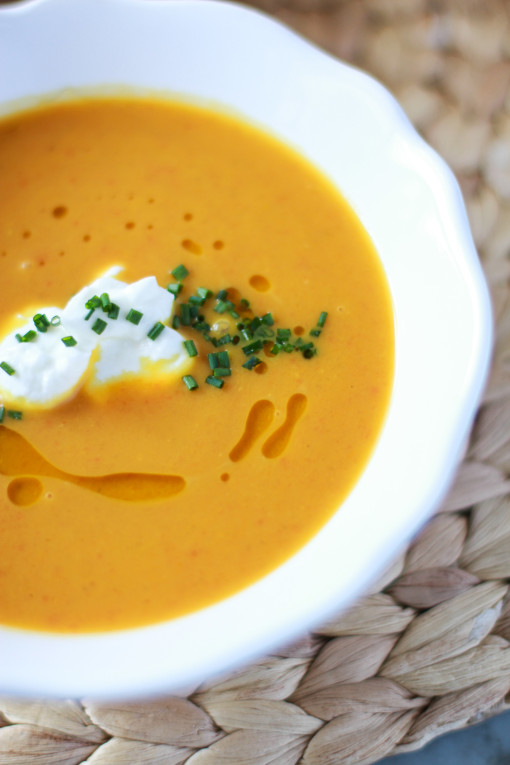 There I found some spices that I hadn't used this year – a batch of very fragrant and mild curry powder and a little tiny jar of perfectly picked saffron.
"Well," I thought to myself while dusting off the tops of the bottles, "I do have a couple more weeks to use these before the end of the year, you know, so I won't have to get rid of them."
So I used them, just so I could keep them around to keep all the other spices company.  You know, happy spice rack, happy cook.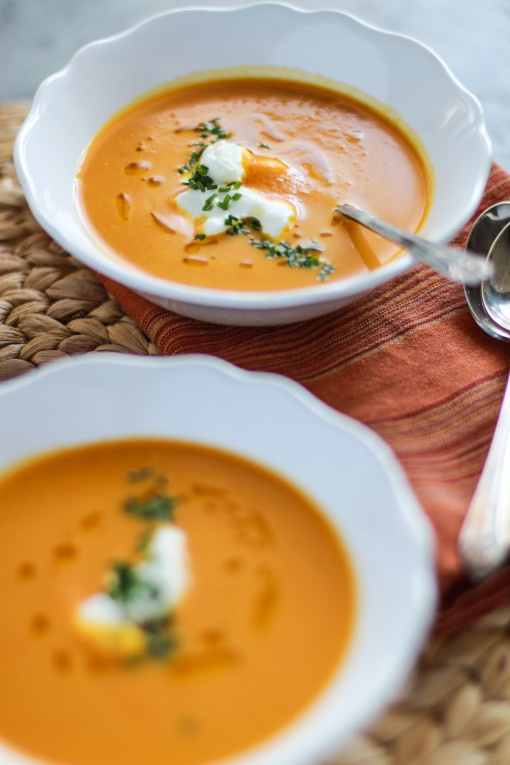 sweet potato soup with curry and coconut
1/2 medium white or yellow onion, finely chopped
2 cloves garlic, finely chopped
2 tbsp. olive oil
1 tbsp. mild curry powder
1 cup coconut milk
4 cups sweet potato, peeled and chopped into 1-inch cubes
4 cups vegetable broth or water
salt and black pepper
optional garnish: greek yogurt, chopped chives, a glug of really good olive oil
In a medium pot, place the onion, garlic and olive oil.  Cook over medium-high heat until the onions are soft, about five minutes.  Add the curry powder, coconut milk, sweet potatoes and vegetable broth.  Bring to a boil and then turn down the heat and simmer the potatoes until they are cooked through and the potato falls off of the fork when it is stabbed.
Carefully move the potato soup to a blender and puree in batches, returning the soup to the pot.  Alternately, if you would like your soup with a little more texture, use a hand blender or potato masher to smash the potatoes.
Stir in a pinch of salt and black pepper and taste – adjust the seasonings as needed.
notes: I made this recipe with just a mild taste of curry and coconut – but feel free to add more if you like a bolder taste.  If curry powder is not your thing, you can use ground cumin or ground coriander, or both, in place of the curry powder.  Carrots could be substituted in place of sweet potatoes.