I zipped off to the store this morning all by myself, leaving my rug rats at home with the daddy unit.  It was a brief moment of respite from the craziness that is our household, and very much enjoyed.  My goodness, I got every single thing on my list AND without interruptions or fighting.  It was pure heaven, haha!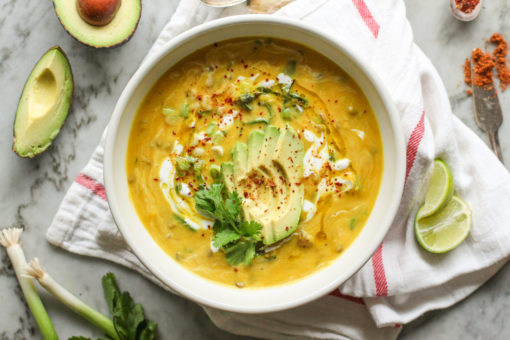 When I got to the checkout the clerk and I started talking about how the holidays seem like they are on fast forward and just rushing past us while we are trying to keep up.  We spoke about how even though we are trying so hard to do everything, that we were also enjoying seeing the holidays through our kiddos eyes – their excitement and wonder about the holiday season.  We talked about Santa trips and then somehow got started comparing notes about when we were both kids, our haircuts and clothing style etc.  By the time I paid, we both realized we must have been separated at birth sharing both a really horrible "boy" haircut when we were younger girls and ratted bangs and gallons of white rain hairspray by the time we were teenagers.  We were laughing so hard that we were making the other people in line wonder what the heck was going on, but man, it was so fun and funny!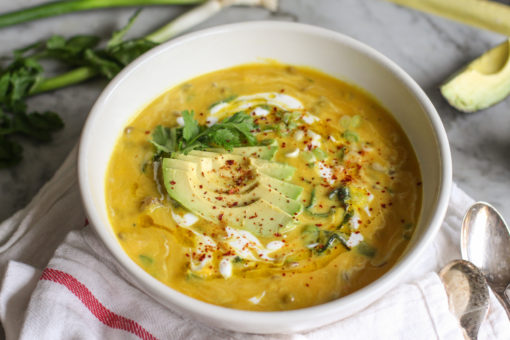 When I parked in the driveway at home, I was greeted by one smiley little girl and one handsome little boy who immediately told me again (and for the umpteenth time) that he was SO excited to go downtown in the morning to visit Santa and then smiled with such glee and pure happiness that my heart just melted.  Every person we saw the rest of the day was greeted with a "I'm going to see Santa tomorrow!!" and the same big smile and happiness glow – you could see that his excitement was contagious, filling each and every persons face with big, warm smiles too.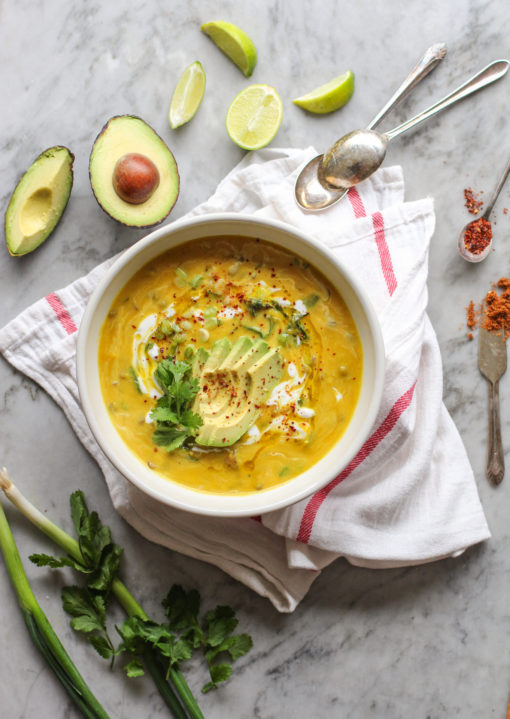 It was a great reminder that no matter how busy we are this holiday season, it's the little things that matter and we should take time to really enjoy what the season has to offer – whether that's laughing with a stranger about 80s fashion faux pas or making memories with your little ones.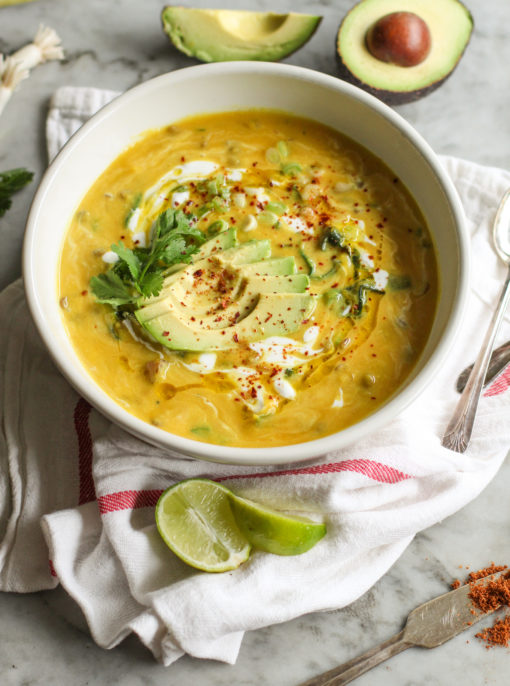 Here's a quick and easy dinner that you can whip up in the middle of this crazy, busy, and excitement filled holiday season – spicy red lentil and coconut soup.  Made with lots of yummy veggies, warm spices, creamy coconut and protein packed lentils, this soup will help fill you up and give you all the energy you need to make this the merriest and brightest holiday season yet.
XO,
Jenn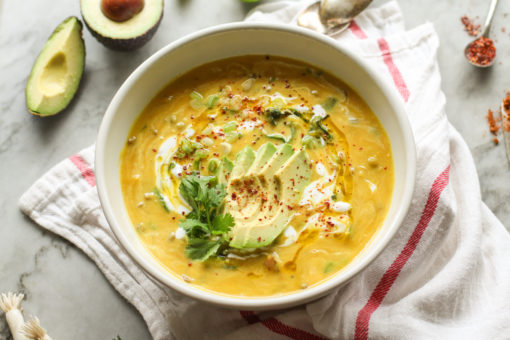 spicy red lentil and coconut soup
makes 6 servings
2 tablespoons olive oil
1 medium yellow onion, peeled and diced
2 cloves of garlic, minced
2 teaspoons paprika
1 teaspoon ground cumin
2 teaspoons Aleppo pepper (or mild chili powder)
1 teaspoon turmeric
salt
black pepper
2 carrots, peeled and diced
4 cups cooked red lentils
6 cups vegetable stock or water
2 cups coconut milk
4 cups loosely packed baby spinach leaves
Place the olive oil in a large pot over medium-high heat.  Add the onion to the pot and cook for 2-3 minutes, or until the onions are translucent.  Add the garlic, paprika, cumin, Aleppo pepper and turmeric to the pot and stir to combine.  Cook for one minute, then add the carrots, lentils, stock and coconut milk to the pot.
Bring the soup to a boil, then cover, and turn down the heat.  Simmer the soup for 30 minutes, stirring occasionally.  Add the spinach to the soup and season with salt and black pepper to taste.  Using an immersion blender, puree half of the soup, leaving some of the soup unblended for texture.  Alternatively, remove half of the soup to a blender to puree.
Ladle the soup into bowls and top with a drizzle of coconut milk, some slices of avocado and chopped green onion.  Serve immediately.