One of my favorite parts of winter is eating all the beets that I can get my hands on.  Most of the time I just roast them and then eat them plain, or pickle them for later, or just toss them into a salad with some crumbly goat cheese and fresh baby greens.  But the other day I found myself with more roasted beets than I knew what to do with so I decided to make soup.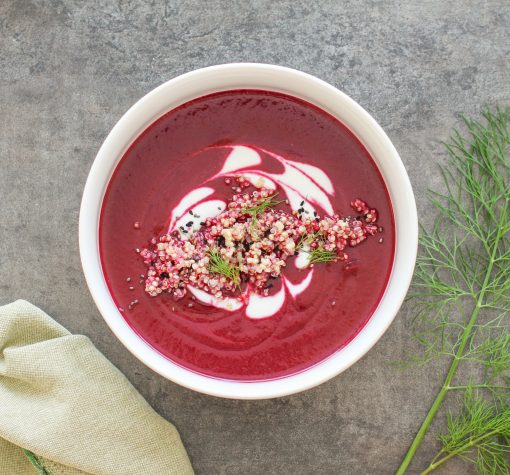 Now, if I check my recipe page I can probably confirm what I already suspect – I have a thing for soup.  But here's the deal, soup is a great way to fill up on fiber rich vegetables, while also not breaking the bank.  It's a win-win in our household and every weekend I make at least one batch of soup that we can all enjoy throughout the week or throw into the freezer for the nights that I don't feel like cooking. (see this post for batch cooking ideas)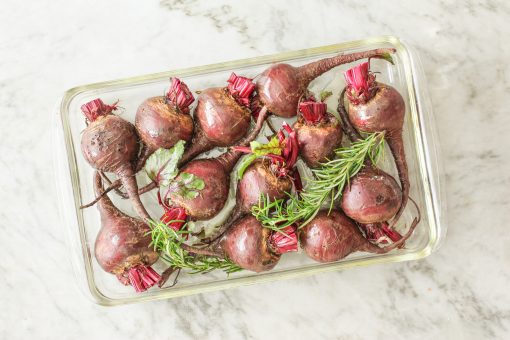 Now, back to the humble beet.
Beets – you love them or hate them but what you can't deny is that they are packed full of all the good stuff.  The beet and its greens are both an excellent source of folate, vitamin A and K, and a very good source of manganese, copper, and potassium.  Beets are high in fiber, which helps with satiety and regularity.  Beetroot juice is one of the richest dietary sources of antioxidants and naturally occurring nitrates.  Nitrates (not to be confused with nitrites!) are compounds which improve blood flow throughout the body—including the brain, heart, and muscles.
Annnnnnddddd, studies have shown that the high levels of unique antioxidants and anti-inflammatory agents found in beets contribute to a reduction in the risk of many types of cancers.
Sounds like you should go eat your beets!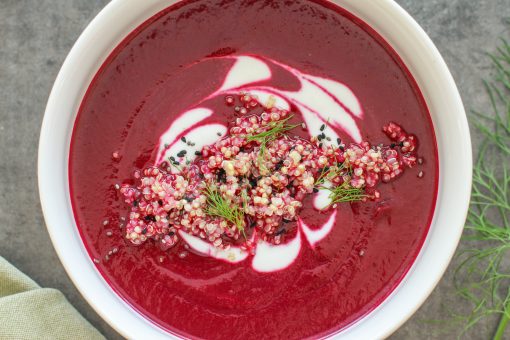 There's are so many ways to enjoy beets – roasted, steamed, pickled, as a noodle (recipe here), in a salad, on toast, as a chip, in hummus (recipe here), in risotto, juiced for drinking or for adding to smoothies, or in a soup that we are making today.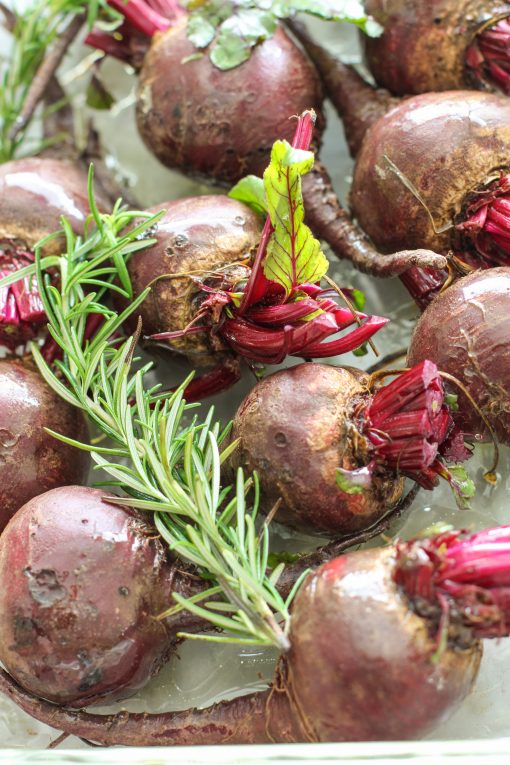 This roasted beet soup is as delicious as it is beautiful!  And this gorgeous soup is so quick and easy to make – just roast some veggies, add some broth, puree and top with some toasted quinoa and fresh dill.  A healthy and vitamin packed dinner is served!
XO,
Jenn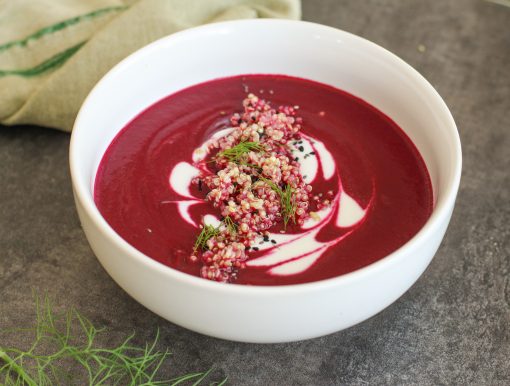 roasted red beet soup with toasted quinoa and dill
recipe adapted from Williams Sonoma
makes four servings
6 medium sized red beets, trimmed, leaving 1 inch of stem, and scrubbed of any dirt
4 ounces Yukon gold potatoes, scrubbed of any dirt
extra virgin olive oil
1/2 cup chopped yellow onion
1 medium garlic clove, minced
1/2 cup chopped celery
4 cups vegetable broth
salt
black pepper
2 tablespoons coarsely chopped fresh dill
1 cup toasted quinoa (recipe below) (I use this brand)
Preheat an oven to 350°F.
Put the beets and potatoes in a baking dish and drizzle with three tablespoons olive oil, turning them to coat well.  Add 1/2 cup water to the baking dish and cover the baking dish tightly with foil.  Roast until the beets are easily pierced with a fork, about 1 hour.   Remove from the oven and remove the foil.   When the beets are cool enough to handle, peel and coarsely chop them.  Allow the potatoes to cool and set aside.
In a large saucepan over medium heat, add two tablespoons of olive oil.   Add the onion, garlic and celery and sauté until translucent, about 2 minutes.  Add the beets, potatoes, and broth and bring to a simmer.  Reduce the heat to low and cook for about 10 minutes to blend the flavors.
Using a food processor or blender, process the soup to a smooth puree.  Serve warm or, for a chilled soup, let cool to room temperature, transfer to an airtight container, and refrigerate for at least 2 hours or up to 24 hours.
Adjust the seasonings with salt and pepper.  Ladle the soup into bowls, garnish with the toasted quinoa and dill and serve.
My notes: You can make this soup with any type or color of beets, or even use a mix of beets and other roasted root vegetables like carrots, parsnips, or potatoes.  When peeling the red beets I  would recommend wearing some latex gloves so that you don't die your hands red. 
toasted quinoa – recipe how to from ancient harvest
If you've never toasted quinoa, you may be surprised by the depth of flavor and delightful texture this simple step can add to your favorite gluten-free ancient grain. Whether it's part of the process or the entire cooking method, toasting can turn your quinoa into a brand-new culinary sensation.
Sound like something you'd like to try? Here's how to properly toast quinoa – and what to do with it, once you've done just that:
First, know that if you are using a brand other than Ancient Harvest, you may need to thoroughly rinse your quinoa to rid it of its natural coating of saponins, which is known to leave a soapy, bitter taste. At Ancient Harvest, we pre-rinse our quinoa so that you can skip this step.
Heat a big, heavy sauté pan on medium low.
Add (or leave) some water to the quinoa so that it is moist, and put a cup of the wet quinoa into the heated pan. (Make sure not to over-crowd.)
Using a wire whisk, quickly stir the quinoa around in the pan as it begins to toast.
Once the water is absorbed and the quinoa begins to pop, you will know that it is drying out. Keep whisking until the grains of quinoa start to brown. It will transform before your eyes and begin to smell nutty – and that's when you know that your quinoa is toasted.
Toasted quinoa may be stored in the refrigerator, in an airtight container once it has cooled, so it can be helpful to toast enough at a time to use for multiple meals throughout the week.